News
Ryan Coogler and Wakanda TV Series at Disney+ Promise Changes in Industry
Ryan Coogler sets up five-year deal at Disney+, which will include a Wakanda series, and signals again the future is streaming.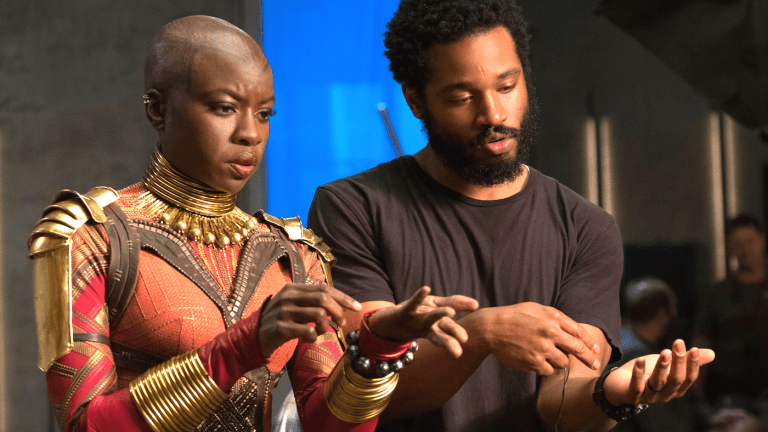 Ryan Coogler's Proximity Media has officially entered the television game and they're making theirs Marvel! Or at the very least Disney. The news was confirmed Monday afternoon by Deadline, which reported Coogler's production company signed a five-year exclusivity deal with Disney. This means Coogler will be producing and developing television projects exclusively for the Disney+ streaming service, beginning with at least one drama series officially set in the Kingdom of Wakanda.
To say this news will likely make Marvel fans happy is an understatement. Because in addition to a Wakanda series, Coogler's official statement also left the door open for working on other Marvel shows at Disney+.
"We are especially excited that we will also take our first leap [into TV] with Kevin Feige, Louis D'Esposito, Victoria Alonso and their partners at Marvel Studios," Coogler said in a statement. "We'll be working closely with them on select MCU shows for Disney+."
Obviously that is big news for the Marvel Cinematic Universe, which is likely to get even more interesting with Coogler's vision given more landscape to paint. But what somewhat gets buried is how interesting a move this is for Coogler himself, and what it says about the state of the industry. At the moment, Coogler is on top of the world in terms of creative capital in Hollywood. The filmmaker helmed what is largely recognized as one of the best Marvel films (and certainly one of the most successful) with Black Panther grossing $1.3 billion worldwide and being the first superhero film nominated for Best Picture. He is also about to direct the highly anticipated sequel, which is due out next year.
So for him to sign a television deal exclusively with Disney+—where he will be developing projects that need to fit the House Mouse's specific and PG parameters—is intriguing. To be sure, many filmmakers in the past have embraced producing television, some quite effectively from Steven Spielberg's Amblin Entertainment to Martin Scorsese's Sikelia Productions. However, these companies produced for a multitude of networks and television platforms over the years. For instance, a decade ago Spielberg might have series set-up at HBO (The Pacific), Showtime (The United States of Tara), Fox (Terra Nova), and NBC (Smash). Scorsese had Boardwalk Empire and Vinyl at HBO.
But now, as Coogler at the height of popularity signals, more and more there is an interest in tying one's self exclusively to a single streaming service, or at least to a first look deal (industry jargon for networks/services getting contractual priority to consider any new project in development). J.J. Abrams signed a similar deal with WarnerMedia and HBO Max; David Benioff and D.B. Weiss went to Netflix after finishing Game of Thrones; and even Scorsese has set-up a first look deal at Apple TV+.
Also worth noting is Coogler and Proximity are making their first foray into TV while attached to a significant, branded intellectual property via the unnamed Wakanda TV series. It's unknown if Coogler will help write or direct any of the series, but the association of his Proximity banner with it will likely open doors at Disney for the passion projects Coogler and his fellow Proximity principals want to pursue. In fact, it should make it easier than if they had to shop each project piecemeal to different networks. So Coogler will work on select MCU shows but also have access to Disney+'s 80+ million subscribers when developing potential original shows, films, and documentaries for the home media market. Shows and films that will hopefully only diversify the type of content made by Disney, as well as those who make it.
In the last year, the COVID-19 pandemic has accelerated trends in the entertainment industry that have been anticipated for years. Movie theaters shut down (and still largely remain empty) and cable cords were cut en masse as television audiences stepped even further away from live appointment viewing. Through it all, streaming services like Netflix and Disney+ have flourished. These services' corporate umbrellas have also likewise heightened interest in accelerating restructuring toward those services, as most spectacularly demonstrated when WarnerMedia announced WB's 2021 film slate would premiere simultaneously in theaters and on HBO Max.
What's interesting is now seeing young creatives like Coogler welcoming some aspects of that transition and using it to carve out a place for a variety of stories, including those of the superhero kind.
"As avid consumers of television, we couldn't be happier to be launching our television business with Bob Iger, Dana Walden, and all the amazing studios under the Disney umbrella," Coogler said. And being under it can be quite comfortable now for talent wanting to reach the largest possible audience in this new decade.