Features
How Raya and the Last Dragon Became the First Disney Movie Made at Home
The filmmakers behind Raya and the Last Dragon reveal the singular production of the next Disney animated epic.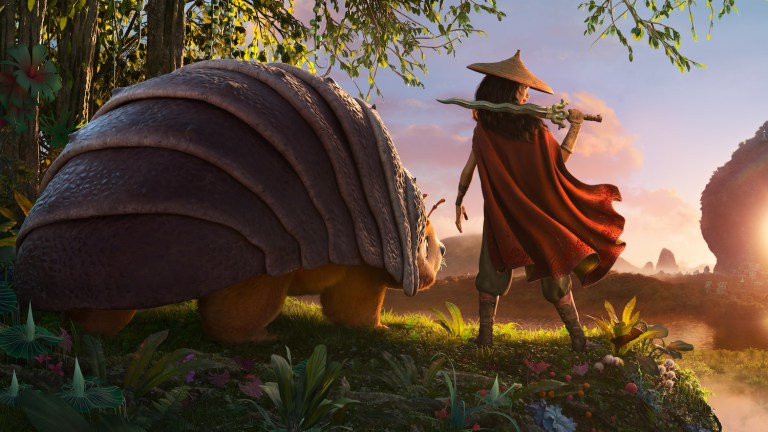 In the nearly 100 years since Walt Disney Animation Studios' founding, it's safe to say there never was a sight like the one facing animator Paul Briggs last March. For it was on a fateful early spring morning that the order finally came down: Raya and the Last Dragon would move its entire production—which had begun the very same month—to working from home.
"I still remember the day where everybody is like, 'We're going home, we're going to start building this thing from home,'" Briggs says. "And the animators were kind of walking out with their computers. Technology was scanning everything, making sure, 'Okay, we're going to [need] this.'"
Raya and the Last Dragon, a movie Briggs co-directed, would become the first Walt Disney Animation Studios film to be produced primarily at home. Clearly they weren't in Arendelle anymore.
Luckily, the decision did not catch anyone by surprise. In fact, co-director Don Hall tells me the first thing he felt that day was relief. Disney had been following the then-early days of the COVID-19 pandemic's impact on the world. And Hall was relieved Disney got out ahead of it, being proactive about protecting its employees.
Still, he confesses, "There's relief juxtaposed with, 'Oh my God, we've never done this before this way.' We're this big ship pointed in a direction, and it's really hard to turn around. We don't turn on a dime. That's just not who we are." But on that day it's who they became.
As with other storied animation houses, Disney Animation prides itself on being a creative melting pot for talent to gather and bandy ideas around. It's a neat trick that extends beyond mere story or production design meetings in the conference rooms. Creative collaboration occurs in hallways, chance encounters in the parking lot, or over coffee at their in-house shop, the Caffeine Patch. Hall calls it "our secret sauce."
But their next princess movie, and the first derived from Southeast Asian lore and culture, would exclude all of that.
"We were naive about the whole thing," co-writer Qui Nyguen says. "We were like, 'Oh we'll be back in six weeks. We'll be back in May—[then] June has a really solid day. We'll be back by then. And it just kept growing to the point where you were just like, 'Oh no this is going to be it. We are going to be making an entire movie this way from the beginning.'"
Yet where there is adversity there is also the opportunity for perseverance. And more than persevere, WDAS thrived in finding new ways to collaborate in building a unique vision of Disney magic. Indeed, based on the 30 or so minutes of Raya and the Last Dragon we've seen, the film appears to be immense in scope and atmosphere, opening with images of desert wastelands being traversed by a plucky lone hero.
Rather than sing songs or live in castles, Raya (voiced by Star Wars: The Last Jedi's Kelly Marie Tran) is a heroic badass trained in the fighting styles of Southeast Asian martial arts like Muay Thai and Arnis. She's also on an adventure with a talking dragon named Sisu (The Farewell's Awkwafina), who is a chatterbox source of humor. Based on Southeast Asian conceptions of dragons like Nāga, Sisu is a divine water creature who would rather ascend raindrops (or jabber about her insecurities) than breathe fire.
That it was all realized by animators and actors working from home is rather extraordinary, even if it did run into problems. Hall's co-directors and writers, for one, still give him a pretty good ribbing about his spotty WiFi in the early months.
"[It was] a pain in the ass!" Hall says with an exasperated laugh. "No, it really was." Yet his lengthy saga with repeated bandwidth and hardware upgrades—even now he can't explain exactly how it was fixed—paled in comparison to what some of their actors went through.
Thanks largely to the efforts of Disney Animation's technology department, microphones and recording equipment were mailed around the world, from Kelly Marie Tran's home in the U.S. to Awkwafina's office space in Australia where she was filming Marvel's Shang-Chi and the Legend of the Ten Rings. But the struggle to create proper acoustics for each performer was a case by case experiment.
"We were working out of people's closets," co-director Carlos López Estrada says, "and because no one can go in [their homes], we send them recording packages with mics and cables, interface, and they have to have the computer on so they can be looking at the lines and then talking to us. Then they also have to be hitting record on all their files and sending them to our audio team [while] checking their mics."
In one specific example, López Estrada seemed amused to remember how child actor Izaac Wang recorded in a home closet with motion sensor lighting.
Says López Estrada, "Every two minutes they would just go off and he would just have to move so they would come back on." In contrast, the two leads were able to avoid this problem by building tents: Tran's was in her living room and made of blankets while Awkwafina put hers up in an office after Disney mailed her an actual tent.
Of course none of this is ideal. Hall especially sympathized with the performers working in voice acting for the first time, saying, "Being in a live action film, you have a set to react to, you have your partner in the scene to react to. With animation that's not the case. You have a microphone and your imagination, that's it. So voice acting for an animated film is actually a difficult endeavor." When you factor in some are doing it for the first time while getting their directions over video sharing… it's a unique challenge.
One specific issue Hall recalls with an understanding chuckle is how one should record with air conditioners running (spoiler: they don't).
"This is during the summer," says Hall. "I remember they would have to turn their air conditioners off because it was making too much noise, and it'd be hot and they would be sweating. And you're like, 'Oh God, I feel so bad for these people, but they never complained. You never saw them under duress. They just handled it and did amazing performances, which we're incredibly grateful for."
It seems everyone rallied on Raya and the Last Dragon. Which makes its release in March its own kind of magic.
Raya and the Last Dragon premieres in theaters and via Disney+'s Premier Access on March 5.
Subscribe to Den of Geek magazine for FREE right here!