Reviews
Rutherford Falls Review: Peacock Series Learns From Pawnee's Mistakes
Hailing from Parks and Recreation creator Michael Schur and starring Ed Helms, Rutherford Falls is Peacock's first chance for a hit. It just has some growing pains to get through first.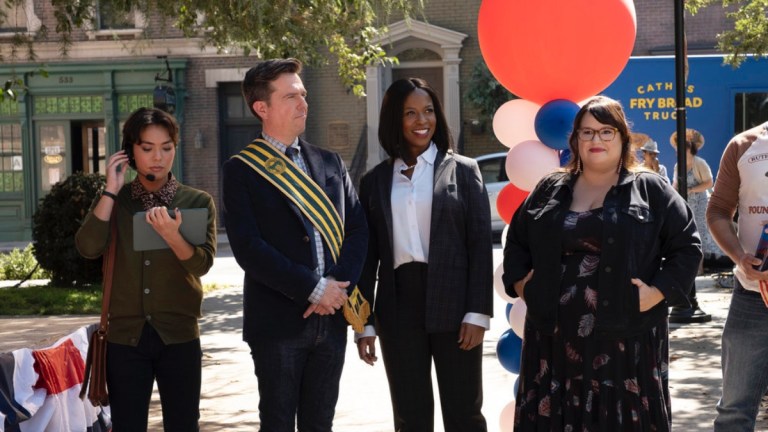 This review contains no spoilers and is based on the first four episodes of Rutherford Falls.
Rutherford Falls, the new Peacock comedy from Ed Helms, Sierra Teller Ornelas, and co-creator Michael Schur, owes a lot to Schur's previous series, Parks and Recreation. Not only does Rutherford Falls have its mind on civics, community, and bureaucracy, it also aims to have a lived-in quality, with a focus on world-building. In the four episodes screened for critics, Rutherford Falls makes a concerted effort to give every member of the Northeast community a name and a voice, much like the citizens of Pawnee.
Another quality that the fictional Rutherford Falls and Pawnee have in common is their complicated histories with native communities. However, whereas Leslie Knope shrugged and resigned herself to the fact that that the murals in city hall showcased horrific treatment of the Wamapo tribe, the characters of Rutherford Falls are taking a long, hard look at the relationship between town founder Lawrence Rutherford and the fictional Minishonka Nation, the indigenous people with which Rutherford brokered a lopsided deal. Rutherford Falls examines the voices that we allow to shape our perception of history, and the voices that are frequently left out.
Ed Helms stars as Nathan Rutherford, a descendent of Lawrence who has dedicated his life to preserving his ancestor's history as it relates to his hometown. Nathan runs the Rutherford Falls Heritage Museum with obsessive zeal, cosplaying as his ancestor in self-aggrandizing short films and giving tours to local school children. Nathan's best friend is Reagan (Jana Schmieding), a member of the Minishonka Nation who, after receiving two master's degrees from Northwestern, has returned home to run her own museum, a resource-strapped "Cultural Center" inside of the Running Thunder Casino, which the tribe owns. Though the friends have great admiration and respect for each other and their respective endeavors, they are put at odds when the mayor of Rutherford Falls threatens to move the statue of Lawrence ("Big Larry") which sits in the middle of a busy intersection and causes frequent car accidents.
Peacock has touted the fact that Rutherford Falls has "one of the largest Indigenous writers' rooms on television," with five Native writers on staff. The show also features one of the largest Native American casts in recent memory, as well as nonbinary characters. It's a shame then that so much of the first four episodes focuses on Helms, a clear weak spot. Surely the series needed a big name to attract attention, and a former Office cast member starring in a series hosted by a streaming service that practically exists just to house The Office makes sense on paper, but those that find Helms' misguided nice guy schtick annoying likely won't warm to him here. 
Nathan is certainly necessary to the story, it's just that perhaps he didn't need to be a main character. While there's value, both comedically and narratively, to Nathan realizing slowly that he may be on the wrong side of this issue, and history, when his efforts are championed by pathetic, white supremacist characters like one portrayed by Paul F. Tompkins, Nathan seems too unrealistically blind to the larger issues for someone who is shown as otherwise being friendly, thoughtful, and accepting. Nathan would have been better served being the sympathetic antagonist versus the top-billed star.
Rutherford Falls' real juice comes from Reagan's interactions with Terry Thomas (Michael Greyeyes), a fellow Minishonka Nation member and enterprising CEO of Running Thunder Casino. Terry is a driven family man who takes a special interest in Nathan's loud, foolish campaign to save his ancestor's statue, and he and Reagan share a hinted-at history.
The fourth episode puts the focus on Terry and is far and away the best of the bunch. Structured around an interview Terry is giving to Josh Carter (Dustin Milligan), an NPR reporter investigating the "Big Larry" dustup who looks poised to be this series' Ben Wyatt, outsider character, we learn about Terry's origins and watch as he systematically dismantles Josh's notions of what a Native person's priorities should be. In a single episode, Greyeyes makes Terry the series' deepest, most complicated character and proves he's an incredible foil for Reagan. Hopefully the remainder of Rutherford Falls' episodes move away from Nathan and more toward this pairing.
The ambition, timeliness, and necessity of Rutherford Falls' story cannot be overlooked. These are tricky subjects and themes for any series, and especially for a comedy. While the initial episodes can be light on the jokes in favor of laying the groundwork for the remainder of the season, there are still some laugh out loud zingers (like when Nathan suggests that Reagan just leave a note after they damage a government building, and she replies "Vandalize public property and leave a note — ah, to live that white dude life.")
Hopefully as the show progresses, it will be able to better balance the narrative ambition and the comedy. First seasons of comedy series are tough, just look at Parks and Rec. But with a unique, distinct point of view and real diversity behind the camera, Rutherford Falls is well-suited to carve its own path and be Peacock's first genuine hit.
All episodes of Rutherford Falls will be available to stream Thursday, April 22 on Peacock.