News
Run Trailer Previews HBO Series Produced by Phoebe Waller-Bridge
Domhnall Gleeson and Merritt Wever co-star on Run, an HBO series executive-produced by Phoebe Waller-Bridge.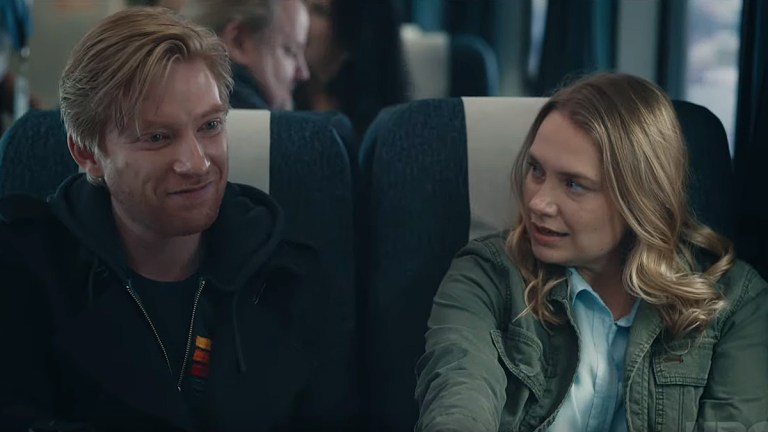 Run, a 7-episode half-hour HBO comedic thriller series, might just prove to be the kind of raucously random flight of fancy—with just enough of a cynical edge— that the world could use right now.
Vicky Jones created the series. A script editor for Phoebe Waller-Bridge on Fleabag and Crashing, Jones also serves as writer and executive producer here. Of course, Waller-Bridge herself is onboard as an executive producer, and even fields an eccentric recurring role.
Domhnall Gleeson (Star Wars: The Rise of Skywalker) and Merritt Wever (Unbelievable) co-star on the series as old college sweethearts who—motivated by mysterious and quickly escalating circumstances—embark on an insane adventure.
Run HBO Trailer
The trailer for HBO's Run has arrived. The clip showcases an intriguingly random quest that, in fulfillment of a pact, reunites two old college sweethearts. Yet, it clearly contains a dark side that escalates to events necessitating cash-filled go bags and the rarely-auspicious moment of standing in the middle of nowhere at night with a shovel.
Run HBO Release Date
Run premieres on HBO on Sunday, April 12 at 10:30 p.m.
Run HBO Details
As the official logline for HBO's Run reads:
Run follows a woman whose humdrum life is thrown upside down when she receives a text from her college sweetheart inviting her to drop everything and meet him in New York to fulfill the pact they made 17 years previously.
The series is the first creation of Vicky Jones, whose aforementioned work on Waller-Bridge shows Fleabag and Crashing, is complemented with writing work on a 2019 episode of the Anna Paquin-starring Pop TV series, Flack, a 2018 BBC miniseries Snatches: Moments from Women's Lives and a 2018 episode of Waller-Bridge's acclaimed BBC America series, Killing Eve. She also co-directed (with Tony Grech-Smith,) Waller-Bridge's 2019 stage presentation of National Theatre Live: Fleabag.
Domhnall Gleeson is coming off a starring role on the Amazon/Channel 4 comedy series, Frank of Ireland, and recently completed his villainous Star Wars Sequel Trilogy role as General Hux. However, what was to be his next release, a role reprisal in Peter Rabbit 2: The Runaway, was moved from April back to August 7 due to (what else?) concerns over the coronavirus.
Merritt Wever is coming a role on 2019 Netflix crime series Unbelievable, in which she co-starred with Tony Collette. Her extensive television CV includes run on Netflix's Godless, AMC's The Walking Dead, Fox's New Girl and her breakthrough role on Showtime's Nurse Jackie. She's also been seen in recent-years films such as Marriage Story, Welcome to Marwen, Charlie Says, Irreplaceable You and the Oscars-accruing film, Birdman or (The Unexpected Virtue of Ignorance).
The headlining duo are joined by notable supporting player such as Archie Panjabi, Tamara Podemski and, as mentioned, Phoebe Waller-Bridge.