Reviews
Run Episode 4 Review: Chase
Fiona threatens to derail things for Billy and Ruby on the latest episode of HBO's Run.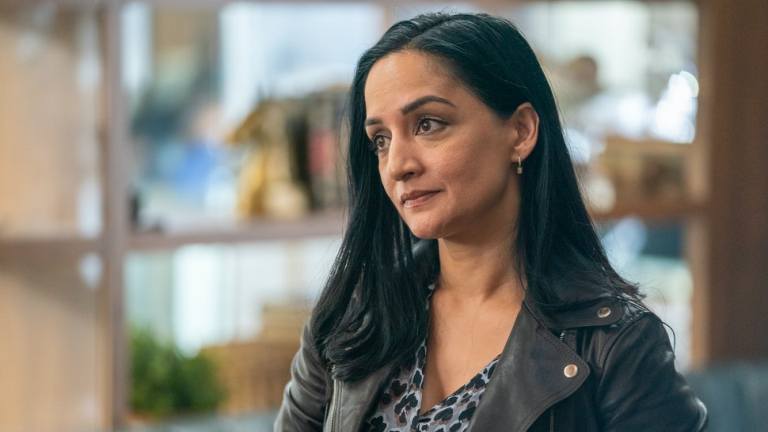 This RUN review contains spoilers.
Run Season 1 Episode 4
Chemistry alone wasn't going to keep HBO's Run afloat. The series was desperately in need of a good foil, and Archie Panjabi's Fiona is the right chaos agent to derail this train. The brains behind Billy's operation, Fiona has the wit and charisma to not only con Ruby, but also keep Billy nervous and on his toes. Billy seems desperate to leave Fiona in the past, but as long as there's money being left on the table, she's not going to let him go so easily.
Fiona has been getting involved in Ruby and Billy's plans long before they met at Grand Central. It's revealed that four years ago when Ruby texted Billy "Run" on her wedding day, Fiona intercepted the message and deleted it before Billy could see it. If Fiona hadn't come between the pair, would they have gotten back together much sooner? Would Ruby even have the family that's trying to pull her back home?
I'm not entirely sure. As much as these two have an undeniable connection, they also can't go more than ten minutes without bickering. After a presumably romantic evening together, Billy is already criticizing their "performance" the next morning. Every time things become idyllic, one of these two ruin things. They still can't even be completely honest with one another. Ruby has yet to reveal her family, even though Billy has already seen their picture, and Billy keeps lying about the mind game text messages that he's receiving from Fiona.
Perhaps a common enemy will draw them closer. Ruby encounters "Alice" on the train and unwittingly reveals that Billy is traveling with a bag of money. That immediately sends Fiona searching for their train car to take the money herself. When she finally encounters Billy, Fiona reveals that she's not going to leave the two alone until she gets more money. When trying to intimidate Billy doesn't work, Fiona finally reveals her true self to Ruby.
Ruby isn't prepared to handle Fiona's machinations because she's too preoccupied by her life back home. After desperately trying to return Laurence's 32 missed calls, she finally connects and learns that her son has broken his arm. It's our first on-screen look at Rich Sommer, and he looks stressed, yet resigned to his wife's absence. His look isn't the only thing that tips that off, as Ruby's son also reveals that Laurence has hired a young, blue-haired au pair.
That information leaves Ruby frazzled enough to be extorted by Fiona. After revealing her real identity, Fiona tells Ruby that she recorded the audio of Ruby and Billy's intimate night and will send it to Laurence if Ruby doesn't hand over Billy's money. Worried, Ruby does as she's told. Moments after Fiona leaves, Billy comes in ready to tell the whole truth about "Alice" and the circumstances that caused him to text 'Run" but it's too late, Fiona has his money.
Adding a little of the manic energy that was missing from the beginning of the episode, Billy and Ruby scour the train looking for Fiona. When they finally corner her, Fiona jumps from the moving train! It's a bold move, and it ensures that now Billy and Ruby both are now penniless. If they barely able to get along as it is, how are they going to keep the peace with the added stress of being broke? And how much longer is Ruby going to be able to ignore the family that's waiting for her back home?
Hopefully this isn't the last that we see of Fiona for some time. She added an extra spark that was necessary to keep the momentum of Run going. I also think it would be interesting to spend some POV time with Laurence and see if he's caught on to what is wife is really up to. The show is going to need something to keep things lively, otherwise it's going to start to feel like we're running in circles.