Reviews
Riverdale Creates Its Own Church Because Why Not?
By giving Cheryl and Kevin their own religion, Riverdale is worth worshiping again.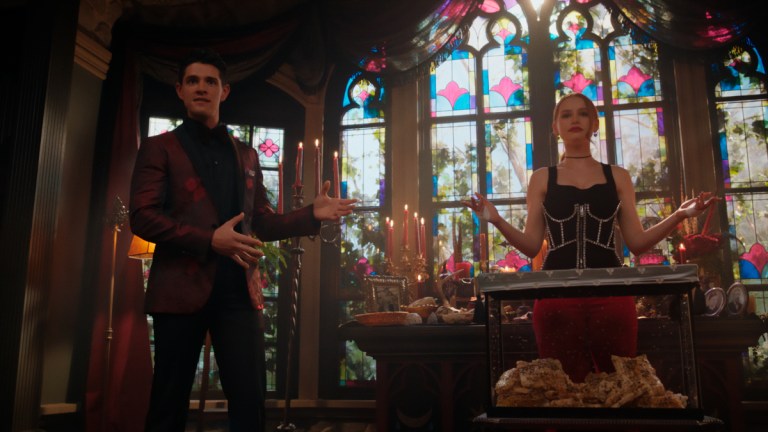 This Riverdale review contains spoilers.
Riverdale Season 5 Episode 16
"Being canonized has always been one of my life's goals."
And so it came to pass that Cheryl Blossom turned water into maple syrup.
Goddamn Riverdale is glorious trash.
In what is either very subtle marketing for The Eyes of Tammy Faye or just the best direction this show has taken since everyone was hopped up on Jingle Jangle, the Blossom family's "Church of Jason" antics came into sharp focus this week. Although relegated to a B or C plot, this plotline — which works equally well as a satire on hip religions that popped up out of nowhere (see also: last week's The Other Two) or as Cheryl's latest brush with divine darkness.
The focal point of this episode was clearly supposed to be Archie getting justice for his fallen comrades, but how can one be expected to pay attention to military intrigue when a line like "for I am Cheryl Blossom, Queen of the Bees" is delivered by Madelaine Petsch without a hint of insincerity? Disjointed as this season is, there's been a clear effort on the part of the writing to staff to give the show's secondary characters more to do. (Due to Petsch's constant scene-stealing it's easy to forget that she was previously a supporting character before the series' producers made the wise decision to become an ensemble piece instead of focusing primarily on Archie, Veronica, Betty and Jughead). As a result, Cheryl has shone brighter than ever.
While Penelope clearly sees the Church of Jason as another shady enterprise, for Cheryl it has become a, well, bona fide religious experience. Since breaking up with Toni she has become, in the immortal words of The Lemonheads, "a ship without a rudder." The Church of Jason gives her a purpose, even if it is only to satisfy her carnivorous desire for validation. Although this has some unexpected side effects, namely that her false divinity unexpectedly gave rise to an actual miracle when she controlled the bees and use them to dispel Penelope from the Church. "Something inside me has shifted," she tells Kevin afterwards, "something powerful." More than just quasi-literally becoming a Queen Bee, Cheryl has undergone a true religious awakening and tapped into a power inside of herself. How will this manifest? And what ramifications will it have for her and all of Riverdale itself?
Cheryl has always been more of a persona than a character, reliably outrageous with hints of an inner depth that go undeveloped as the series' tears through its storytelling. I'd like to think that whatever is happening here is going to correct that wrong and give Cheryl the ability to be fleshed out more. Seeing how self-aware Riverdale has been of late (i.e. Josie's takedown of the entire gang last week), there is a renewed effort to strengthen sidelined characters. Let's see how Cheryl benefits from this in the few remaining episodes of the season.
Speaking of sidelined characters, there is none more so than Casey Cott's Kevin Keller. Five seasons in and Kevin can be boiled down to "loves musicals and cruising for anonymous sex," which doesn't exactly befit the character's GLAAD-award comic book counterpart. The continual lack of depth for Kevin and the show's reliance on stereotyping him remains an absolute downer. Where are his multitudes? At least by pairing him with Cheryl he isn't out in Fox Forest all the time. Again though, he remains sidelined without any clear definition. I give the series credit for not following the cliched "Bury Your Gays" trope, but by continually mishandling Keller the argument could be made that his lack of dimensions are a fate worse than death. I'm hoping that the show finally figures out what to do with him, as Cott and Keller — who was Archie's first openly gay character — deserve much better.
The Church of Jason's actual goals are unclear, and the miracles on display here were pretty much sacrilegious. Now that something has shifted in Cheryl, expect her to transform the religion into something based on her past trauma (and her mother's scheming) into something entirely different, and perhaps dark. For now though, I'm willing to go on faith that the Church of Jason, and Riverdale itself, has some entertaining miracles up its gloriously bonkers sleeve.
Riverdale Rundown
Like last week's excellent installment, this episode was directed by Robin Givens, who is rapidly becoming one of this series' best helmers.
I for one would have loved to have seen Cheryl and Kevin's Joseph and the Amazing Technicolor Dreamcoat medley. Thanks Penelope.
A nice bit of meta humor appeared when Jason was referred to as "a man of few words" as we have yet to see the character utter even a pre-death flashback syllable.
K.J. Apa's hair seems to be rebelling against the red hair dye more and more each week.
This episode's main plot was about Archie's attempts to bring General Taylor to justice, but it is so disconnected from the other storylines that it ultimately results in a major shrug. Even the show seems uninterested in this, with the climatic tribunal — which would have at least provided some A Few Good Men pastiching — happening off screen.
Before it was cancelled, Chilling Adventures of Sabrina's next season was supposed to be a massive Riverdale crossover involving witches. One can only wonder if Cheryl's new abilities are somehow tied into this abandoned event.
We learn that Reggie and Hermosa had "a thing," and one that Veronica seems both revolted (and perhaps a bit jealous?) of.
Hiram Lodge storing his palladium in model of So-Dale is very on brand.
The book Jughead initially passes off as his own before coming to his senses is "Rules of Distraction," (an obvious riff on The Rules of Attraction) written by the very Riverdale-named Cora Carter.
Jughead's agent is named Samm, and this is perhaps not so coincidental. One of the greatest-ever Archie artists was Samm Schwartz, who has best known for his work on the Jughead solo comic. By giving the character fluid movement and hilarious facial expressions, Schwartz's gag-packed panels remain the most pleasing take on the character in Archie's 80-year history.
Copter Cab, a rideshare company that takes one-percenters to exclusive events via helicopter is such a douchey idea that I'm generally shocked it doesn't exist in real life.
Jughead gets one of the best lines of the week when he remarks to Betty that she "solved like eight mysteries in high school and were still valedictorian."
What with Archie's crusade for justice, Veronica generally kicking ass in her battle to detach from Chad and regain her She-Wolf of Wall Street Mojo, all the aforementioned magic of Cheryl and Kevin, and Jughead's attempt to get his life back on track, Betty's search for the Lonely Highway Trucker didn't get much screentime until the end of the episode. By pairing with Tabitha Tate on the road, she has a new ally, and I can't wait to see these two trying to solve crimes together.
Speaking of, the Lonely Highway Killer has to be TBK, right?
It's interesting that the past two episodes have worked overtime to make Mr. Lodge seem small and foolish. I'm not quite sure where this is leading, but it's satisfying to see him get some comeuppance at last.
Fake brands this week include the Boysenberry pager and The Wall Beat Journal.
Now that Jughead's The Lost Weekend-ing seems to be headed towards the backburner, I'm excited for next week's installment which promises the return of Mothmen. Finally.