Reviews
Riverdale Season 5 Episode 3 Review – Chapter 79: Graduation
We say goodbye to Riverdale High in a heartfelt graduation episode.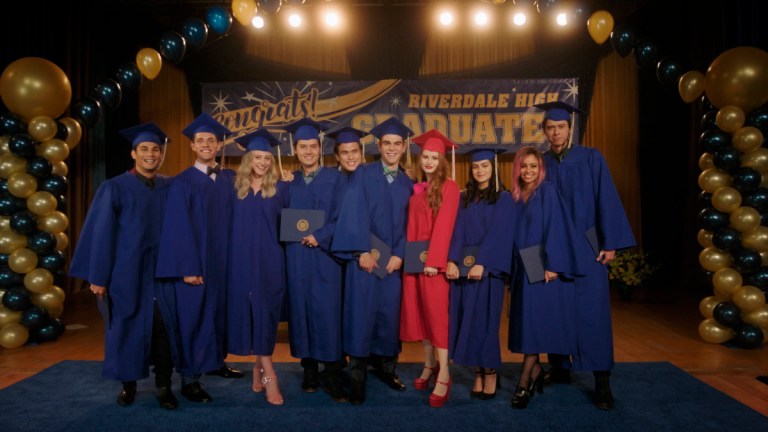 This RIVERDALE review contains spoilers.
Riverdale Season 5 Episode 3
"Are we doomed to just be haunted by this town for the rest of our lives?"
So asks Jughead Jones in this most emotional episode of Riverdale, and it's a question that is uttered almost rhetorically even though we all know the answer. There's a valedictorian feel to this installment in every sense, one that subtextually speaks of how the series is closing the door on what is what in order to reinvent itself. And friends, it's arguably the most grounded episode the show has ever done…and maybe the best?
I've mentioned previously how weird it is whenever Riverdale focuses on aspects of normal teenage life. High school has never been a huge part of the program, so graduation feels like an necessary obstacle that must be hurdled in order to get these characters into their respective futures. Realizing this, episode writer (and show co-creator) Roberto Aguirre-Sacasa has crafted a graceful farewell to Riverdale High that is more about dealing with the consequences of the past than graduation itself.
Always the best speechmaker on the show, Betty's succinct graduation address acknowledges how easy it is for innocence to slip away. "Stay young for as long as possible, even if it's only for one more moment," she sincerely states, gravely aware of how the mayhem inflicted by the Black Hood, the Gargoyle King, Jingle Jangle, and all of Riverdale's ills have fractured the psyches of the next generation.
It is an issue the Cooper family has dealt with repeatedly, and was even doing so while Betty was speaking to the community and her peers. For the impact of Riverdale life has again hit home, this time by Jellybean's actions as The Auteur. In an attempt to save Jellybean before she is consumed by her demons, F.P. decides to take her back to Toledo — back to Gladys and something resembling a normal life.
The collateral damage is massive. Alice loses her partner, Jellybean loses her brother, the town loses the best sheriff it has ever had. (F.P. demanding that Hiram Lodge reinstall Tom Keller as sheriff is the sort of delightful contrivance that only this series can get away with).
Time and again on Riverdale we've heard characters give speeches that the town residents must "do better." Now that there are proven examples of how the madness of the town is impacting its youngest citizens, will anything change? Narratively, it's doubtful. And a "normal" Riverdale would be a hell of a dull place.
But what feels revolutionary here is that this episode is excellent while still being rooted firmly in reality. Riverdale can still be compelling by just focusing on the friendships that bind these characters without relying on narrative gimmicks. This may break the show, but it could also rebirth it.
That said, I still want zombies.
This episode was originally intended to be last year's season finale before Covid-19 halted production. In many ways though it feels like a series wrap up. As the credits roll we have all of the characters separated. Archie has decided to the join the Army, with Betty, Veronica and Jughead away and estranged at their respective colleges. Cheryl remains in Riverdale, determined to rehabilitate the Blossom family image while her beloved Toni is away at school.
Jughead tells us as the episode concludes that the gang will be brought back together by a new mystery six years later. We don't as of yet know what that is, and the anticipation is exhilarating. Bring on next week!
Riverdale Rundown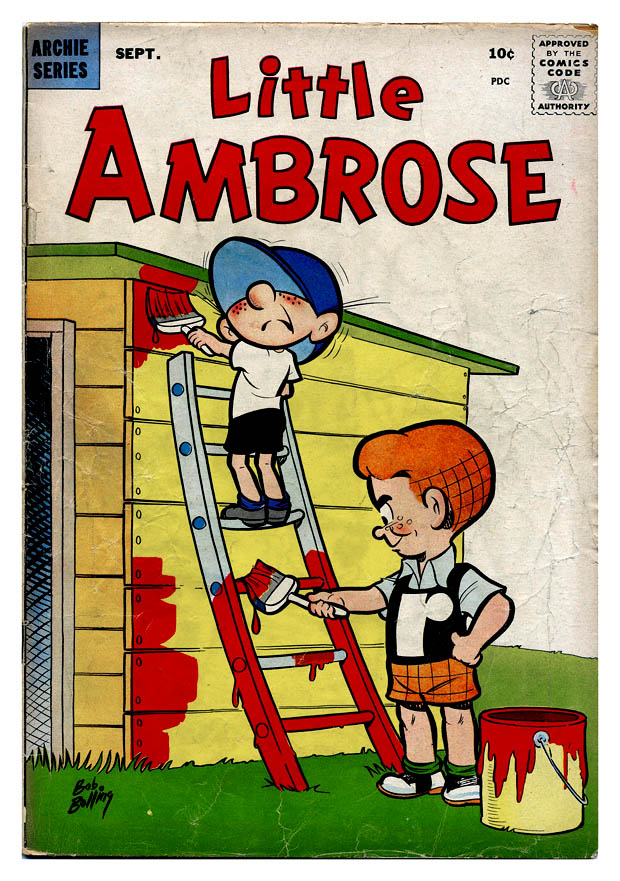 • The baseball card included in the time capsule from the Class of 1945 was for Ambrose "Rocket" Pipps, which was the name of a minor character who primarily appeared in Bob Bolling's melancholy Little Archie comics. (He was an outsider who Archie would regularly bully, often brutally so). The character also made an appearance in the Life with Archie: The Married Life series, this time as a business partner of Archie's.
• Riverdale has been renewed for a sixth season, so we can expect this show's craziness to go on indefinitely.
• Penelope Blossom skulking about in the bushes after graduation was a hilarious bit of business. And by her turning herself in to the authorities, she should be out in about six years…which is also the length of the time jump the show is about to go through.
• After all that these characters have gone through, is a kiss that really didn't mean anything between Archie and Betty that big of a deal?
• What will Mr. Lodge do now? And, more importantly, does anyone really care?
• This episode was full of emotional gut punches, with my three favorites being the Fred flashback, F.P. and Alice's farewell, and the beautifully orchestrated farewell between Archie and his friends on the side of the road.
• Archie's suggestion that he and his friends all meet up at Pop's one year after graduation had big Wet Hot American Summer vibes. Maybe no one but Jug showed up because everyone else was too busy fondling their sweaters?
• In the episode's biggest dick move, Mr. Weatherbee tells Archie he has to repeat his senior year then immediately asks for a favor — having him sing at graduation. Speaking of this, it made me feel like a fossil to realize that Archie and the gang probably think of "Good Riddance (Time of Your Life)" as an oldie.
• Speaking of which, I openly giggled when Archie started singing Green Day. Given the characters' comic book longevity I thought that Alphaville's "Forever Young" would have been a better choice, albeit a tad on the nose.
• "Maybe a little normal high school angst is good for us," says Jughead, moments before a little normal high school angst rips he and his friends apart.
• Mr. Weatherbee is sporting a glove on his right hand as a result of losing a few fingers during his escape from The Farm.
• While the fate of the core four is largely uncertain, we do know from his appearance in the future-set Katy Keene that Kevin Keller goes on to become the drama teacher at Riverdale High. It would have been nice though for the show to take a moment to address his (and Reggie's for that matter) future plans.
• Pop Tate once again has ownership of the Chok'lit Shoppe. Expect this plotpoint to play a big role in the rest of this season.
• The name of the four Riverdale High students who went off to war (and who haunt Archie throughout this episode) are Carl Callahan, Walt "Wildcat" Wright, Ab Ackerman, and Gordy Greene. I'm guessing these are super deep cut Archie/pop culture references that even I don't know. If you recognize their significance, let us know.
• Cheryl pulls a The Red Circle comic out of the vintage time capsule, this is a reference to the super heroes whose publisher, MLJ, later became Archie Comics.
• Will Jughead now be hatless in future episodes of Riverdale? If so, I'm going to be VERY upset.
• Kevin including Josie's cat ears in the new time capsule is a fantastic tribute to his step sister, and a character whose fate in the TV Archieverse is unknown following the cancellation of Katy Keene.
• It was great to hear Penelope call Cheryl (dressed in red for graduation, obviously) "nightmare child" once again.
• While effective, Betty's commencement speech was easily the shortest in television history.
• The fact that there are Serpents in seemingly every major city will never not be hilarious to me.
• It's nice to see that Vegas is alive and well. This dog has been so neglected on the series that I expect him to turn up on one of those Sarah McLachlan commercials.
• Jughead's narration of the gang drifting apart following graduation was clearly inspired by the end of Stand By Me. (God knows these kids have seen enough dead bodies in their day).
• Hermione Lodge spending a summer in the Hamptons with Andy Cohen and starring on The Real Housewives of New York City? Chef's kiss.
• Next week: The fifth season of Riverdale gets properly underway, and I for one can't wait to see what happens next.