News
Rick and Morty Season 6 Release Date, Cast, Plot, and News
Rick and Morty season 6 now has a release date ... and a first look at the suddenly shredded duo. Here is when you can expect for multiverse-hopping adventures.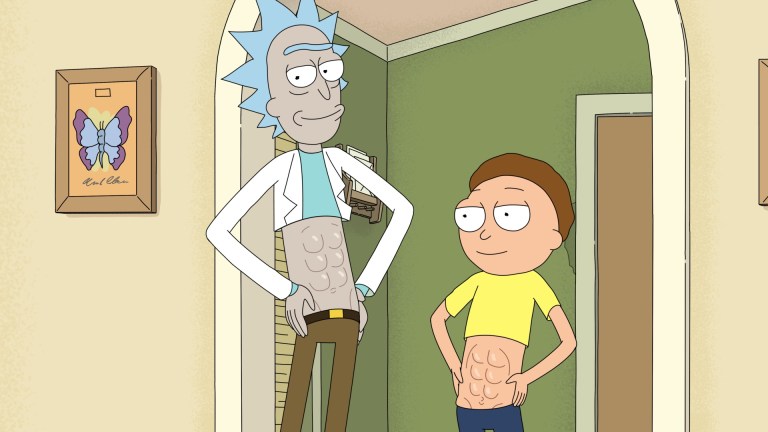 Rick and Morty season 6 was never in doubt. In fact, it's going to be awhile before another season of Rick and Morty is in doubt again.
Following season 3 of the beloved animated series, Adult Swim and Rick and Morty co-creators Dan Harmon and Justin Roiland reached a deal that ordered a whopping 70 more episodes! Twenty of those episodes came to pass in seasons 4 and 5 and the next batch is set to arrive soon when season 6 premieres this fall.
Just because Rick and Morty season 6 was inevitable, however, doesn't mean that its network isn't interested in hyping up the announcement. Adult Swim revealed the Rick and Morty season 6 release date to press with an accompanying gushing statement from network president Michael Ouweleen.
"It's hard to overstate the impact of Rick and Morty. More than a hit show, it is truly a global phenomenon," Ouweleen said. "As we prepare to launch this soon-to-be iconic season, we will be giving fans a unique way to be part of the fun – so keep your eyes peeled."
There's no word yet on what the incoming treats for fans are but Adult Swim generally spares no expense when it comes to promoting its multi-Emmy award winning series. Rick and Morty season 5 received a live-action promo starring the OG mad scientist Christopher Lloyd as Rick. It also partnered with Wendy's for some truly unsettling commercials. Who knows – for season 6, Adult Swim might just send someone to the moon.
Before all that, however, let's catch our breath here and run down everything we know about Rick and Morty season 6.
Rick and Morty Season 6 Release Date
Rick and Morty season 6 will premiere Sunday, Sept. 4 at 11 p.m. ET on Adult Swim. The network notes that the premiere will be available "globally and across the multiverse." Good news for America Chavez it would seem.
Rick and Morty Season 6 Cast
The main cast of Rick and Morty has remained static and steady throughout five seasons. It includes:
Justin Roiland as both Rick Sanchez and Morty Smith
Sarah Chalke as Beth Smith
Chris Parnell as Jerry Smith
Spencer Grammer as Summer Smith
Of course, most episodes of Rick and Morty feature an extensive guest voice cast of notable actors. We don't yet know who might be stopping by season 6 just yet but you can find a list of previous guest actor appearances over here.
Rick and Morty Season 6 Plot
The balance between the ongoing serialized story and adventure-of-the-week narrative is a hot topic for many Rick and Morty fans. The show threw the serial fans a serious bone with the canon-busting season 5 finale that introduced multiversal concepts like the "Central Finite Curve." According to the, let's say, irreverent tone of the official season 6 synopsis, however, it's probably best not to expect an immediate followup on that canon exploration.
Adult Swim's synopsis reads:
"It's season six and Rick and Morty are back! Pick up where we left them, worse for wear and down on their luck. Will they manage to bounce back for more adventures? Or will they get swept up in an ocean of piss! Who knows?! Piss! Family! Intrigue! A bunch of dinosaurs! More piss! Another can't miss season of your favorite show."
Stay tuned for more Rick and Morty season 6 news as it arrives.