Features
Resident Alien Season 2: Alan Tudyk on His Human "Infection"
The very recognizable actor teases season 2 highlights of the Syfy show, and the "challenge" of people caring what he has to say.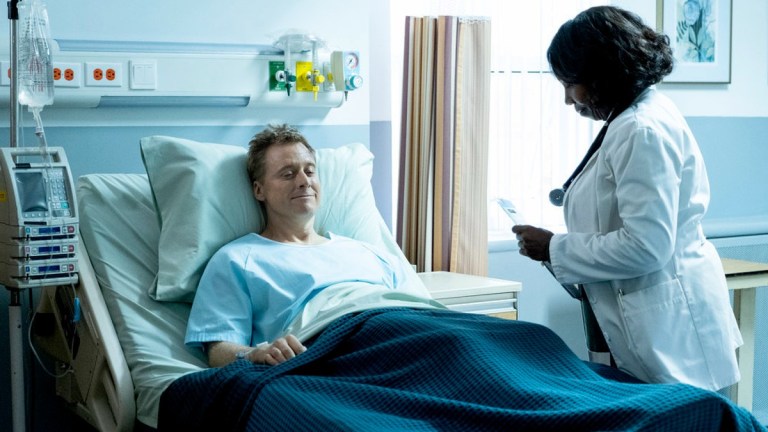 It is a safe assumption that anyone with even a casual awareness of popular culture knows an Alan Tudyk performance.
For science fiction fans, Tudyk may be Wash from Firefly, or K-2SO from Rogue One: A Star Wars Story. For fans of comic-book-based shows, he's Joker and Clayface on Harley Quinn, or Mr. Nobody on Doom Patrol. Disney fans have their pick of comedic villains (from Wreck-It Ralph, or Frozen), and animal sidekicks (Moana, Raya and the Last Dragon, Encanto). From comedies (Dodgeball: A True Underdog Story, Tucker & Dale Vs. Evil, Death at a Funeral) to drama (42, Trumbo) to dramedy (Patch Adams, 28 Days), Tudyk has one of the most recognizable and interesting careers in showbusiness.
But it is in his current role, on Syfy's sci-fi comedy series Resident Alien, that Tudyk is receiving newfound recognition. Premiering its second season Wednesday, Jan. 26, at 9 p.m. ET, the show revolves around Tudyk's extraterrestrial character who crash lands on our planet while trying to exterminate humanity. Adapted by Chris Sheridan from the Dark Horse comic of the same name, the show follows the alien in the guise of the dead human doctor Harry Vanderspeigle. As he strives to find his way back to his own planet, and kill all (or most) humans, he initially just wants to blend in.
But the blending-in is increasingly difficult, a "challenge" Tudyk shares with his onscreen alter ego now that the actor finds himself at the top of the call sheet as a leading man.
"It's more than just your name going up on the call sheet, and becoming 'Number One', as they say," says Tudyk in a recent Den of Geek livestream. "There is a lot to it; it seems like people care what you think more, which is not necessarily a good thing … Why is everyone listening to me? I'm just talking. I'm not used to people actually caring what I have to say."
And Tudyk literally has a lot more to say in Season 2 of Resident Alien. The show's episode order has increased from 10 to 16, and gone is the alien body double used for some scenes involving reflections in mirrors or windows. Now, Tudyk says, it's all "me doing rubber face," thanks to a new pull-over alien mask.
Plot wise, the show likewise has more to say in this outing. After a Season 1 finale where it is revealed in flashback human Harry was the one who murdered town doc Sam Hodges, alien Harry eludes the secret military agency, finally escapes Earth, and abandons his plan to kill all humans (since that would also mean killing Sara Tomko's Asta). Unfortunately for him, the season ended with a signature "This is some bullshit" when young Max (Judah Prehn) is discovered stowed away on the space bound ship.
At the top of the Season 2 premiere, alien Harry is back in Patience, Colorado, suffering amnesia, Max has been returned home, and there's a slight mystery as to how they crashed back on Earth. Meanwhile the trailer for the season teases an expanding world for the show with a side quest to New York City, growing suspicions about Harry from Sheriff Mike and Deputy Liv (Corey Reynolds and Elizabeth Bowen), more involvement from Linda Hamilton's General McCallister, and an off-world threat from aliens who will eventually arrive to complete his failed mission.
"We do leave Patience, but the world this season starts to come to Patience," says Tudyk. "The world is visited upon us, and not just the world, the universe, the beyond."
However, Tudyk says the core of the show remains Harry's "infection" of human emotions, and how to deal with them. Calling it a "big driver" this season, the actor equates Harry's emotions to a child who doesn't know how to regulate new feelings and says the alien attempts to counteract them.
"He is losing himself. He is losing his identity," says Tudyk. "When he feels a new one, it comes on strong, and he's caught off guard, and he does not like it."
Plus, Harry's circle of friends appears to be expanding. Though Tudyk relishes playing the bug-eyed alien opposite Prehn's Max, because "he's so nasty to the little boy," it seems Harry might also be fond of the kid. And Harry's connection to the human race is still through Asta, "so he won't be leaving her."
"Unless he can find a new spaceship and go home, but he hasn't found one yet," Tudyk teases.
And along with Alex Borstein (The Marvelous Mrs. Maisel, Family Guy) arriving as awkward love interest Carlyn, Harry reunites this season with a certain conversational cerulean cephalopod — who happens to be voiced Tudyk's real-world friend, and Firefly costar, Nathan Fillion.
"Harry needs friends, and he's got a connection with the octopus in the Chinese restaurant who lives in the tank, awaiting his death sentence when somebody orders it."
The octopus, a distant cousin of Harry's alien species, was a digital creation last season. But Tudyk says he is now acting with a silicone puppet and promises "some really fun stuff with that character" for the second season.
"It's so great and talking with the puppet Nathan is truly one of the best things I've had the chance to do."
Another highlight for Tudyk this season is Harry and Asta's trip to New York City in a storyline borrowed from the comic book source material.
"The show is not a direct comic made-for-TV; Chris changed several things," says Tudyk. "[But] this one comic they go to New York, and if you know the comic, then it has something to do with that. It's a fairly close translation. It's my favorite storyline of the comics."
And though Tudyk is staying mum, aside from a "Well done, sir" when pressed about it, the Big Apple has previously been mentioned through the course of the show. It was both where human Harry was living with his wife Isabelle (Elvy), and where guest star Terry O'Quinn's character was when his unborn son was abducted from a city bus in 1990.
Tudyk, who has lived in NYC and performed on Broadway, says production was sadly not able to film in the city due to the global pandemic. Rather, Vancouver had to stand in for Manhattan, which involved "throwing some trash around."
While speaking about COVID-19 — which last year delayed Resident Alien from completing their season finale for several months — Tudyk also says he misses "comic cons most of all" in this pandemic world. A staple at fan events, he created — and starred in/wrote/directed — the comedy series Con Man based on his experiences on the circuit. And he is eager to safely return to the cons to see how Resident Alien is connecting with his people.
"This show came out during COVID days, and I haven't met this new group of fans," he says. "One of the great things about the cons is people bring up art you've never seen. Art inspired by art you're making is always great, and you meet people who become friends, and hear stories that influence the art, which influence the art. It's part of 'the thing.' It's the best thing. I can't wait."
And when the already very recognizable Tudyk does return to comic cons, he'll be doing so as a leading man, and a leading bug-eyed alien. Resident Alien Season 2 premieres on Syfy Jan. 26, 9 p.m. Eastern/8 p.m. Central.