Features
Rabbit Hole: Why 24 Fans Will Love Kiefer Sutherland's New Show
It's been over a decade since Jack Bauer had to save the world while having the worst day possible. With Paramount+'s Rabbit Hole, Keifer Sutherland is back at it.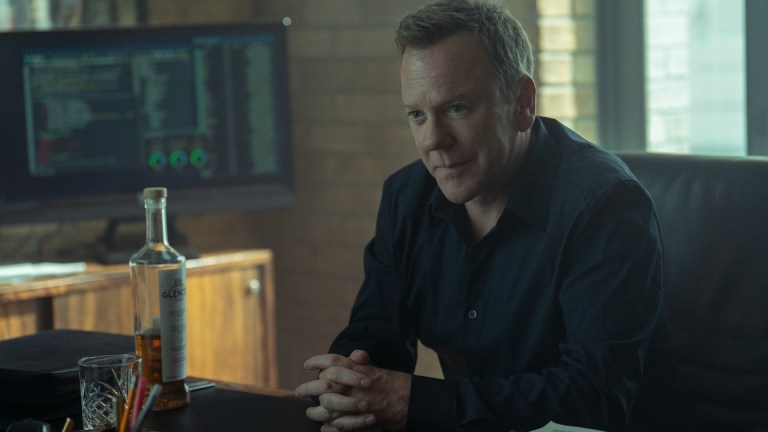 This article contains spoilers for 24 and episodes 1 and 2 of Rabbit Hole.
Since Keifer Sutherland played one of the most iconic American heroes of television in 24, the established actor has tried to recapture the magic he did as CTU (Counter Terrorism Unit) agent Jack Bauer. With a few short stops on the big screen, Sutherland's television resume was padded with stints on Designated Survivor, The Fugitive, and The First Lady, often trading in his typical role of saving the president, for playing the commander-in-chief. 
Yet nothing matched the audience numbers or spoke to fans as much as his eight-plus seasons on 24. Until now.
While The Fugitive certainly had life or death situations and Designated Survivor had political espionage, they lacked the same kind of intrigue as the Fox drama that started it all. Rabbit Hole seems like a great companion piece for 24 as the twists, turns, and action-centered plot feels like a great and familiar fit for Keifer.
Sutherland plays John Weir, a highly paid consultant adept at deception and corporate espionage. When asked to consult on a job for his estranged best friend, Valence (Jason Butler Harner), Weir suddenly finds himself framed for murder, and eventually taking on a mysterious shadowy power in a fight for democracy itself.
With the first two episodes of Rabbit Hole having premiered, it is easy to see how this new show could easily be the newest not-so-guilty pleasure of the Jack Bauer Happy Hour.
Topical Politics
24 debuted shortly after the 9/11 attacks, so naturally, many of the early plots revolved around Middle Eastern or Islamic terrorist groups. Looking back, that became an all-too-easy trope for television and films in the early aughts, but having a counter-terrorist agent investigate terrorist plots from that part of the world was extremely topical at the time.
In later seasons, it was the Russians, or as previously mentioned, China, so like all good spy-thrillers, 24 tried to keep its finger on the pulse of global politics, perhaps even predicting some of the major global conflicts in the following decades.
Rabbit Hole's world of e-formation couldn't be more topical given the current global situation and the dangers that surround us all. As the United States senate attempts to determine the safety of TikTok in America, or as the legitimacy of elections are being questioned, the news is filled with stories about how information and misinformation is shaping this world.
Family Connection
While audiences have just met Weir, they have recently discovered he has an awkward but amicable relationship with ex-wife, Liv (Alexandra Castillo) and a teenaged son, Sam (Wyatt White). While Weir remains in hiding, trying to get to the bottom of the "suicide" of his friend, and who exactly wants him dead, it seems as if it is only a matter of time before the dark forces use Liv and Sam as leverage to get Weir to come out and face danger head on.
Fans of 24 will recognize how that specific storyline can only be counted on so often before it becomes hackneyed. Jack's daughter, Kim (Elisha Cuthbert) was actually kidnapped three times in the original 8 seasons of 24. Granted, it seems like a natural way of the writers upping the tension within a show, but by the third time she was kidnapped, or the first harrowing cougar attack (which was literally a subplot on 24 at one point), even grown children become a nuisance and a liability more than they should.
The more intriguing familial connection comes from a similar source – the main character's father. Phillip Bauer (James Cromwell) in 24 wasn't exactly father of the year. Granted, he had a close relationship with Jack's brother, Graem (Paul McCrane), but that was predominantly because both other Bauer boys took a dark turn. Phillip and Graem became terrorists, not only attempting to release a deadly nerve gas, but they were also involved in the theft of five Russian "suitcase" nukes and a major ally to China when the Communist regime attempted to become the sole world superpower.
In a fantastic cliffhanger in the second episode of Rabbit Hole, it is discovered that Weir's father (Charles Dance), who was long-believed dead, was in fact still alive. Not only that, but he may be pulling Weir's strings and could be the key to unlocking the entire conspiracy.
Having a powerhouse of acting behind the role like Dance or Cromwell lends the father figure some true gravitas. With Sutherland's main character not sure how much he can trust his own father will undoubtedly lend some familiar drama as well.
Trust No One
It still remains to be seen if the senior Weir can be trusted, or if he's misleading John in some wild goose chase. Compounding that, Weir and his father both seemingly suffer from paranoid delusions. Weir Sr. doesn't seem like the most stable individual, and while his conspiracy theories seem probable, they could easily be the ramblings of an intelligent man lost in his own mind.
John often addresses the darkest time in his life where he went down the titular "Rabbit Hole", and while he hasn't spoken of the exact details, it can easily be gleaned that he was not in a good place in terms of mental health. John's relationship with his dad, trying to discover the truth behind his father's death, and revealing his own world of mind formation, espionage and secret codes has clearly shaped the man, and not for the better. Already in the first two episodes, he seems to have been betrayed by two or three people, and this is undoubtedly going to be a common thread throughout the season.
Which fans of 24 call just another day – pun intended. It's not hyperbolic or coincidental to estimate Jack and his allies were probably betrayed two dozen times throughout the run of the show. Most notably, Nina Myers (Sarah Clarke), Bauer's confidant and former lover turned out to be a deep-cover information broker. Myers would turn out to be one of Bauer's greatest nemeses, and one of the deepest betrayals felt throughout the history of the show.
With Rabbit Hole being a deep dive into the world of information and cyber-security, a character like Myers might fit in perfectly. Could this untrusty former lover possibly be the beautiful and intelligent Hailey Winston (Meta Golding), who Weir met under mysterious circumstances, or is this just paranoia as well?  
The first two episodes of Rabbit Hole are available to stream on Paramount+ now. New episodes premiere on Sundays.