Reviews
Power Rangers Super Ninja Steel Episode 10 Review: Dimensions in Danger
Power Rangers' 25th anniversary is a rushed mess that barely pays tribute to the franchise it should be celebrating.
This Power Rangers Super Ninja Steel review contains spoilers.
Power Rangers Super Ninja Steel Episode 10
It's impossible to discuss "Dimensions in Danger" without comparing it to Power Rangers' other anniversary episodes. "Forever Red," "Once a Ranger", and "The Legendary Battle" all created a very reliable blueprint of do's and don'ts when it comes to celebrating Power Rangers. 
Do:
1: Have fun!
It's an anniversary episode after all. Let the current team interact with the past Rangers and get some fun jokes in. Show the joy in everyone getting to team-up for a giant fight.
2: Nods to past events.
Who doesn't love a little call back? The greatest of these has always been TJ's from "Forever Red". "Did I ever tell you guys about the time I was baked in that giant pizza?"
3: Have a giant morph and roll call.
It's pure fan service but it's the perfect time to celebrate the fiery spirit of this franchise. Nothing gets a fan to smile more than each returning Ranger shouting out their morph call.
4: Show love to the entire franchise
This one is tricky for such a short episode but if you're going to bring back that many old cast members then everyone needs a moment to shine. A moment to do something that is 100% related to their character or season. Through that we get fitting tributes to the long running history of the show, not just one or two characters.
Don't:
1: Mess with the continuity TOO badly.
Power Rangers has been running for twenty five years so, especially in a short episode bringing a ton of characters back, continuity problems are bound to occur. As long as they don't distract from the overall fun of the episode? They're fine. Jason having a morpher? Okay! The Morphin' Grid tunnel? Bad.
2: Put the spotlight on the current team.
 We aren't here for the new cast. They're window dressing. Let them have a few small moments but give the majority of your time to the returning Rangers. Having the Overdrive cast take up so much of "Once a Ranger" was a mistake, same with forcing "Legendary Battle" to also be the finale of Super Megaforce. 
These do's and don'ts are not hard and fast rules. If the story is good we can forgive a short morph sequence or one character not getting much to say. The problem is that "Dimensions in Dangers" doesn't have a good story.
It starts off fine enough. Tommy talking to his off screen son before getting attacked is the best teaser the series has had in years. It hooks you in, wondering who this enemy is and OH YEAH TOMMY HAS A KID?!
Then the problems begin to creep in, starting with the exposition.
Wes, Gemma, and Koda return and deliver a minute long info dump. That's okay to get us into the adventure but in the scenes that follow this exposition is repeated over and over again. How many times did we need to hear what the arrows would do to the dimensions?
Then the pacing starts to get thrown out of wack. Scenes are truncated so badly you barely have enough time to absorb what's going on. The morph sequence flies by in about twenty seconds. Tommy's escape from the fortress is only a surprise because the scene didn't take the time to correctly establish he was there.
The fight with Tommy's robot self is perhaps the stand out moment of the episode but it goes by so fast it doesn't have time to breathe. You can't even cheer because the fight is pretty much over the moment it begins.
Have you noticed how much of this review has already been about Tommy? Understandably he's the main focus of the episode because, like it or not, Tommy is the most popular character. I understand that and knew he'd get the lion's share of the focus here but it comes at the expense of all the returning cast members.
Wes, Gemma, and Koda do get a few nice moments but even in the scene where they save the captured Rangers? It's Tommy who gets thanked, not the whole team.
If the episode had more time with the returning Rangers this might not have been an issue. Sadly the episode makes the same mistake "Once a Ranger" did in deciding now's the best time to burn some Sentai footage.
We get a large chunk of run time devoted to the Ninja Steel Rangers storming the castle, utilizing footage from a Ninninger Sentai movie. The footage is fine enough but it's misplaced. We aren't here for the Ninja Steel Rangers pulling off a heist with the arrows. We want more of our returning cast. 
Now perhaps using this footage was the only way to pay for the episode but we know there's more footage of the old team. After "Dimensions in Danger" aired Nickelodeon dropped an extended version of the Tommy fight. Why was that truncated in favor of the current cast?
The biggest offender of the episode is the dialogue. While it suffers from a recurring Ninja Steel problem of "say exactly what we just showed the audience" the biggest issue is how the old Rangers are written. Besides Tommy and Koda, everyone is written as generic Rangers.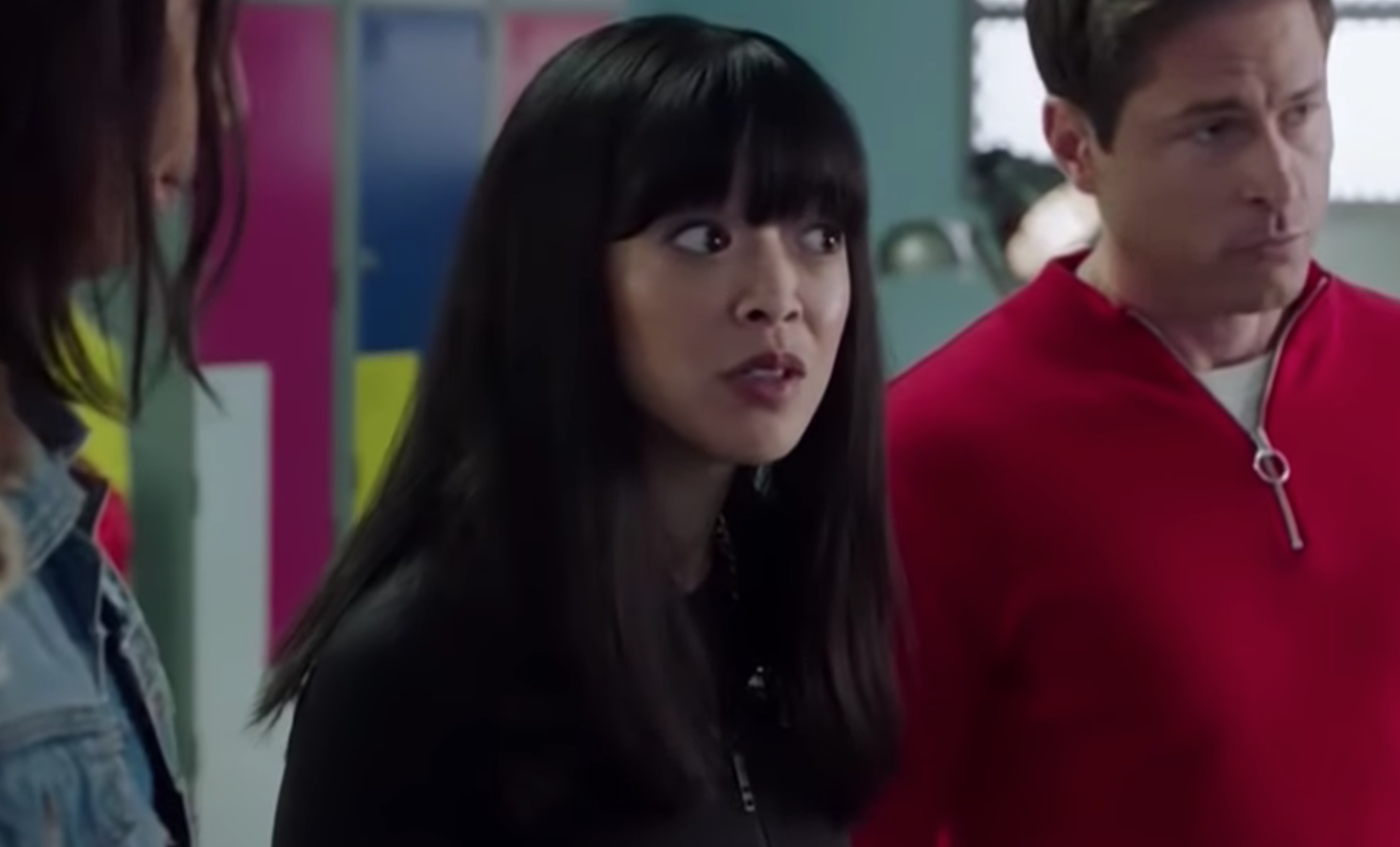 Gemma is the perfect example of this. Gemma, perhaps more than any other Ranger in the series' history, has a very unique way of speaking. Only talking in half sentences with her brother, she had a childlike obsession with destruction. It made her one of the standout characters in the already excellent RPM season. 
In this episode however she's never written that way. She simply delivers exposition and that's it. She never even utters a single "it's boom time!" You could say that in the intervening years she grew out of that way of talking but why isn't that addressed? We can explain the arrows five times but we can't have a small character moment with Gemma?
The other returning Rangers don't fare much better, with many of them only getting two or three generic lines that could have been given to any cast member any season. Even Wes, who gets the most dialogue besides Tommy, is stuck with buckets of exposition that don't contain an ounce of the character we know.
Some people may be satisfied just seeing these Rangers on screen again, but it's not enough. If their lines could have been given to any other Ranger, what was the point of having them at all? Not even Kat, who apparently had a kid with Tommy, gets any big moment outside of a blink and you'll miss it handhold with him. They couldn't have shared a line or two of marital banter or even a deep and affectionate look?
The episode is so concerned with telling an "epic" story that it gives more time to plot moves than it does actual character moments. I know with such a short run time it's hard to balance the two but "Forever Red" pulled it off near perfectly.
Every single returning Ranger got a moment to shine, both in and out of their Ranger suits. Not everyone got a ton of lines, but when they did talk it was a line only that character could have said. Look at that final scene. Everyone gets a moment to gloat where they not only reference past events but they're having fun doing it. 
There's a lot going on in "Forever Red" but you never feel its length because it takes time to let moments play out. The pacing is rock solid. It keeps the story simple in order to let the central premise of the episode, ten Red Rangers team-up, play out in a satisfying way.
"Dimensions in Danger" has big aspirations, telling a dimension spanning story, but falls way too short. Its story is too big for its short runtime.
Some may point to the eventual "extended cut" as an excuse for some of these issues but if they knew they'd only have a half hour they should have written to that half hour. The story should have been smaller and more accommodating to the larger cast. Or, perhaps, the giant cast should have been trimmed down. As much as I loved the choice of Rangers they went with, I'd much rather see a smaller group get more focus.
In fact, if you're only going to have twenty two minutes, really make it more about character. Take a page from "Always a Chance", the episode that brought Adam back. It wasn't an anniversary episode but it was a fitting tribute to what had come before. Perhaps "Dimensions in Danger" could have stripped away everyone but Tommy and Kat.
You still have the same basic plot, but instead of other Rangers you simply have JJ be captured. Kat could also be turned evil and Tommy goes to the Ninja Steel Rangers for help. This avoids the need for all that dimension-hopping exposition and makes it a personal mission for Tommy. We could learn how his and Kat's relationship developed over the years and he could have some fun scenes with the Ninja Steel Rangers.
I know this runs into the issue of only focusing on MMPR but I'd much rather have a good story with two characters than a bad story with over fifteen characters.
So let's run back over the Power Rangers anniversary do's and don'ts and how "Dimensions in Danger" fared.
Do:
1: Have fun!
The Tommy Master Morpher fight and the surprise return of the Falconzord were legit great moments. The rest was just too badly rushed for their to be much time for fun.
2: Nods to past events.
Tommy and Kat had a kid, which calls back to their relationship. Koda mentioned that whole dinosaurs now roam the Earth again thing. Gemma explains how she's from another universe. Technically fulfills the requirement but isn't exactly thrilling, is it?
3: Have a giant morph and roll call.
While it's fun to hear everyone yell "it's morphin' time" the one moment that should have been all about spectacle is truncated to a quick flash morph.
4: Show love to the entire franchise
The episode really loves Tommy but everyone else barely gets time to shine. Simply having people show up isn't love, especially if they could be easily replaced with any other Ranger. 
Don't:
1: Mess with the continuity TOO badly.
This is one area where the episode succeeds. Nothing is broken after this. While the exposition about the RPM and Dino Charge dimensions was a little long and was better conveyed visually at the end I'm glad the series has at least committed to it. I don't like that the poor decisions of past writers have to be dealt with in an anniversary episode but hey, at least they're addressing it.
2: Put the spotlight on the current team.
While it wasn't as bad as how much focus the Overdrive team got in "Once A Ranger", especially with all their whining, it still wasn't great. We're not here for the Ninja Steel cast and some random Sentai footage.
I came into this episode with very low expectations. Super Ninja Steel has been pretty lackluster so it's not like the quality was going to immediately jump with this. Still, even knowing this episode probably wouldn't be anything super special it was still a let down.
Putting aside all the other problems, the generic Ranger dialogue is what did it for me. The fact you bring back all these people just to have them spout lines any other character could have said? That says everything.
It wants us to be excited with all these past Rangers appearing but then does next to nothing with them. It had the blueprints for success and failure in these past anniversary episodes but it chose to ignore them.
It all just feels like a waste of potential, which is a good way to sum up Power Rangers on TV for the last eight years.
Shamus Kelley is a pop culture/television writer and official Power Rangers expert. Follow him on Twitter! Read more articles by him here!