Features
The Lost Ending to Power Rangers Ninja Steel's Best Plot
Power Rangers Ninja Steel's most engaging storyline almost had a twist ending.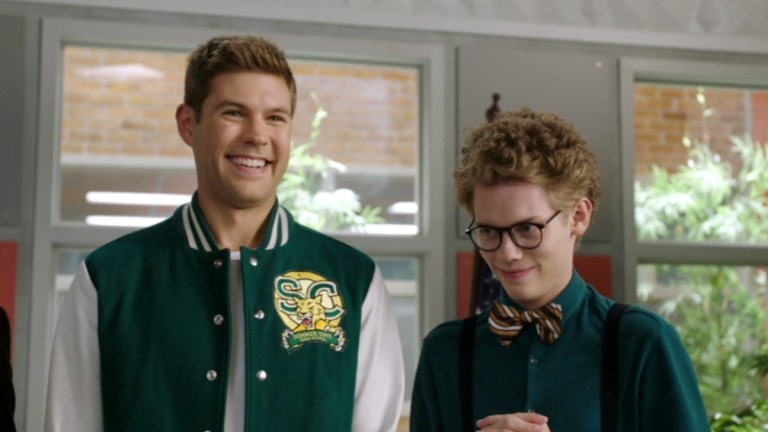 Power Rangers Super Ninja Steel of course ended with the Power Rangers saving the world… but they weren't the real heroes. Oh sure they did what Rangers always do but the audience was rooting for other characters. Victor and Monty. The two comedic characters that often got into mischief and were driven by Victor's eternal desire to get his 50th trophy, a goal long out of his reach.
That all changed when the two helped liberate kidnapped citizens from the clutches of the evil aliens and teleport them back to Earth. They even took out the alien's fortress for good measure! For doing such a great deed the two were honored by the city and Victor was given his 50th trophy (Monty got to share in it.) It was a moment of pure bliss for Victor and a culmination of his arc throughout the entire series. More than any other plot this was one that Ninja Steel never forgot about and seeing it get such a triumph conclusion was a major delight.
In the aired version of the episode the scene ends on a zoom in shot of Victor, elated after his long quest, and Monty, filled with joy. According to Monty actor Caleb Bendit however, this wasn't where the episode originally ended. In an interview with Den of Geek, Bendit reveals that another scene was written and shot that came directly after what was seen in the aired version.
Everybody chanting Victor's name and confetti falling on him was supposed to fade into a dream haze and you only hear Monty calling Victor's name. Victor would have bolted awake, thinking that it had all been a dream, his heart broken.
Bendit remembers being at the table read for this moment and remembers crying out, "NO!" at this twist. Everything Victor and Monty had worked for had been a dream! It was a huge let down.
But no, the scene went on. Victor thinks he fell asleep in class but Monty joyfully shows Victor the trophy, proving that it was all real! The two would have run off to their next class, Monty dutifully carrying the trophy for Victor and being grateful it really happened.
Bendit was disappointed that the scene didn't make the final cut but was relieved that no matter what, Victor was able to get that trophy.
Bendit fondly looks back on the show and working with Chris Reid, who played Victor, remembering the reason that the two were hired was because of their improv backgrounds.
"Chris and I just worked really well together. I did things like my changing my facial expressions and a lot of the time it was just to make Chris laugh. But in doing that, you find out what's funny."
And in the end, Victor and Monty got the last laugh. Maybe they win a 51st trophy and beyond!