Features
Penny Dreadful: City of Angels – Sister Molly Explained
Penny Dreadful: City of Angels adds a new character to the gospel of its newest testament.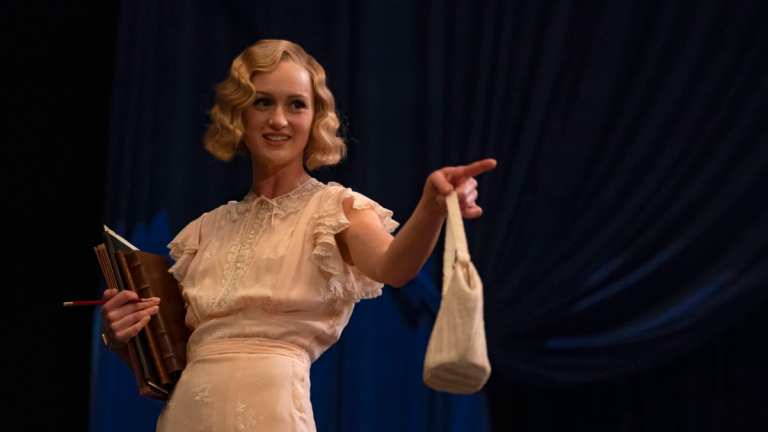 The following contains spoilers for Penny Dreadful: City of Angels episode 2.
Penny Dreadful: City of Angels introduces a new character, and a new sect, to the series with their second episode, "Dead People Lie Down." In the first, "Santa Muerte," Detective Lewis Michener (Nathan Lane) complains about crazy Los Angeles cults, after seeing a poster for a radio program, Joyful Voices. The spiritual songstress is Sister Molly, played by Kerry Bishé, and yes, she works on people like a love drug.
The show's face of radio evangelism, Sister Molly Finnister is a popular and charismatic Christian evangelist who dreams of the normal life. She is loosely based on Aimee Semple McPherson and her Foursquare Church. McPherson was the first televangelist, except she broadcast her weekly sermons at the first megachurch the Angelus Temple over the radio. Raised on the tent revival circuit, she didn't sing, but could speak in tongues. And when she went into those trance states, she took the audience with her. Ku Klux Klansmen tossed off their cloaks to join the throngs of enthralled masses waiting to be healed.
McPherson turned the gospel of hellfire and damnation into one of love, but deeper passions also played on the minds of her flock. According to Amy Peed McCullough's book Her Preaching Body: Conversations about Identity, Agency, and Embodiment, McPherson tackled "explicit biblical passages" and "portrayed herself as the bride of Christ … Her critics labeled the preaching magnetism a hypnotic sexually charged allure."
Aimee inspired the Sharon Falconer character in Sinclair Lewis' Elmer Gantry and faith-healer Big Sister in Nathanael West's The Day of the Locust. Barbara Stanwyck played a character based on her in Frank Capra's film The Miracle Woman (1931). Faye Dunaway played McPherson in The Disappearance of Aimee (1976). Bette Davis played her mother.
Aimee Elizabeth Kennedy was born in 1890 on a farm in Ontario, Canada. Raised in the work of the tambourine-thumping Salvation Army by her Methodist parents, she questioned her faith at a young age and rebelled against her parents' restrictions by reading novels and going to the movies. By the time she was 17, Aimee began preaching her own brand of the Christian gospel. She took a stand against evolution when Canadian schools put Charles Darwin's theory on its curriculum. She supported the prosecution in the 1925 Scopes Trial.
Aimee converted to Pentecostalism when she married Irish missionary Robert J. Semple in 1908, just before her 18th birthday. She did missionary work with him in China until his death in 1910. She married Harold S. McPherson in 1912, while she was in New York working with her mother Minnie Kennedy, and the Salvation Army. The marriage didn't survive Aimee's move into full-time evangelism. Semple McPherson's Foursquare Gospel was based on the four cornerstones of Regeneration, Baptism in the Spirit, Divine Healing, and the Second Coming. She moved to Los Angeles with her mother in 1918, and set out on the road to recovery.
In The Simpsons' recent episode "Warrin' Priests (Part One)," Homer wonders what would Jesus have done at his rock concerts. They might have looked like Aimee Semple McPherson's tent revival faith-healings. The lame tossed away their crutches and walked to her. The blind said they could see when they laid eyes on her. Demon spawn were repossessed when she laid hands on them. By 1922, she was breaking attendance records. In San Diego, the Marines had to be called in for crowd control when over 30,000 people showed up for a demonstration. The event culminated in a frenzy of adulation when McPherson laid her hands on a paralyzed woman who rose from her chair and walked.
Tired of the roadwork, she built an inexpensive wooden tabernacle near Echo Park, where Sunset Boulevard meets Glendale Boulevard, for a residency. Angelus Temple opened on New Year's Day in 1923. The roof had a lighted rotating cross which could be seen from fifty miles away, and the temple became a top Los Angeles tourist attraction. The church had a 5,000 person seating capacity, but was consistently standing-room-only when McPherson preached, and she preached 21 times a week.
In 1924, McPherson started the evangelical newspaper The Bridal Call, and began broadcasting sermons and services over her own station, KFSG (Kall Four Square Gospel). She also got a license for a television station, which was still an experimental form of mass media. She hired publicity agents and built herself into a national figure on the level of Charlie Chaplin, Charles Lindbergh, Mary Pickford, or Babe Ruth.
McPherson believed the United States was a Christian nation and was always on the lookout for outsiders who might destroy that way of life. In the 1920s, she labeled the Roman Catholic Church as a danger to the American way of life when they criticized her. McPherson enlisted the help of the Ku Klux Klan to undermine the Catholic's accusations. According to one report, when McPherson was in Denver, she took an enforced private meeting with a local chapter of the Ku Klux Klan when they forced her into a car, blindfolded her and kidnapped her.
And that wasn't the only weird abduction or disappearance on the Sister Molly inspiration's record. McPherson's secretary, Emma Shaeffer, told police the evangelist vanished during a swim on May 18, 1926. As the police and the California Fish and Game Commission conducted a weeks-long search for a body, rumors circulated McPherson slipped away to have an abortion, plastic surgery, or an affair. A San Francisco detective reported he saw McPherson at a railway station. A ransom note demanding $50,000 for McPherson's safe return was delivered to McPherson's mother, warning "Mum's the word—keep police away."
McPherson reappeared five weeks after the disappearance in a Mexican border town. She claimed she was kidnapped by two men she named as Steve and Jake, and a woman called Mexicali Rose. McPherson said she was approached at the beach at Ocean Park and asked to administer to a dying baby. She said she was lured into a car and was drugged. Aimee said Steve burned her fingers with a lighted cigar trying to get information out of her before she was driven to a one room shack in Mexico where she was held in isolation. The evangelist said she escaped by sawing through her ropes with the jagged edge of a syrup can and walking for seventeen hours across the "burning sands" of the desert to Agua Prieta, on the border of Arizona. But when she was found, she wasn't suffering from dehydration, her shoes were not scuff, she was still wearing an expensive watch and she wasn't even sunburned.
"My God, Sister McPherson is alive," Minnie Kennedy announced to Aimee's followers. "Run up the flag on the temple and send out the word broadcast. The Lord has returned his own." More than 50,000 people showed up at the train station to welcome McPherson home. The homecoming included a parade where airplanes dropped roses from the air. The Los Angeles Chamber of Commerce called the event a "gaudy display." LA's DA Asa Keyes called for an investigation into the kidnapping.
McPherson voluntarily appeared before a grand jury within two weeks of her return. Newspapers called the disappearance a fraud. They followed a lead that KFSG engineer Kenneth Gladstone Ormiston, who was married, disappeared at the same time as McPherson's kidnapping. Police investigators found the engineer was spotted in Carmel-by-the-Sea, with an unidentified woman. The Los Angeles district attorney arrested McPherson, along with her mother and Ormiston, on charges of "corruption of public morals, obstruction of justice, and conspiracy to manufacture evidence." Ormiston admitted to the affair, but said it wasn't with McPherson. The police dusted his cottage for fingerprints, but didn't find any which matched the famed evangelist's. In the end, all charges were dismissed.
McPherson's followers returned to the Foursquare Church in throngs after the controversy, and the evangelist continued to find satanic forces everywhere in America. In the 1930s, she went after southern and eastern European immigrants for not thawing into America's melting pot. In the 1940s, she demonized the Japanese and Japanese Americans for what she called their atheism and supported the internment camps. McPherson sold $150,000 worth of war bonds in an hour in 1942 and repeatedly blasted Adolf Hitler.
On Penny Dreadful: City of Angels, Sister Molly is shadowed by a Luca Brasi kind of character to make sure she stays in line and away from jaunty characters like Popeye the Sailor Man. The real life McPherson was under the ever-watchful eye of Reverend Giles Knight, who began to control her private and professional life in 1937. The evangelist's behavior was thought to be impulsive and embarrassing to her church. By the end of her life, McPherson was alienated from her mother, and her daughter Roberta.
Hours before her death, she preached the International Church of the Foursquare Gospel at the Oakland Auditorium. She arrived on a horse-drawn buggy. McPherson died of an accidental overdose of barbiturates, in 1944. She was 53.