Features
Peaky Blinders: Duke Shelby, Tuberculoma, and Tommy's Past Returning
Between Conrad Khan's character Duke Shelby, and his diagnosis, Tommy's past is coming back to haunt him. Spoilers.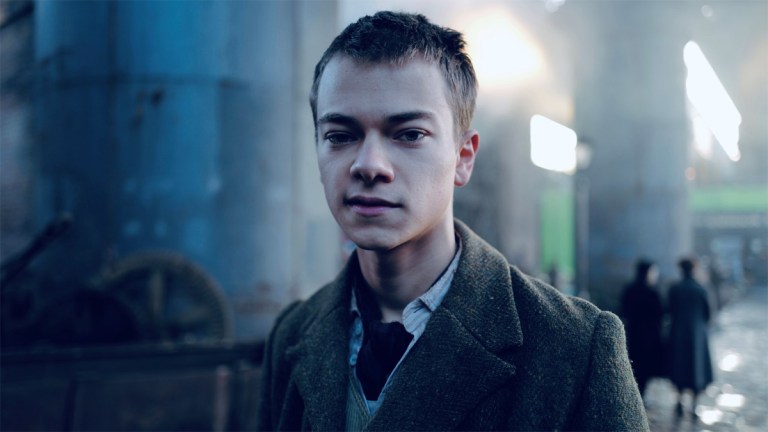 Warning: contains spoilers for Peaky Blinders season 6 episode 4 'Sapphire'
Esme's a dark horse. In 'Sapphire', John Shelby's widow revealed a secret she's been keeping from Tommy Shelby. In the time since Esme escaped the Peaky Blinders and set out to raise her children "among decent people" on the road, she met a woman named Zelda. In May 1914, Zelda had become pregnant after sleeping with a man under a hazel tree at the Appleby Horse Fair. By the time Zelda's dad found out and issued the usual death threats, the man in question – a 24-year-old Tommy Shelby – had enlisted in the army and left for France, ignorant of the pregnancy. Zelda had the baby, and by the time Tommy returned from war, he was unwittingly the father of a four-year-old son with hazel eyes.
A daughter lost, a son found
16 years later, Tommy's son Duke – a name that evokes Western movies, bare-knuckle fights and aristocratic ambition – is 20. He's a gypsy thief who works the fairground, says Esme, but wants more from life than big wheels and carousels, and Tommy Shelby is the man to provide it. For gold, Esme will send Duke to Tommy, seeing it as a kind of recompense for the loss of daughter Ruby to consumption.
Duke Shelby is played in season six by actor Conrad Khan, a nominee for the 2021 Bafta Rising Star award and of multiple awards for his role in 2019 feature film County Lines. Khan is listed in IMDb as appearing in the final two episodes of Peaky Blinders , and if he survives those, will likely feature in the film planned to continue the Shelby family story beyond the TV drama's last series.
Tuberculoma
Duke isn't the only surprise Tommy receives in 'Sapphire'. Following the X-Rays he was forced to take at the sanatorium where Ruby was treated and died, Tommy also gets a diagnosis. His lungs are clear of tuberculosis, but he has developed a tuberculoma. It's rapidly expanding and inoperable, says his doctor, who estimates that Tommy only has between a year and 18 months to live.
The tuberculoma is a rapidly expanding mass on Tommy's brain stem, caused by the same bacterial infection that killed Ruby. It spreads through families, says the doctor, and can be transmitted by a simple kiss. Mycobacterium tuberculosis infection can result in different outcomes depending on whether the tuberculosis is 'active' and infectious (like Ruby's) or latent and non-infectious, in which case it can exist in the body without developing into TB, sometimes for years.
Greta Jurossi
Ruby's death isn't the first time Tommy Shelby has been exposed to TB, or "consumption" as it was formerly known. In season four, episode three 'Blackbird', we learned through Jessie Eden that before France, Tommy was in love with an Italian girl named Greta Jurossi. Jessie's a friend of Greta's sister Kitty, and gives Tommy a souvenir photograph of him with Greta at Blackpool beach one summer before the War. Greta became ill, and a devoted Tommy sat by her bedside for three months. Aged 19, Greta died of consumption, the same disease that killed Tommy's daughter, and which is now killing him.
In season four, after Tommy is reminded of Greta, he makes plans to expand the Shelby Foundation charitably children's homes and hospitals. When Lizzie asks him why, he tells her "Because I promised someone I'd change the world." That someone must have been Greta, the young Communist who was Tommy's first love.
With Duke's out-of-the-blue arrival, and the return of TB into Tommy's life, there's a sense of his past cycling back in time for his death. Not known for our standing as a medical journal, Den of Geek obviously can't comment on the likelihood of Tommy's tuberculoma having been caused by a bacterial infection contracted from Greta and having remained latent since before WWI, but there's something poetic about the idea that Tommy Shelby has long contained the seed of his own destruction. He's certainly been having the hallucination symptoms of the tuberculoma since before Ruby became ill, either by cruel chance or by a cruel gypsy curse, depending on how you choose to see it.
'Sapphire' leaves Tommy having to pay a metaphorical "bill" he wasn't expecting, having to deal with a son he certainly wasn't expecting, and still trying to carry out his youthful promise to Greta that he would change the world. It's been a long, dark tunnel for Tommy Shelby, and at his darkest point, he's starting to see the light at the end.
Peaky Blinders season six continues on Sunday the 27th of March at 9pm on BBC One.