Features
Outlander: What Happens to Jamie in the Books?
Outlander season seven leaves Jamie Fraser's fate uncertain. What happens next in Diana Gabaldon's book series?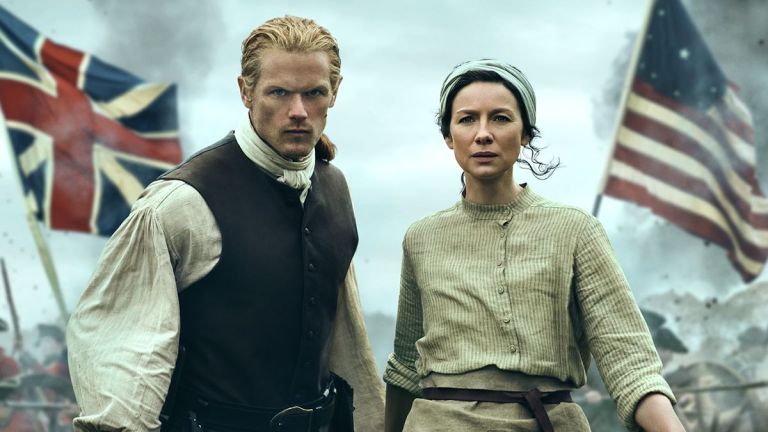 This article contains heavy spoilers
It's been a tumultuous time for the Frasers and the MacKenzies in Outlander season seven, with Roger (Richard Rankin) and Bree's (Sophie Skelton) son kidnapped in the 1980s, and the American Revolutionary War beginning back in the 18th century, where Claire (Caitriona Balfe) and Jamie (Sam Heughan) struggle to stay alive amid mounting violence.
The seventh episode of season seven, "A Practical Guide For Time-Travelers", leaves us with a shocking cliffhanger after Jamie faces the British forces in battle, with his illegitimate son William (Charles Vandervaart) fighting for the British during the First Battle of Saratoga. In the final shot of the episode, we see Jamie lying on the battlefield, covered in blood and seemingly dead, but what do Diana Gabaldon's books tell us about Jamie's fate? And what happens to Jamie's family after these events transpire?
If you're reading this, you probably want to know in the first instance if Jamie Fraser is dead or not – at least according to the book series Outlander continues to be based on – so we can tell you that he is indeed alive in the books in the aftermath of that bloody battle. You can stop reading here if you want to avoid any more potential spoilers, as we will be discussing what happens to Jamie next in Gabaldon's books during the rest of this article.
After Jamie is very much not killed at the Battles of Saratoga, he, Claire, and Ian all make it to Scotland safe and well, where they become deeply involved with family matters at Lallybroch. Claire is convinced to return to America when Marsali's son Henri-Christian becomes gravely ill, but Jamie stays in Scotland. Eventually, he is set to travel back to America along with his sister Jenny, but as they make passage across the ocean, Claire is informed that Jamie's ship has sunk and there are no survivors. Both Claire and Lord John Grey are devastated, and when Claire is set to be arrested for being a spy, Lord John marries her in order to protect her.
Though Claire and Lord John try to move on and take comfort in each other in Philadelphia, they are shocked to discover Jamie did not in fact drown at sea when he shows up at their home one day. Jamie is furious that Claire and John have consummated their marriage. Chaos and violence ensues, but they all have to flee due to mounting threats from the war. Jamie is then commissioned as a general in the rebel army, but resigns when Claire is badly wounded working as a war surgeon.
The Fraser and MacKenzie families are eventually reunited at Fraser's Ridge, but they are never far from danger. Brianna has brought back a book from the future that her other father, Frank Randall, had written about Jamie's life when researching the past, one that was published posthumously. The book has a shocking tale to tell, and states that Jamie will die at the Battle of King's Mountain. The family are concerned that there is no way to avoid the book's portent, but when Jamie is shot in battle Claire manages to save him with a kind of mysterious magic that can only be seen by time travelers.
That pretty much brings us up to date with the Outlander book series, which is not yet complete. The most recent tome, "Go Tell the Bees That I Am Gone" (2021), dealt with the prophecy of Jamie's death as researched by Frank. In future books, we may find out Jamie's ultimate fate, but it is currently known only to the author. We will update this to include further information upon the release of the next book in the series.