News
Outlander Season 6 Trailer Gets Political, Teases Release Date
The Revolutionary War is coming in Outlander Season 6.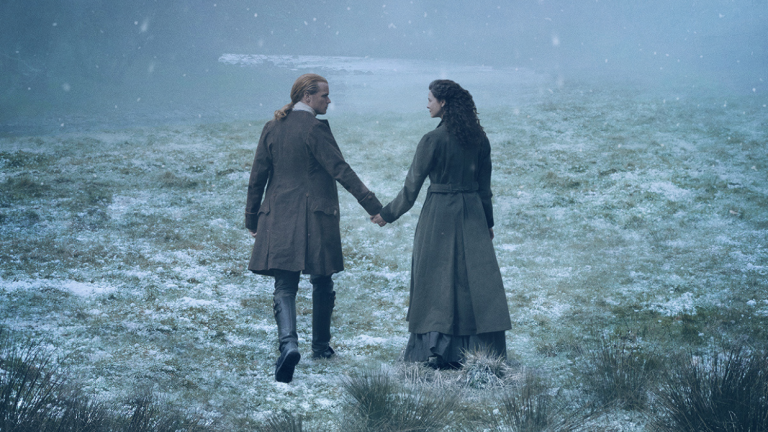 Outlander has always been, among many other things, a political show, even if fans don't think of it in that way. While later seasons of the Starz series have (mostly uncritically) waded into scenarios in which the show's white main characters are not the easily identifiable heroes, Season 6 is poised to bring Outlander's Claire and Jaime more firmly back onto the "right" side of history (or, you know, hopefully… get your act together, Jamie!) with the outbreak of the Revolutionary War in Colonial America.
Starz just released the Outlander Season 6 teaser trailer as part of its NYCC celebrations. While the minute-long sneak peek starts with shots of our favorite couples (and also Roger and Brianna) gazing lovingly at one another, tension soon rises. We see a man hammering a "Refuse British goods" notice to a rural bulletin board. "It's starting," says time traveler Claire. "A storm. The war. It's almost here." (While watching monologues like this, you can kind of understand why the locals keep accusing Claire of being a witch.) Claire is talking about the Revolutionary War, of course. Watch the whole thing below…
The Revolutionary War as central external conflict has the series coming full circle in some ways; after all, Outlander began life as a show set mainly around the the Jacobite rising of 1745, the Scottish fight for independence from British colonization that did not end well for the Highlanders. While Outlander has never fully leaned into its inherently political themes, the first season of the show notably didn't air on UK TV until after the first Scottish independence referendum in 2014, leading many to (seemingly correctly?) theorize that the British government was involved in the delay. Outlander Season 6 will see the British colonizers as active antagonists yet again.
Outlander Season 6 will largely draw from A Breath of Snow and Ashes, the sixth tome in the Outlander series. The book spans from early 1773 to late 1776. The Revolutionary War officially began in 1775, but there were obviously tensions leading up to that, which means much of the drama in Season 6 will deal with the political unrest. Last year, Outlander executive producer Ronald D. Moore told Collider of Season 6: "We're in the new world, we're in the American colonies and the American Revolution is getting closer and closer so that's a big thing that's gonna be moving front and center the further we get into season 6."
The political exploration of the series will no doubt be complicated by the fact that, while Jamie hates the British government and hopes for American independence, he swore an oath to the British crown following the Jacobite Rising. Not to mention, Jamie knows which side wins the Revolutionary War…
Outlander Season 6 Release Date
While the Outlander Season 6 teaser trailer doesn't give us an exact premiere date, it does tell us the series will be back in "Early 2022," which I take to mean, within the first few months. My money is on February, which is when Season 5 premiered. (This show pairs well with Valentine's Day season.) Also, Sam Heughan may have accidentally tweeted about it…