Outlander Books in Order: What Comes Next?
With Outlander Season 5 wrapping up, we break down everything you need to know about the Outlander books, whether you're looking to dive in or you want hints on the future of the show.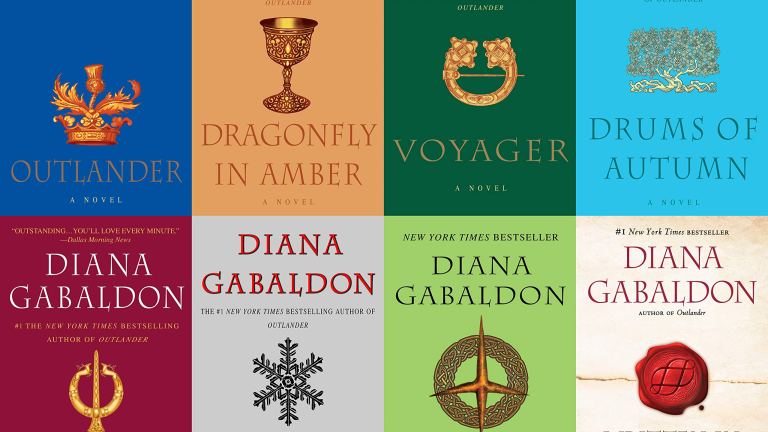 If you're a fan of the Outlander TV series but have never read the Outlander book series on which the Starz drama is faithfully based, you might have some questions about what comes next in the Outlander story. Right now, the TV show is just wrapping up its fifth season, which follows the plot of the fifth book in the series, The Fiery Cross. Outlander Season 6, on which the writers are already hard at work, will follow the plot of the sixth book in the series, titled A Breath of Snow and Ashes. Scroll down to that book's section to find out more about the plot.
Currently, there are eight main published works in Diana Gabaldon's Outlander series with more on the way. They are as follows: Outlander, Dragonfly in Amber, Voyager, Drums of Autumn, The Fiery Cross, A Breath of Snow and Ashes, An Echo in the Bone, and Written in My Own Heart's Blood. A ninth book has already been announced; it is titled Go Tell the Bees That I Am
Gone, which I personally think is a beautiful title. Gabaldon plans to write ten books in total for the Outlander book series.
(Note: this article focuses on the main books in the Outlander series, which follow the story of Claire and Jamie Fraser. Gabaldon has also written a series of novels centered around Lord John Grey, as well as other short stories and a graphic novel in this universe.)
Here's a break down of the plot of each book…
Book 1: Outlander (1991)
Note: This book was published as Cross Stitch in the UK.
Here is the official synopsis…
"Scottish Highlands, 1945. Claire Randall, a former British combat nurse, is just back from the war and reunited with her husband on a second honeymoon when she walks through a standing stone in one of the ancient circles that dot the British Isles. Suddenly she is a Sassenach—an "outlander"—in a Scotland torn by war and raiding clans in the year of Our Lord . . . 1743.
Claire is catapulted into the intrigues of a world that threatens her life, and may shatter her heart. Marooned amid danger, passion, and violence, Claire learns her only chance of safety lies in Jamie Fraser, a gallant young Scots warrior. What begins in compulsion becomes urgent need, and Claire finds herself torn between two very different men, in two irreconcilable lives."
Book 2: Dragonfly in Amber (1992)
Here is the official synopsis…
"For twenty years, Claire Randall has kept her secrets. But now she is returning with her grown daughter to the mysteries of Scotland's mist-shrouded Highlands.

Here Claire plans to reveal a truth as shocking as the events that gave it birth: the secret of an ancient circle of standing stones, the secret of a love that transcends centuries, and the truth of a man named Jamie Fraser—a Highland warrior whose gallantry once drew the young Claire from the security of her century to the dangers of his.

Claire's spellbinding journey continues through the intrigue-ridden French court and the menace of Jacobite plots, to the Highlands of Scotland, through war and death in a desperate fight to save both the child and the man she loves."
Buy Dragonfly in Amber on Amazon.
Book 3: Voyager (1993)
Here is the official synopsis…
"Their passionate encounter happened long ago by whatever measurement Claire Randall took. Two decades before, she had traveled back in time and into the arms of a gallant eighteenth-century Scot named Jamie Fraser. Then she returned to her own century to bear his child, believing him dead in the tragic battle of Culloden. Yet his memory has never lessened its hold on her . . . and her body still cries out for him in her dreams.
Then Claire discovers that Jamie survived. Torn between returning to him and staying with their daughter in her own era, Claire must choose her destiny. And as time and space come full circle, she must find the courage to face the passion and the pain awaiting her . . . the deadly intrigues raging in a divided Scotland . . . and the daring voyage into the dark unknown that can reunite—or forever doom—her timeless love."
Book 4: Drums of Autumn (1996)
Here is the official synopsis…
"It began in Scotland, at an ancient stone circle. There, a doorway, open to a select few, leads into the past—or the grave. Claire Randall survived the extraordinary passage, not once but twice. Her first trip swept her into the arms of Jamie Fraser, an eighteenth-century Scot whose love for her became legend—a tale of tragic passion that ended with her return to the present to bear his child. Her second journey, two decades later, brought them together again in frontier America. But Claire had left someone behind in the twentieth century. Their daughter, Brianna….
Now Brianna has made a disturbing discovery that sends her to the stone circle and a terrifying leap into the unknown. In search of her mother and the father she has never met, she is risking her own future to try to change history…and to save their lives. But as Brianna plunges into an uncharted wilderness, a heartbreaking encounter may strand her forever in the past…or root her in the place she should be, where her heart and soul belong…."
Buy Drums of Autumn on Amazon.
Book 5: The Fiery Cross (2001)
Here is the official synopsis…
"The year is 1771, and war is coming. Jamie Fraser's wife tells him so. Little as he wishes to, he must believe it, for hers is a gift of dreadful prophecy—a time-traveler's certain knowledge.
Born in the year of Our Lord 1918, Claire Randall served England as a nurse on the battlefields of World War II, and in the aftermath of peace found fresh conflicts when she walked through a cleftstone on the Scottish Highlands and found herself an outlander, an English lady in a place where no lady should be, in a time—1743—when the only English in Scotland were the officers and men of King George's army.
Now wife, mother, and surgeon, Claire is still an outlander, out of place, and out of time, but now, by choice, linked by love to her only anchor—Jamie Fraser. Her unique view of the future has brought him both danger and deliverance in the past; her knowledge of the oncoming revolution is a flickering torch that may light his way through the perilous years ahead—or ignite a conflagration that will leave their lives in ashes….
Grand, sweeping, utterly unforgettable, The Fiery Cross is riveting entertainment, a vibrant tapestry of history and human drama."
Buy The Fiery Cross on Amazon.
Book 6: A Breath of Snow and Ashes (2005)
Here is the official synopsis…
"The year is 1772, and on the eve of the American Revolution, the long fuse of rebellion has already been lit. Men lie dead in the streets of Boston, and in the backwoods of North Carolina, isolated cabins burn in the forest.
With chaos brewing, the governor calls upon Jamie Fraser to unite the backcountry and safeguard the colony for King and Crown. But from his wife Jamie knows that three years hence the shot heard round the world will be fired, and the result will be independence—with those loyal to the King either dead or in exile. And there is also the matter of a tiny clipping from The Wilmington Gazette, dated 1776, which reports Jamie's death, along with his kin. For once, he hopes, his time-traveling family may be wrong about the future."
Buy A Breath of Snow and Ashes on Amazon.
Book 7: An Echo in the Bone (2009)
Here is the official synopsis…
"Jamie Fraser, former Jacobite and reluctant rebel, is already certain of three things about the American rebellion: The Americans will win, fighting on the side of victory is no guarantee of survival, and he'd rather die than have to face his illegitimate son—a young lieutenant in the British army—across the barrel of a gun.
Claire Randall knows that the Americans will win, too, but not what the ultimate price may be. That price won't include Jamie's life or his happiness, though—not if she has anything to say about it.
Meanwhile, in the relative safety of the twentieth century, Jamie and Claire's daughter, Brianna, and her husband, Roger MacKenzie, have resettled in a historic Scottish home where, across a chasm of two centuries, the unfolding drama of Brianna's parents' story comes to life through Claire's letters. The fragile pages reveal Claire's love for battle-scarred Jamie Fraser and their flight from North Carolina to the high seas, where they encounter privateers and ocean battles—as Brianna and Roger search for clues not only to Claire's fate but to their own. Because the future of the MacKenzie family in the Highlands is mysteriously, irrevocably, and intimately entwined with life and death in war-torn colonial America.
With stunning cameos of historical characters from Benedict Arnold to Benjamin Franklin, An Echo in the Bone is a soaring masterpiece of imagination, insight, character, and adventure—a novel that echoes in the mind long after the last page is turned."
Buy An Echo in the Bone on Amazon.
Book 8: Written in My Own Heart's Blood (2014)
Here is the official synopsis…
"In her now classic novel Outlander, Diana Gabaldon told the story of Claire Randall, an English ex-combat nurse who walks through a stone circle in the Scottish Highlands in 1946, and disappears . . . into 1743. The story unfolded from there in seven bestselling novels, and CNN has called it "a grand adventure written on a canvas that probes the heart, weighs the soul and measures the human spirit across [centuries]." Now the story continues in Written in My Own Heart's Blood.

1778: France declares war on Great Britain, the British army leaves Philadelphia, and George Washington's troops leave Valley Forge in pursuit. At this moment, Jamie Fraser returns from a presumed watery grave to discover that his best friend has married his wife, his illegitimate son has discovered (to his horror) who his father really is, and his beloved nephew, Ian, wants to marry a Quaker. Meanwhile, Jamie's wife, Claire, and his sister, Jenny, are busy picking up the pieces.

The Frasers can only be thankful that their daughter Brianna and her family are safe in twentieth-century Scotland. Or not. In fact, Brianna is searching for her own son, who was kidnapped by a man determined to learn her family's secrets. Her husband, Roger, has ventured into the past in search of the missing boy . . . never suspecting that the object of his quest has not left the present. Now, with Roger out of the way, the kidnapper can focus on his true target: Brianna herself.

Written in My Own Heart's Blood is the brilliant next chapter in a masterpiece of the imagination unlike any other."
Buy Written in My Own Heart's Blood on Amazon.
Book 9: Go Tell the Bees That I Am Gone (not yet published)
Gabaldon is currently working on Go Tell the Bees That I Am Gone, but there is yet to be an official publish date. On her website, Gabaldon writes about the book's title: "Where did the title come from? Talking to your bees is a very old Celtic custom (known in other parts of Europe, too) that made it to the Appalachians. You always tell the bees when someone is born, dies, comes or goes—because if you don't keep them informed, they'll fly away."