Features
How Bridgerton Can Avoid Outlander's Mistakes
Bridgerton is one of the most-anticipated premieres of the season. Here are a few changes the Netflix adaptation can and should make to the source material.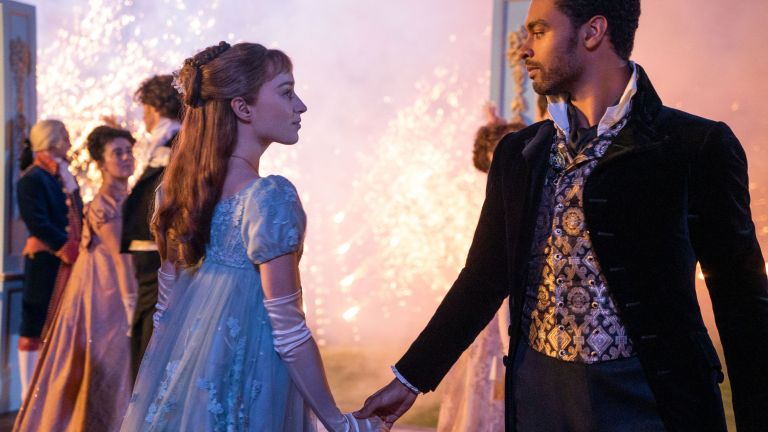 This article contains no spoilers for the Bridgerton TV series. References to book events have been scrubbed of identifying details, and all links are spoiler free.
For some, source material is sacred. But productions that prioritize faithfulness above all else lose so many opportunities, perhaps the most important of which is a chance to reach new and diverse audiences. Some fans of Julia Quinn's Bridgerton series, which is set to be adapted into a Shonda Rhimes-produced Netflix adaptation later this month, may bristle at any suggested changes to the source material. However, as we already know from the series' marketing and production announcements, Bridgerton is open to making major changes to the source material, including altering the racial and ethnic backgrounds of several main characters, adding new characters altogether, and likely incorporating elements from later books into the first season—all signs that this adaptation isn't looking to make the same mistakes as other period drama adaptations, such as Outlander or Poldark. The first book in the Bridgerton series, The Duke And I, on which the first season of the Netflix series is based, was published 20 years ago. Popular discourse and opinion on certain issues have moved in a more progressive direction since then. Hopefully, Netflix's Bridgerton will too. Here are all of the changes we hope the TV series makes from the book…
Before we begin, a note: When it comes to period pieces, the false concept of historical accuracy on television is often used as an excuse to hamper necessary changes from the book plot. When it comes to Bridgerton, there's already considerable evidence of deviation from established history in the source material. No character from the miniseries except for the reigning monarch Queen Charlotte (Golda Rosheuve) existed in history. In addition, historical accuracy as a concept is often used as a double-headed sword to silence recent efforts to research the history of groups marginalized by society and to improve on-screen representation. Upholding the balance between depicting historical discrimination and endorsing modern-day prejudice is a difficult one, but these changes will do more to support the latter over the former.
Change the dubious consent sexual encounter to be fully consensual
Bridgerton fans who have read the novels know that one of the relationships has a marital rape or dubious consent encounter. A woman convinces a man to have sex with her through misleading means while he is drunk. Novel fans who know exactly which characters the previous sentences refer to may insist this plot plays out exactly as the book version does, but given how similar scenes in recent period dramas resulted in fans quitting or boycotting future episodes, this is a risk for negative public reaction. This critique is not a new one. Feminist book bloggers and reader reviews for The Duke and I on Goodreads and online retailers also cite this scene in their critiques.
The #MeToo and #TimesUp movements have created a reckoning of the depiction of rape and sexual assault on period dramas. Even my own beliefs on what is consensual and what isn't changed as a result of the movement. Outlander and the 2015 PBS/BBC Poldark series are both based in the earlier Georgian era before the Regency but both TV series have come under fire for insensitive depictions of rape, sexual assault, or dubious consent. These two examples are the most pertinent to compare with Bridgerton because both series are based on book series written decades ago where rape-turned-into-love tropes in romance fiction were much more acceptable and common. Diana Gabaldon first published the Outlander series in the late 1980's, while Winston Graham wrote the fourth novel in the Poldark saga, Warleggan, in 1953. Although fans of both novels have argued viewers should remember the historical context: these TV series adaptations are not being made 30 or 70 years ago; they're being made today. Pushing back against the normalization of rape culture is more important than authors' intent or a half-hearted interpretation of historical gender dynamics.
Outlander is seen as the more egregious example of repeatedly showing characters being raped and exploiting the aftermath of sexual trauma as a plotline and for incorrect portrayals of the historical reality of sexual assault during the era. Season 3 features two separate incidents of women raping men. The first is when Geneva Dunsany (Hannah James) used the threat of additional punishment as a prisoner to blackmail Jamie Fraser (Sam Heughan) into breaking her virginity. The element of emotional blackmail makes this scene thematically the closest to the Bridgerton scenario. Later on, a vengeful Geillis Duncan (Lotte Verbeek) kidnapped and raped Young Ian (John Bell). These scenes were critiqued extensively by readers of Gabaldon's novels well before the TV show and she continues to double down on her viewpoint as viewers continue to question the scripts.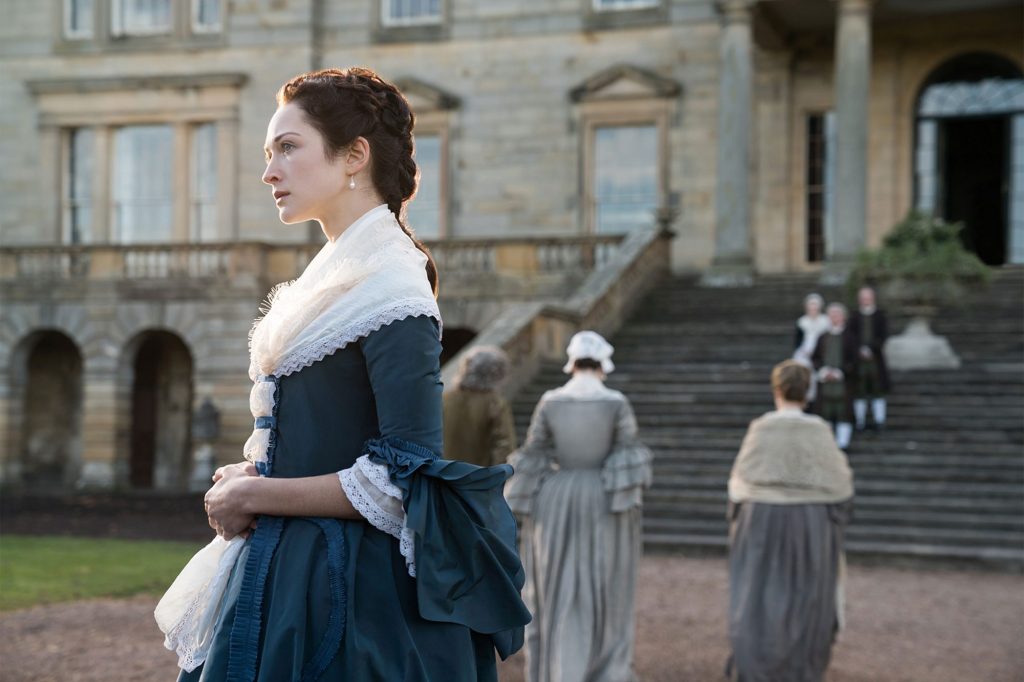 The Poldark controversy is the better example to show how even well-intentioned edits to gray-area consent scenes to increase consensuality can still result in critiques from sexual assault survivors and feminist critics. In Season 2, the title character Ross Poldark (Aidan Turner) finds out via a letter that his widowed and financially struggling ex-girlfriend Elizabeth (Heida Reed) has accepted a marriage proposal from his super rich sworn enemy George Warleggan (Jack Farthing). Ross decides to ride to Elizabeth's house against the advice of his wife Demelza (Eleanor Tomlinson). Ross believes that accepting the proposal from George will ruin the Poldark family honor forever since Elizabeth's deceased husband Francis (Kyle Soller) was Ross' cousin.
During the argument, Elizabeth contends that she is indeed in love with George and that since Ross is already married to someone else, he can't offer her anything. An argument ensues and eventually, Ross pushes Elizabeth onto a bed and rapes her. Fans who read the original novel Warleggan by Winston Graham contend that what happened was not rape because the argument sparked hidden desire but this is a dubious claim considering that there were several attempts to portray the scene as more consensual than in the novel.
Debbie Horsfield's script had to balance the contention of the Graham estate about the original intent of the scene being a consensual "slap, slap kiss" one while moving with the views of the audience in modern times. What she did not account for is how many viewers rejected her edits as not effective enough to resolve the debate over the level of consent, especially for those who were watching Poldark after the Weinstein scandal broke. Comparing the text of Warleggan to the TV version, the script removes Ross calling Elizabeth several insults and Elizabeth replying with the word "stop" when he picks her up. These removed sections clearly show Ross as more aggressive in order to support the argument that the scene was more an issue of forbidden pent up passion than outright rape. Horsfeld also added a "morning after" scene of Elizabeth appearing to be happy about what happened to replace the fade to black in the books.
Many people refused to continue to watch Poldark after that scene aired. Some also quit due to seeing how fans of the novel on social media were extremely hostile to those who believed the Ross and Elizabeth scene was a rape or initially believed it was a grey area then changed their minds upon reflection.
Any edits to the scene in Bridgerton must make it clear that the sexual encounter is 100% consensual. Viewers are highly likely to interpret any grey area encounter as a full sexual assault. These recent social movements created a reckoning in pop culture depictions on abuse of power dynamics, the role of alcohol in nonconsensual sex, and emotional manipulation in relationships. "That's how it was back then" or falsehoods such as "a woman cannot rape or force a man" are not going to fly when survivors of rape and abusive relationships of any gender or orientation are watching. If the show chooses to proceed with the scene, the consequences and trauma should not be brushed aside easily. Any attempts to make excuses for, soften the grey area, or avoid showing the repercussions will not be taken lightly by potential viewers or existing fans.
Feature Black women and women of color in happy relationships
The next two suggestions are more to do with filling in details the original novels left out completely. Quinn's narrative frees the miniseries from having to recreate history or live up to the expectations of narrow interpretations of Regency era literature. Bridgerton can enhance the adaptation of the novel by increasing diverse representation.
By now, many fans have seen the promotional material featuring Regé-Jean Page as Simon but many may wonder if there are any Black women who will end up finding a love match on the show. White period drama fans should not brush these concerns aside. Shonda Rimes' fanbase is predominantly Black women and her previous TV series, such as Scandal, featured Black women and their relationships prominently. These fans who have never read the novels are going to expect an ensemble series with characters who look like them, even if they have different accents. A character like Olivia Pope isn't going to happen in a Regency world but at the very least she can make a match with a handsome gentleman who can provide for her.
Black and POC period drama fans will also be looking for Bridgerton to make improvements in the light of their disappointment over PBS/ITV's Sanditon. Although Andrew Davies' adaptation of the unfinished Jane Austen novel made strides for featuring her only Black character Georgiana Lambe, his version of the book's ending left her character without sufficient closure. In addition, she became a plot device to facilitate a white character's redemption arc. I'm sure many people will find it a perfect revenge if Bridgerton's rich West Indian heiress finds her perfect match.
Avoid fatphobia
Penelope Featherington (played by Nicola Coughlan of Derry Girls fame) is described in the books as plus size. She is introduced to the reader as being "cloaked in baby fat" and "somewhat pudgy figured," which if not presented to the viewer with careful consideration is likely to reinforce negative stereotypes. The body positivity movement popularized on social media by Jameela Jamil, Stephanie Yeboah and others in recent years has led to increased scrutiny around negative weight-based comments in TV and movies. British period dramas in recent years have not had noticeable controversies on this topic, but Betty on Mad Men has been criticized by activists for normalizing fatphobia.
Women of every size existed in the Regency Era, and their ideals were not the same as ours today. Penelope's description and plot line in the novels was incredibly relatable to many women, and even gave plus-sized women hope for their own romantic prospects. The easiest thing Bridgerton can do to avoid this potential pitfall is to highlight other aspects of her personality, while making her size irrelevant to other character's judgments. Based on the promotional material, the show is taking very seriously her persistent use of bright and jarring patterned clothing, which is already a start. Although period drama fans may not notice this to be a problem, this is one viewers who suffer from size-related discrimination will spot.
Include queer romance with a happy ending
Overall, British TV period dramas have quite a long way to go w/ LGBTQ representation as well as racial representation. Many dramas have no queer characters at all. Recent UK series that include queer representation, such as Downton Abbey, World on Fire, and Harlots, focus exclusively on legalized discrimination and social/political persecution. Even dramas that eventually give happy endings to queer characters, such as Leonard the curate on Grantchester, begin with traumatic plot lines of life in the closet and self-harm.
Recently, BBC & HBO's Gentleman Jack received a lot of praise for showcasing the life and loves of an early Victorian lesbian Anne Lister. Her story is one of the few queer romances with a happy ending, however, the series is set in the 1830s. In contrast, Regency England-set TV dramas are overwhelmingly based on Jane Austen adaptations or Vanity Fair, which all have an exclusively heterosexual relationship focus. While romance authors such as Cat Sebastian specialize in Regency queer romance, none of these novels have ever been adapted for the screen.
The miniseries is in a unique position to change these trends because Quinn's stories never catered to the historical fiction reader who only wanted PG depictions of straight relationships. Netflix has also never believed in censoring sexual scenes on their TV and movie productions or catering to viewers with religious homophobia. There was already speculation by LGBTQ reporters on representation in the trailer, and even a supporting character plot line leading to a happy ending would advance representation in ways that would undo years of erasure and silence in representation.
In conclusion, the book adaptation of Bridgerton naturally cannot please every viewer. However, as a long time fan of period drama and an advocate for measured criticism from a social justice viewpoint, these changes are not going to be the easiest to make but they will be the ones that will pay the most dividends in viewership in the long run.
Bridgerton will debut on Netflix on December 25th.