News
Outlander Season 3 Episode Guide
Here's everything that went down in Outlander Season 3...
After living through the Battle of Culloden, Jamie finds himself at the mercy of unforgiving British victors, until a connection from his past provides his only hope of survival. Meanwhile, a pregnant Claire attempts to adjust to life in the modern world of 1940s Boston – and life with Frank.
air date: 9/10/17
Hiding in an isolated cave, Jamie leads a lonely life until Lallybroch is threatened by redcoats pursuing the elusive Jacobite traitor known as "Red Jamie." Back in Boston, Claire and Frank struggle to coexist in a marriage haunted by the ghost of Jamie's love.
air date: 9/17/17
In prison, Jamie discovers that an old foe has become the warden – and now has the power to make his life a living hell. Over the years, Claire and Frank both put their best foot forward to share a harmonious marriage, but an uninvited guest shatters this illusion, bringing their differences to light.
air date: 9/24/17
While serving as groomsman at the aristocratic estate of Helwater, Jamie is reluctantly pulled into the intrigue of a noble British family. In 1968 Scotland, Claire, Brianna and Roger struggle to trace Jamie's whereabouts in history, leaving Claire to wonder if they will ever find him again.
air date: 10/1/17
Brianna grapples with life-changing revelations and Claire must help her come to terms with the fact that she is her father's daughter; Roger brings news that forces Claire and Brianna to face an impossible choice.
air date: 10/8/17
After decades apart, Jamie and Claire finally reunite and rekindle their emotional and physical bonds. But Jamie's new business dealings jeopardize the couples' hopes for a simple life together.
air date: 10/22/17
In the aftermath of a violent confrontation, Claire follows her conscience as a surgeon, even though it could put her and Jamie's lives at risk. At the same time, Jamie attempts to evade the reach of the Crown as its representative closes in on his illegal dealings.
air date: 10/29/17
Claire returns to Lallybroch with Jamie, where she does not receive quite the reception she was expecting. Unbeknownst to her, Jamie's made some choices in their time apart which come back to haunt them with a vengeance.
air date: 11/5/17
Outlander Season 3 Episode 9: The Doldrums
Claire and Jamie sail to the West Indies on an urgent quest; when the ship's superstitious crew looks for someone to blame following a string of bad luck, rescue comes from an unlikely source.
air date: 11/12/17
Claire races to discover the source of an epidemic aboard a disease-stricken ship before hundreds of sailors die. And as Jamie locks horns with Captain Raines, Fergus finds himself torn between loyalty and love.
air date: 11/19/17
After making a leap of faith, Claire washes up on an island where survival is her only option. Navigating treacherous waters crippled the Artemis, so Jamie devises a joyful moment for his crew in the midst of setbacks.
air date: 11/26/17
The Artemis finally reaches Jamaica bringing Jamie and Claire that much closer to their goal. During a lavish ball on the island, the Frasers encounter old allies, as well as former adversaries who threaten to derail their mission.
air date: 12/3/17
Claire plays a game of cat and mouse with an old adversary as she searches for young Ian; the Frasers race through the jungles of Jamaica to prevent the unthinkable.
air date: 12/10/17
If you want to catch up on Outlanderseason 2, be sure to check out our complete episode guide.
Outlander Season 3 Release Date
The Outlander Season 3 premiere date was Sunday, Sept. 10 at 8 p.m. ET.
Outlander Season 3 Trailer
We've got a new full-length trailer for Outlander Season 3.
And here's the first Outlander Season 3 trailer…
There are some more snippets of Outlander Season 3 in this general Starz promo…
Starz dropped what is essentially another Outlander Season 3 trailer for the TCAs. The sneak peek featurette called "Parallel Lives" teases what Claire and Jamie's lives look like without one another, as well as giving us some beautiful Claire/Brianna moments as we see the two work together to find out what happened to Jamie after the Battle of Culloden. Check it out…
ET also recently dropped this look behind-the-scenes of Outlander Season 3, including some glimpses into the new sets, in particular Claire's Boston home and Jamie's, er, cave. Check it out…
— Outlander (@Outlander_STARZ) 
August 22, 2017
And here's an extra angsty trailer teasing Jamie and Claire separation in Season 3…
The Outlander SDCC panel debuted a special recap video of the past two seasons of Outlander, for fans who need a refresher before the September 10th premiere. Check it out…
Outlander Season 3 Story
Diana Gabaldon has confirmed that Outlander Season 3 will follow the events of Voyager closely with a recent tweet…
— Diana Gabaldon (@Writer_DG)
May 8, 2017
Starz also revealed a new official synopsis for the season:
The story picks up right after Claire (Caitriona Balfe) travels through the stones to return to her life in 1948. Now pregnant with Jamie's (Sam Heughan) child, she struggles with the fallout of her sudden reappearance and its effect on her marriage to her first husband, Frank (Tobias Menzies). Meanwhile, in the 18th century, Jamie suffers from the aftermath of his doomed last stand at the historic battle of Culloden, as well as the loss of Claire. As the years pass, Jamie and Claire attempt to make a life apart from one another, each haunted by the memory of their lost love. The budding possibility that Claire can return to Jamie in the past breathes new hope into Claire's heart… as well as new doubt. Separated by continents and centuries, Claire and Jamie must find their way back to each other. As always, adversity, mystery, and adventure await them on the path to reunion. And the question remains: When they find each other, will they be the same people who parted at the standing stones, all those years ago?
Caitriona Balfe, who is up for a Golden Globe for her work in Outlanderseason 3, spoke to The Wrap about what to expect in the upcoming season, saying:
The great thing about this show is that every new season, everything sort of gets turned on its head. In the beginning, when we come back this season, I think everyone knows at this point the stories are quite separate. We see a lot of Jamie's story, and what he has gone through in 20 years. We see a bit of Claire and Frank, Claire and Brianna, and you see a bit of Claire as a professional doctor, surgeon. It's just so different.
Perhaps even more interestingly, Balfe teased the eventual Jamie/Claire reunion.
Of course, there will be a reunion. Which I think is really beautiful and it's been filmed really beautifully. It's very interesting, it's like, how do two people come together after not seeing each other for 20 years, after both believing each other have died, and how do you build something real again?
In honor of their People's Choice Awards win, Sam Heughan and Caitriona Balfe did a Facebook Live question-and-answer session. In addition to it just being generally charming, the stars talked about what their characters' eventual reunion will look like, with Heughan teasing: 
It's kind of a surprise for Jamie. Obviously within a day of her returning, all hell breaks loose. His world is turned upside down, just like every time Claire is involved. I think the printshop obviously is going to be hopefully everything that we wanted it to be. But I think in the episodes before, there's so much that goes on; it's going to be a very exciting Season 3.
We also have a first look at Claire, a just-born Brianna, and Frank in Outlanderseason three, and it's actually pretty adorable. Check it out, courtesy of Entertainment Weekly…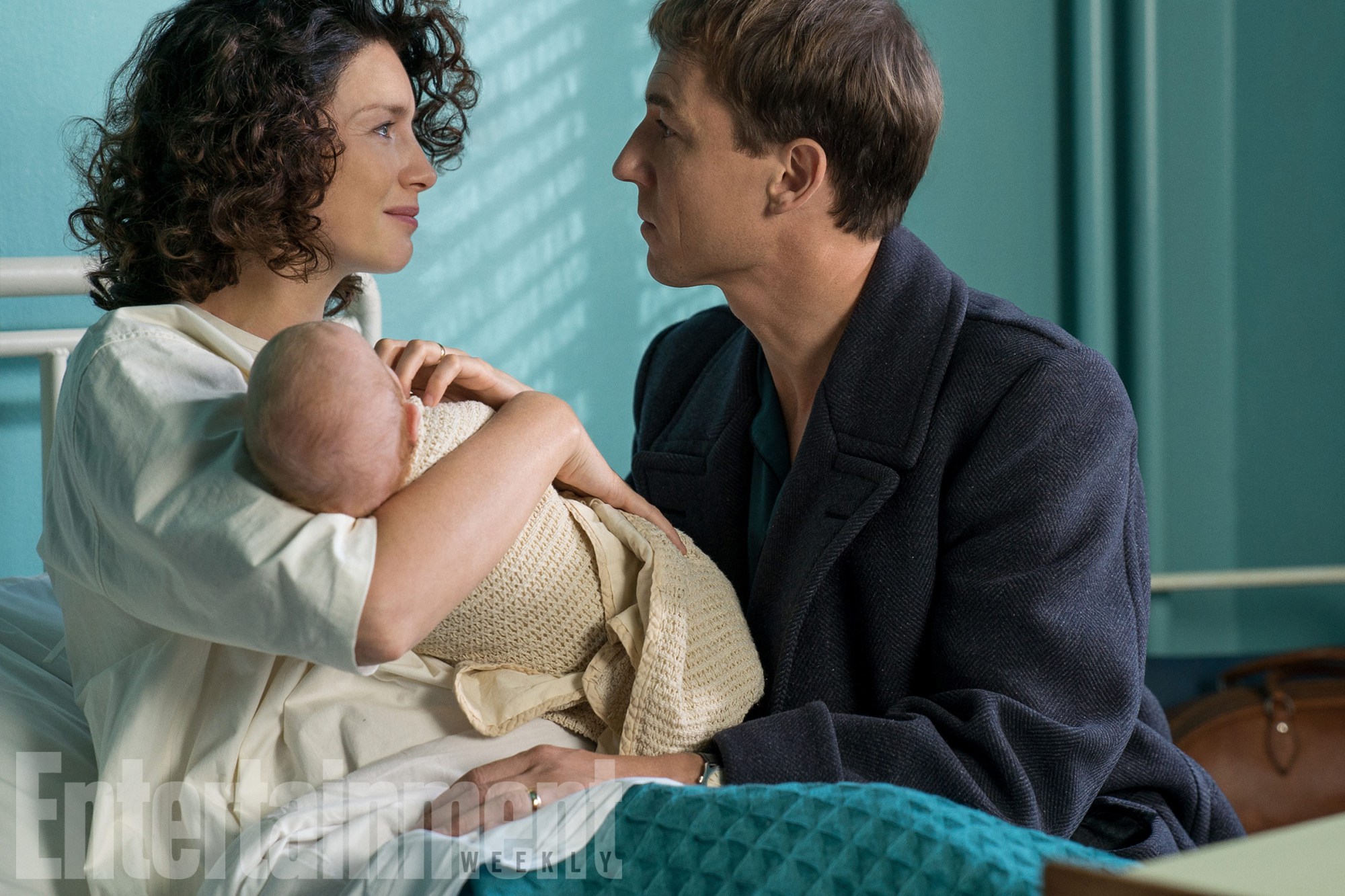 Speaking to EW, star Caitriona Balfe puts this scene in context for us:
This is right after Claire gives birth to Brianna. Those scenes are wonderful because it's a new beginning, but it's so fraught with so many other things. Obviously, this is Jamie's child, but Claire's in a new time and believes that Jamie is dead. So she's really trying to look forward and give her daughter a new life, a stable family.

I think it's difficult for both of them. Frank is coming to terms with his wife. He didn't quite know what had happened. She disappeared and she's back. They're tentatively trying to see if they can patch things up and allow themselves to embrace a future together. They really do try, but it's not quite that easy.
Guys, season three is going to be so angsty.
Speaking to Bustle earlier this week, Balfe teased a different kind of Claire when we meet back up with her in Outlanderseason 3, saying:
I think, not always, but people generally — the harsher edges of their personality, they learn how to maybe smooth them out a little bit. So maybe Claire isn't so stubborn, or she isn't so quick-tempered. She's learned how to control those urges a little bit.
---
Interview with Outlander's Graham McTavish (timecode 51:22): iTunes | Stitcher | Soundcloud
Outlander Season 3 Cast
Hannah James and Tanya Reynolds will play Dunsany sisters Geneva and Isobel, respectively.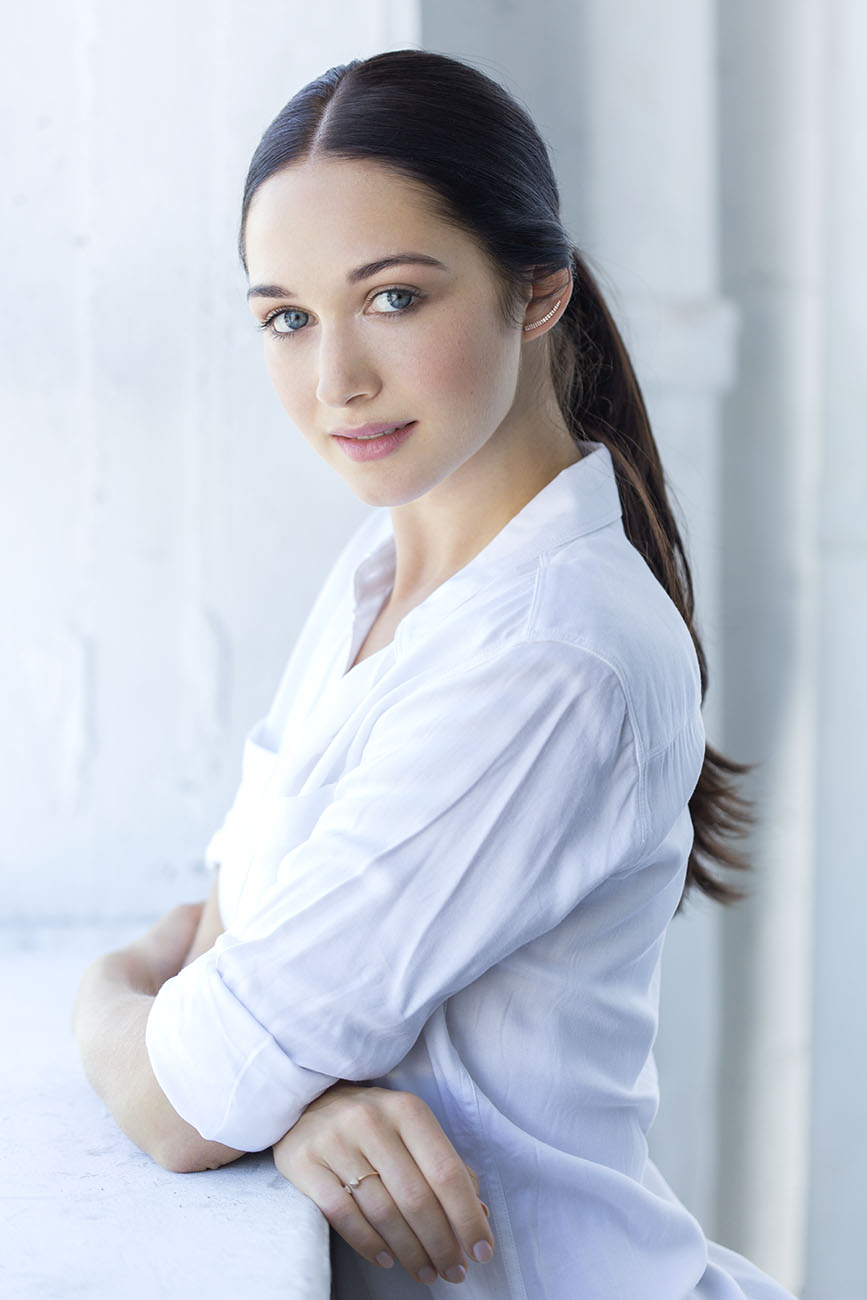 Starz describes eldest daughter Geneva as "as beautiful as she is headstrong," while also "petulant, spoiled, and demanding of the servants at their home — Helwater." While Geneva is used to getting what she wants, that petulance masks a "vulnerability" and "naivete" because of her sheltered upbringing.
Isobel is Geneva's younger, plainer sister is "warm, friendly, and genuine" and "inherently more likeable and compassionate towards others."
Gary Young (Crouching Tiger Hidden Dragon: Sword of Destiny) has joined the Outlandercast as Mr. Willoughby, while Charlie Hiett (The Suspicions of Mr Whincher) will assume the role of Captain Thomas Leonard.
Willoughby, "a Chinese man with a deep knowledge of Eastern medicine," Willoughby will pop up in Jaime's timeline as a confidante of the Scotsman, as well as an outsider in 18th century Scotland.
Leonard, on the other hand, is the British, "by-the-book" captain of the Artemis who earns the post when his commanding officers die untimely deaths. Starz teases of the character: " Above all, he wants to do what is right by the British Navy — whether or not it is right by his own personal morals." Yikes.
Outlanderhas also cast Lauren Lyle as Marsali, the 18-year-old "high-spirited" daughter of Laoghaire. Starz officialy description of the character states:
Blond and lovely, like her mother who we first met in season one when her youthful crush on Jamie Fraser was halted by his marriage to Claire, but Marsali has a rebellious and romantic mind of her own. She knows what she wants and she goes after it – reputation and propriety be damned.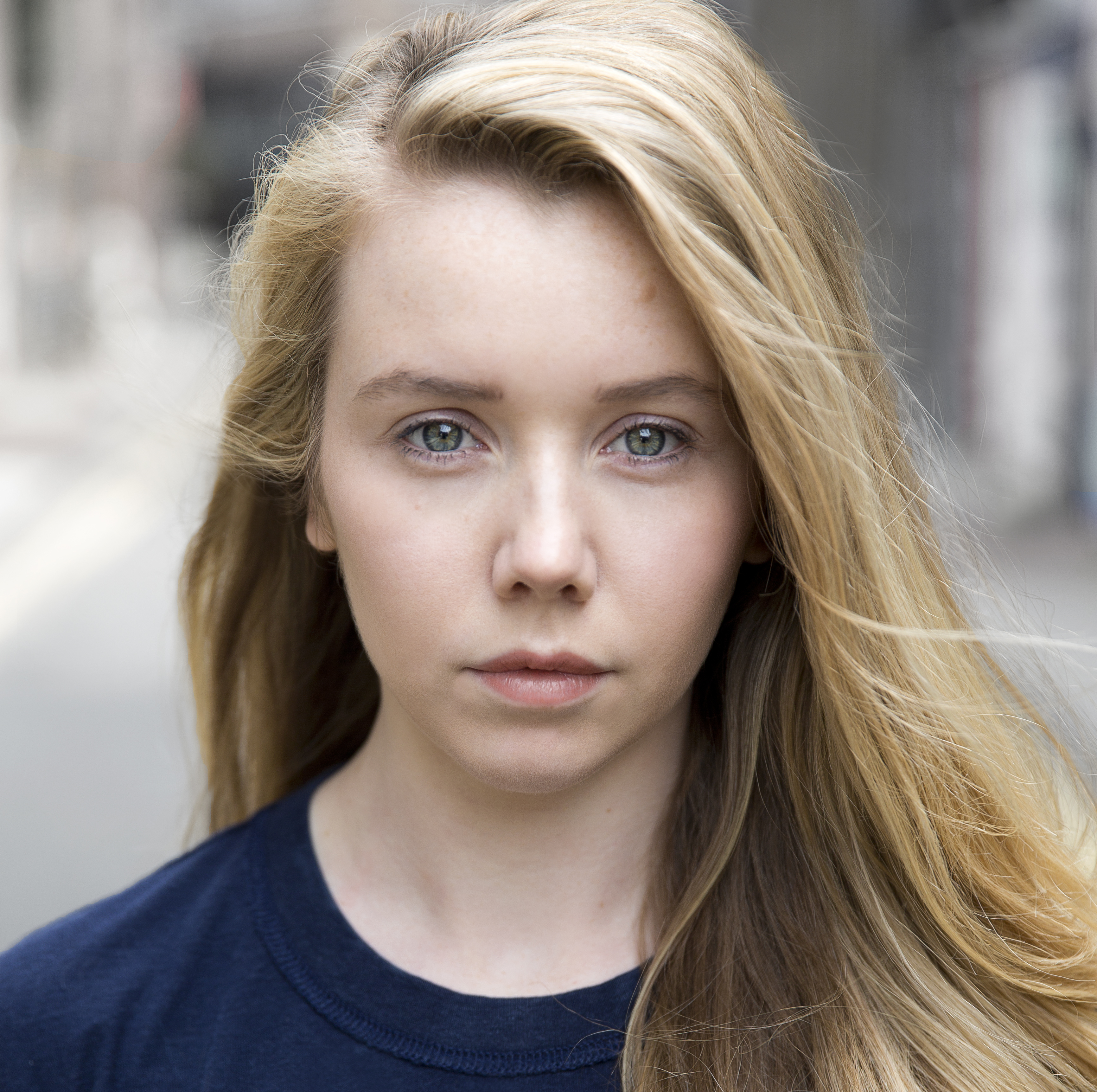 Also per Entertainment Weekly, Outlanderhas cast its adult Fergus (we're really going to miss Little Fergus, played wonderfully by Romann Berrux). César Domboy (The Walk, The Borgias) has been cast to play Fergus, the French boy Jamie and Claire were raising as their own, in the upcoming season.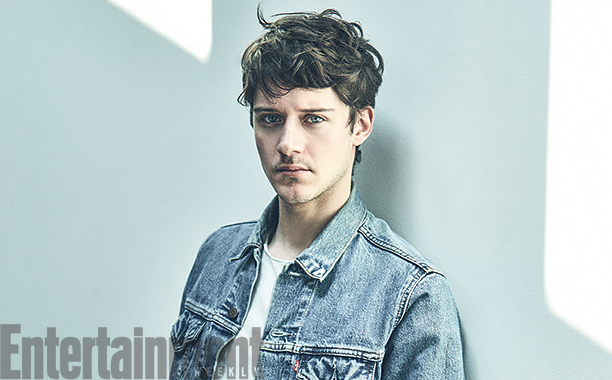 Here's Fergus' official character description:
Born into a brothel, Fergus has grown up into a charming, devilishly handsome man with a strong sense of loyalty and decorum, despite his unconventional upbringing. He is the ultimate romantic, wearing his heart on his sleeve and falling in and out of love easily. However, Fergus' devotion to Jamie has never wavered, making the Frenchman an integral part of the Fraser clan. Still, his debonair demeanor masks a longing for a lasting love and a permanent sense of belonging.
Outlanderhas cast Australian actor David Berry (A Place to Call Home) in the important season three role of Lord John William Grey, the former British soldier turned governor of Ardsmuir Prison who will become friends with Jamie while the latter is imprisoned under Lord John's care. Here's the full character description from Starz…
Lord John William Grey is a steadfast and honorable British subject, torn between a finely-honed sense of familial duty and a strong moral compass of right and wrong. He is boyishly handsome with an upper class rearing — the consummate gentleman. However, a scandal from his past has relegated Lord John to an undesirable position as governor of a desolate prison in Northern Scotland.
According to Deadline, John Bell (The Hobbit: The Battle of the Five Armies) has joined the cast as Young Ian Murray, who will be joining Jamie in the 18th century. Young Ian is "a tall, gangly Scottish lad with a heart of gold, a stubborn streak and a penchant for getting into trouble." He is more like his uncle Jamie than he is his father, and constantly trying to prove himself a man.
In the 20th century Boston timeline, Wil Johnson (Waking the Dead) joins the cast as Joe Abernathy, Claire's friend and medical colleague. Joe is "intelligent, charismatic, with a wry and irreverent sense of humor [and] is a loyal confidant with great affection for Claire." As a black man in the mid-20th century, things are tough for Joe. He and Claire bond over their status as outsiders in the mostly white, male medical profession and form a lifelong friendship. 
Outlander Season 3 Photos
We've got some new glimpses at Outlander Season 3 (courtesy of EW), which check in with what Claire, Frank, Jamie, and Fergus will be up to in the early parts of the season…
Entertainment Weekly also has some steamy new shots of Caitriona Balfe and Sam Heughan on the Outlander Season 3 set. While the photos are not technically from the show, but rather part of an EW photo shoot, they do give us a glimpse into the stunning scenery, sets, and costumes used on the South Africa portion of the Season 3 shoot. Here's a few choice shots…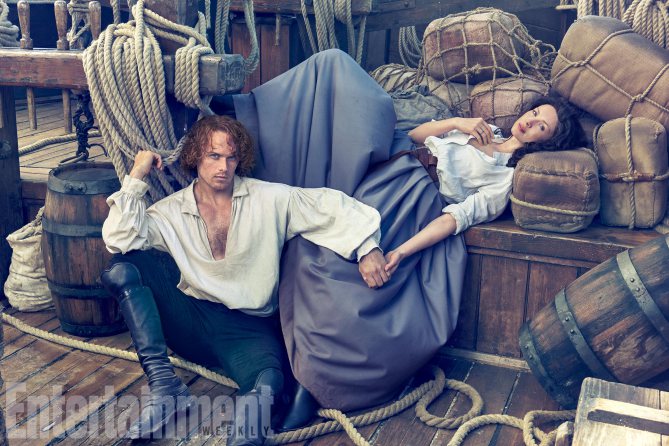 "I loved it," Balfe said of the South African shoot, teasing the intensity of Season 3. "I think it was definitely tough sometimes just because it was hot and that's something we're not always used to. And the scripts were quite physically intensive. Either you're out on the beaches all day or traipsing through a jungle. But I relished the chance to get down and dirty. So it's good."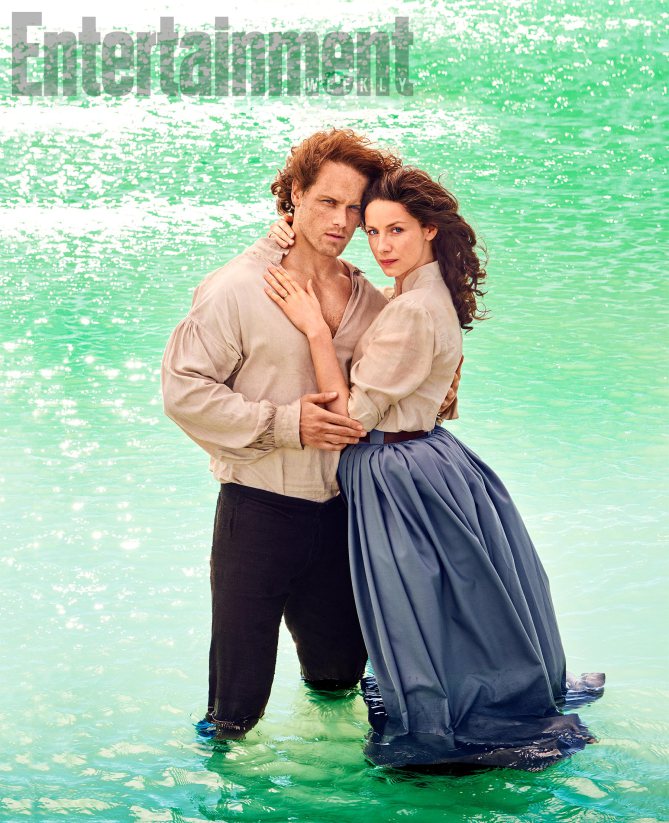 As hinted at in the above photo, Season 3 involved some water stunts. Balfe spoke to EW about how she and her castmates wished they could have done more of their own stunts, saying:
Half the time they won't let me do as much as I want to. They end up using stunt doubles for insurance purposes, but I think Sam [Heughan] and I — and Tobias [Menzies] actually — we all like to get physical and we like the challenges of the physical elements of the job.
Entertainment Weekly has some photo previews of the new season, including our first look at the Lord John Grey character. Check it out…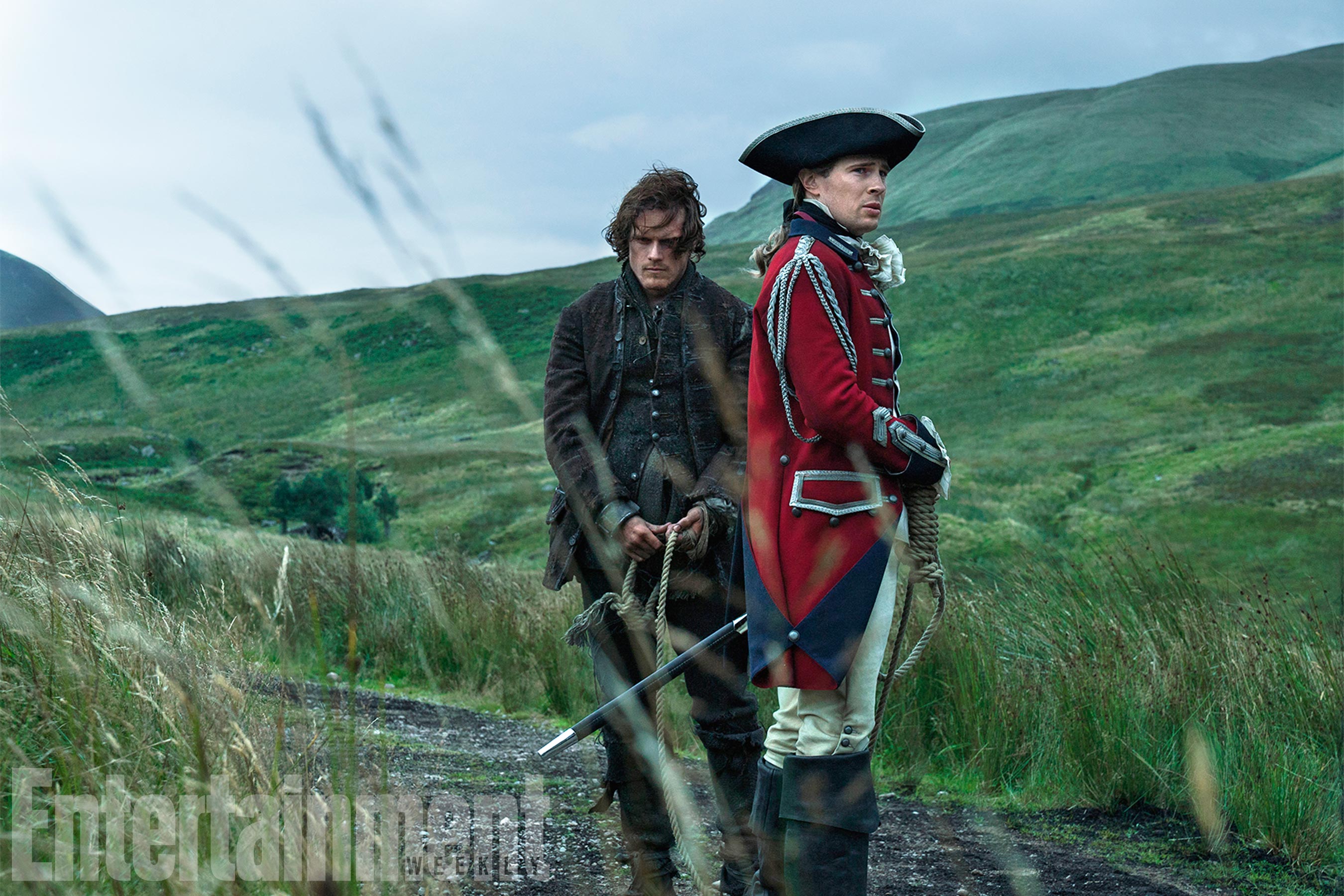 And here's a look at Claire, Frank, and Little Briana in the 20th century.
Caitriona Balfe talked to EW about what to expect from that highly-anticipated reunion print shop scene…
For Sam and I and all the writers, we felt that it was so important to make sure we had the tone right. Claire's had time to prepare herself for what this might be and to play various scenarios through her mind. But for Jamie, this person just landed in his life again and there was no warning. So you've got two people trying to figure out how to go about this.
And here are three new photos from Season 3…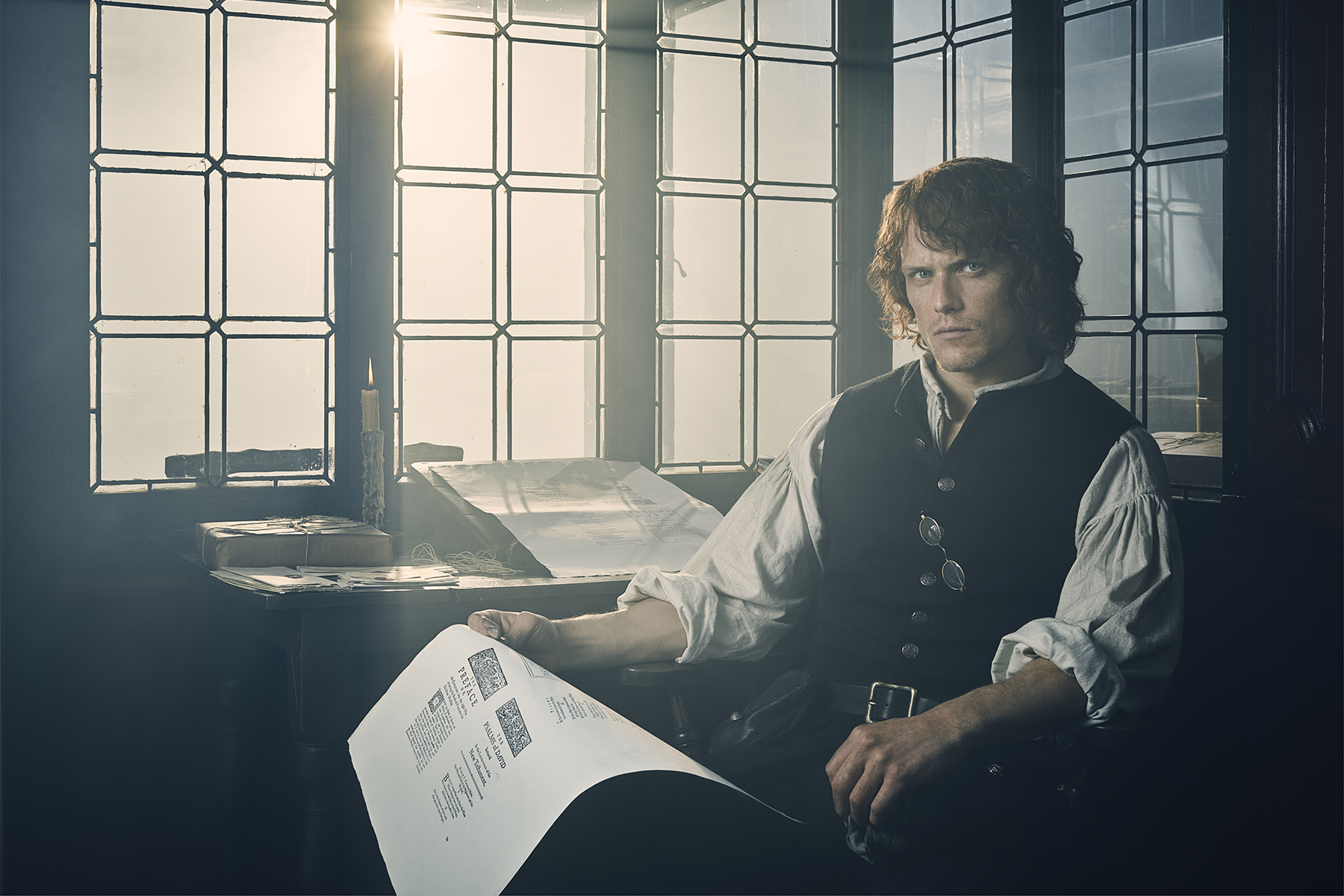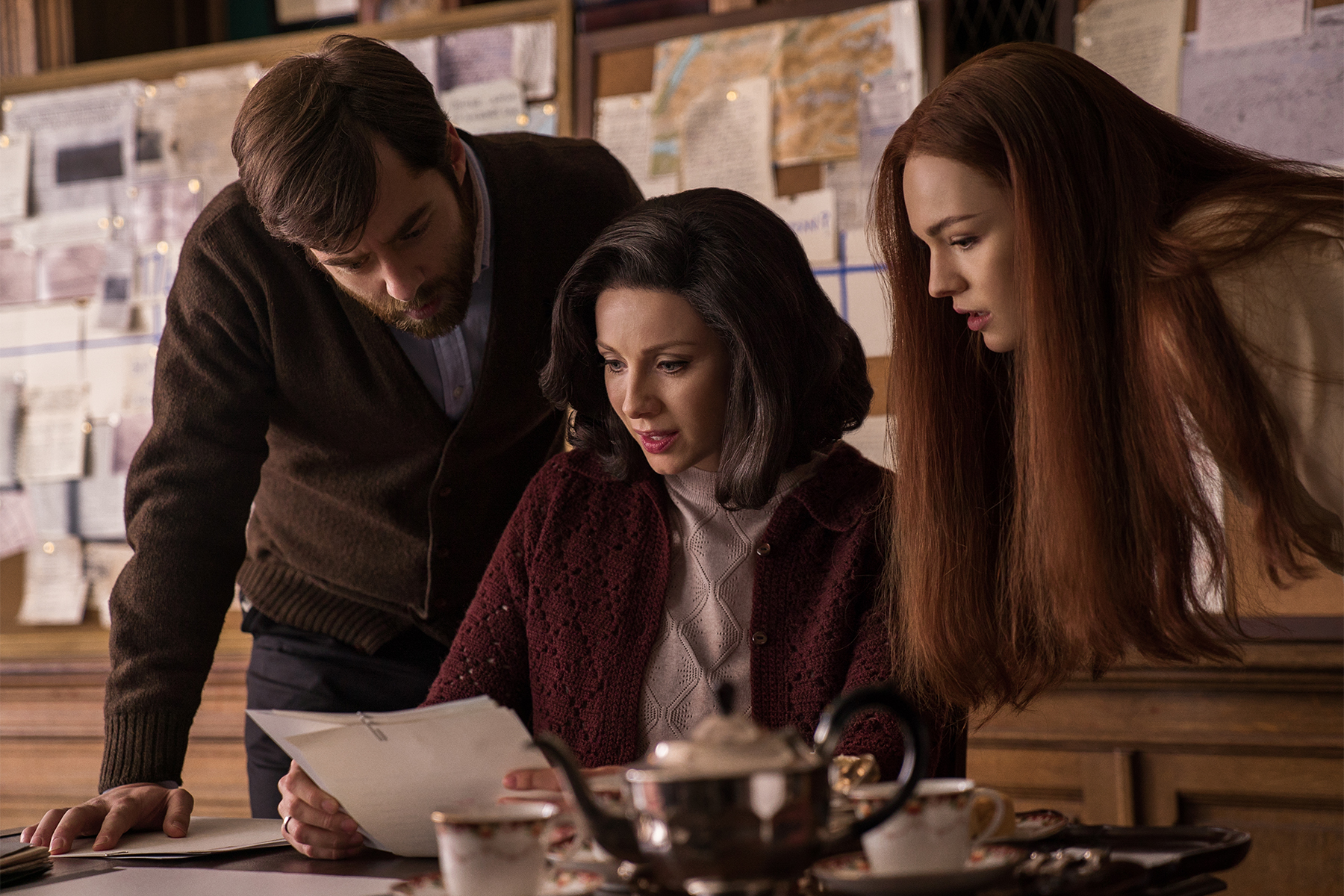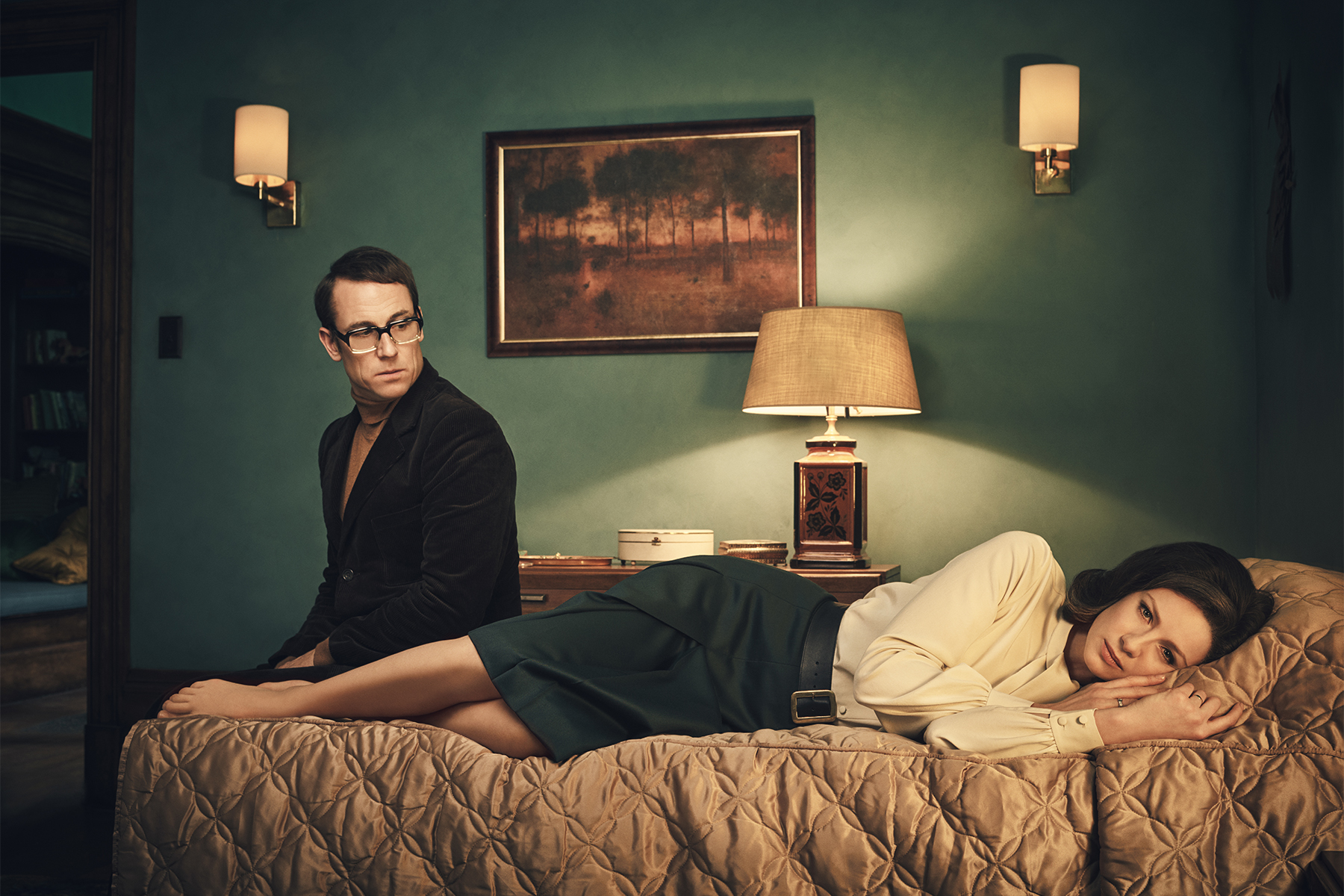 There's an official poster for Outlander Season 3 and it manages to be both heartbreaking and beautiful. Stop making storytelling look so easy, Outlander.
Outlander Season 3 Filming
Production on Outlanderseason 3 began last September…
— TV Guide Magazine (@TVGuideMagazine)
September 7, 2016
It's actually kind of adorable how excited they were about it. Here are Sam Heughan and Ronald D. Moore from the set…
— Outlander (@Outlander_STARZ)
September 7, 2016
— Ronald D. Moore (@RonDMoore)
September 7, 2016
As you can tell from the vids, the production is back at the Battle of Culloden. With all this time travel, it can be hard to keep track of where — and when — we are. Outlanderseason 3 will, in part, pick up with Jamie directly following the Battle of Culloden.
At the Creative Emmys, Ronald D. Moore and production designer Jon Gary Steele chatted with Gold Derby about what to expect from Outlanderseason 3. The details are vague — but it's pretty exciting to hear them talk about all of the ship-dwelling that will happen in the upcoming season. Moore teased:
It's as different from the second season as the second was from the first. It involves a sea voyage and going to the Caribbean and it goes to Jamaica. It has war elements. There's more 20th century stuff, back and forth time travel elements, so it's a big, new, brand new season.
Moore has previously said about the challenge of adding a lot of ship scenes to the show:
The technology now, between real ships like what they have in Black Sails and CG, it's now developed to a place where you can believe it. It's no longer just the models on the water tank at Paramount, which is clearly like this big. Now you can really realize on a television budget what Pirates of the Caribbean was doing 8-10 years ago. Now, we can actually do better CG than that on the television front.
We've got some sneak peeks — thanks to Twitter — from the set. The below production at the University of Glasgow could be a stand-in for Frank and Claire's Boston adventures…
— Uni of Glasgow (@UofGlasgow)
September 5, 2016
There's also this photo of Caitriona Balfe as a very pregnant Claire, filmed in the same University of Glasgow location as the above shot…
— shameless (@Imeltforharry)
September 5, 2016
The show then moved to South Africa. Outlander executive producer Matthew B. Roberts shared glimpses of the season three set via his Instagram account, and they are beautiful as well as a way to get excited about the new season while we suffer through #Droughtlander.
— Matthew B. Roberts (@TheMattBRoberts)
October 16, 2016
Here's some more photo evidence…
— Matthew B. Roberts (@TheMattBRoberts)
February 18, 2017
And here are some teases from the famous print shop scene…
— Matthew B. Roberts (@TheMattBRoberts)
November 23, 2016
Outlander Season 3 has since officially wrapped! The show's official Twitter handle teased the end of filming with this photo that shows Caitriona Balfe and Sam Heughan on set looking very much like their characters…
— Outlander (@Outlander_STARZ)
June 16, 2017
The series stars also took to Twitter to celebrate Season 3's production end…
— Sam Heughan (@SamHeughan) June 16, 2017
— Caitriona Balfe (@caitrionambalfe)
June 16, 2017
— Caitriona Balfe (@caitrionambalfe)
June 16, 2017
Read and download the full Den of Geek Special Edition magazine here!