News
Will There Be Outer Range Season 2?
Will Prime Video's trippy Western Outer Range return for season 2? Here is everything we know about Josh Brolin's next trip to the Void.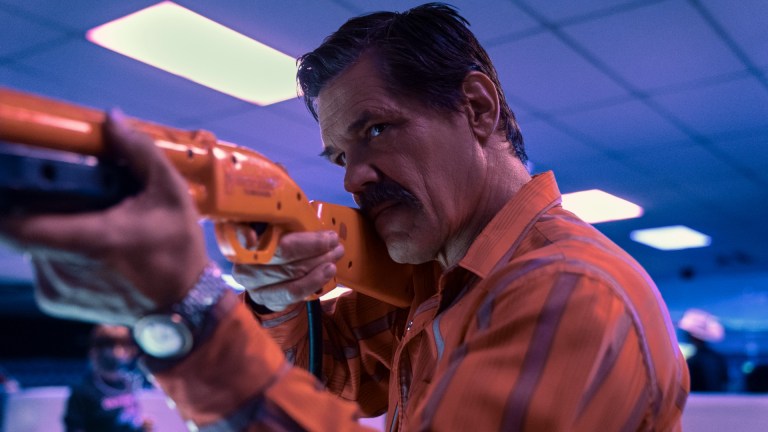 It's science fiction's world on television and we're all just living in it. The little geek genre that could has come to dominate the TV landscape with everything from sci-fi comedies like Netflix's Russian Doll to sci-fi workplace satires like Apple TV+'s Severance. Science fiction has become so pervasive that many shows aim to figure out an angle in addition to the already out-there form.
Rarely has a show been more successful in choosing an additional angle to present alongside sci-fi than Prime Video's Outer Range. This eight-episode series starring Josh Brolin adds a dash of neo Western noir to its heady premise as Brolin's character, the rancher Royal Abbott, discovers a mysterious time-altering Void on his massive Wyoming property.
The first season of Outer Range deftly explored all the questions that arose from this supernatural occurrence and all around out into an enigmatic, yet satisfying ending. But, even with said ending in place, is there room for Outer Range season 2 on the horizon? We certainly think so and hope so. With that in mind, here is everything we know about the yet-to-be-announced Outer Range season 2.
Outer Range Season 2 Release Date
Should Outer Range receive a second season, it will likely be awhile before it enters production and even longer before viewers get to see it. For starters, the show's lead is a rather busy fellow and doesn't seem all that eager to dive right into a second season of a show with a grueling production schedule.
In speaking to The Hollywood Reporter after the finale, Josh Brolin did not mention any prospects for season 2 but he did bring up how challenging the shoot was.
"The setting was really tough, the hours were very tough and some of the egos and insecurities were very tough," Brolin told THR. "It took much longer than we thought it was going to take, but the reward at the end of the road is the fact that it's hit a nerve with people."
Brolin's co-star Imogen Poots (who plays Autumn) gave an interview to Digital Spy and similarly did not seem to have a sense of urgency to return to the show's world saying, "Season 2 is up in the air. I think we kind of made this on a whim. We all just thought it was so original, and we all wanted to make it."
The show's creator Brian Watkins has not yet spoken out on the prospect of season 2 but once he does it should give us a pretty idea of whether it will happen and when it might arrive.
Outer Range Season 2 Cast
The cast of Outer Range season 1 consists of the following:
Josh Brolin as Royal Abbott
Imogen Poots as Autumn
Lili Taylor as Cecilia Abbott
Tom Pelphrey as Perry Abbott
Tamara Podemski as Deputy Sheriff Joy
Noah Reid as Billy Tillerson
Shaun Sipos as Luke Tillerson
Will Patton as Wayne Tillerson
Isabel Arraiza as Maria Olivares
Olive Abercrombie as Amy Abbott
Deirdre O'Connell as Patricia Tillerson
Kristen Connolly as Rebecca Abbott
Of these main crew, who could return for season 2? Well there is a surprisingly low body count in the first season so pretty much all of them! Billy, however, was noticeably absent in Royal's vision of the future.
How to Watch Outer Range
All eight episodes of Outer Range season 1 are available to stream on Amazon Prime Video in both the U.S. and U.K.
What to Watch Next After Outer Range
Should the unthinkable happen and Outer Range not receive a second season, here are a handful of shows that might help scratch the neo Wester and/or sci-fi itch.
Yellowstone – This one is fairly obvious and straightforward. If you enjoy a series set on the visually stunning Great American plain, you'll likely enjoy this Paramount Network epic about the Dutton family and their efforts to keep their iconic ranch. There aren't any sci-fi elements to speak of, however, unless things get really weird in the upcoming season 5.
Westworld – This HBO series does combine the two major elements of Outer Range: sci-fi and Westerns, though it definitely leans harder into the former. Loosely based on the 1973 film on the same name, Westworld is set in a futuristic Western-themed amusement park for rich people can satisfy all of their prurient desires.
Wynonna Earp – The light, playful tone of Wynonna Earp is certainly quite different from Outer Range. But at their center, both series about ranchers doing supernatural stuff. The title character is the great-great granddaughter of the legendary lawman. After returning to her hometown in the Canadian rockies, she is charged with battling revenants – the lost souls of the evil men her ancestor killed.
Lost – Look, it's never a bad time to watch Lost. One of the best sci-fi TV series ever, Lost is an exhilarating puzzle box where every week presents new questions (and maybe even an answer or two). After Oceanic Flight 815 crashes on a seemingly deserted island, its survivors soon discover that this island may possess some…interesting properties. There aren't many Western elements at play here but the scenery is gorgeous and Sawyer (Josh Holloway) is basically a cowboy.