Features
Netflix's Lupin: Is Arsène Lupin Real?
Investigating the storied history of gentleman burglar Arsène Lupin, inspiration for Netflix's French crime series.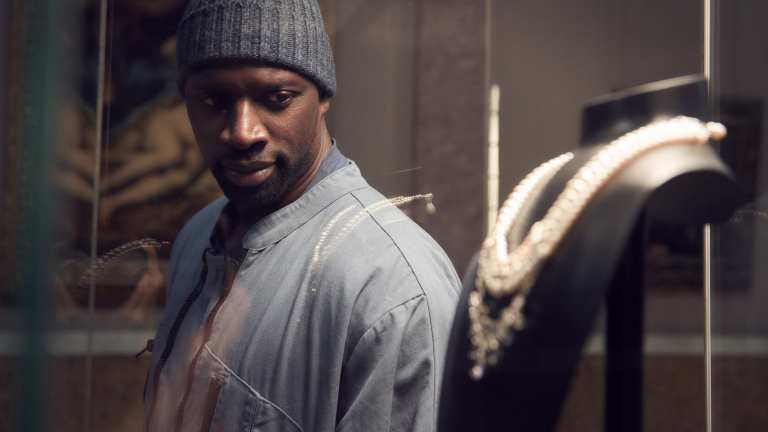 This piece contains spoilers for Netflix's Lupin.
Lupin, Netflix's witty French mystery drama about a modern-day gentleman thief, constructs all of its cleverly layered mythology around a figure known as Arsène Lupin: smart, suave, a master of disguise, always one step ahead. Considering how much attention Assane Diop (Omar Sy) invests into adopting Lupin's identity, not to mention how Officer Guedira (Soufiane Guerrab) devotes his equally fannish knowledge to following Diop's tracks, it makes perfect sense to wonder, is Arsène Lupin real?
And here is where the answer is tricky, in a fun way: Arsène Lupin is not a real person, but he is a real fictional character outside of Lupin the series. Created in 1905 by French author Maurice Leblanc as a response to the popularity of Arthur Conan Doyle's Great Detective Sherlock Holmes (created in 1887), the charismatic burglar is a reversal of Holmes in almost every way, though they share considerable smarts and an affinity for disguises. Lupin's gentleman thief is a stock character who often possesses so much wealth that he doesn't need to steal for material means, but instead does it for the thrill—and who has enough connections and resources that he's consistently able to get away with it. Lupin operates under a Robin Hood-esque moral code of stealing from the wealthy and/or those who gained their wealth by taking advantage of the less fortunate.
In his trademark top hat and monocle, Lupin's first appearance was in serialized stories in the French magazine Je sais tout, though he quickly grew so popular that Leblanc penned 17 Lupin novels or collections, including several dozen stories or novellas. Arsène Lupin, Gentleman Burglar was the first collection, released in 1907, and features prominently in the Netflix series as the book that Babakar Diop (Fargass Assandé) gifts to young Assane before he is framed for stealing The Queen's Necklace from the Pellegrinis; Diop later gives a new copy of the same book to his 14-year-old son Raoul (Etan Simon).
"Lupin is so French that you cannot grow up in France and not know who is Arsène Lupin," star Omar Sy told Variety ahead of the series premiere, comparing the gentleman thief to the English spy James Bond. Though series creator George Kay (Killing Eve) likely grew up reading and watching Bond instead of Lupin, he was drawn to what he described as the themes of "mischievous, adventurous crooks and criminals intersecting establishment" yet equally interested in subverting the established canon.
In case you're wondering if ever Lupin met his predecessor, there is indeed an Arsène Lupin/Sherlock Holmes crossover—except that in the collection it's called Arsène Lupin versus Herlock Sholmes, after legal objections from Doyle to the original 1906 story "Sherlock Holmes Arrives Too Late." While the stories have the detective and the thief regularly matching wits, Lupin seems to come out on top each time, whether by escaping even after Holmes solved the case, or by sharing motivations sympathetic enough to keep the detective from completing an investigation. Holmes also figures into the 1909 novel The Hollow Needle, albeit in a more behind-the-scenes fashion that still impacts the heartbreaking ending.
In addition to their characters being cut from the same cloth, Leblanc seems to have shared Doyle's frustration with one character defining his entire literary career. Though Leblanc attempted to create other characters like private eye Jim Barnett, even Barnett got absorbed into the Lupin mythos, to become another of the gentleman thief's aliases.
Leblanc continued writing Lupin novels (and a couple of plays) into the late 1930s, with the official final novel The Billions of Arsène Lupin serialized in 1939 and published posthumously in 1941 following his death in the same year; and the lost novel The Last Love of Arsène Lupin posthumously published in 2012 after being discovered in 2011.
Lupin also appears in a handful of stories (some parodies) written by several American, Japanese, and French authors during Leblanc's lifetime, and plenty after; as well as several film adaptations, including the 1932 film starring John Barrymore. The character has also been radically reimagined a number of times since his creation.
Of the many Arsène Lupins, a few versions from the last fifty years have been especially memorable: Monkey Punch's Japanese manga (and later anime) Lupin III character Arsène Lupin III, the gentleman thief's grandson, who also starred in Hayao Miyazaki's The Castle of Cagliostro; and a manifestation in Atlus/P-Studio's role-playing game Persona 5. But Lupin's take is arguably the most self-referential, with Diop pulling heists from Lupin stories ("The Queen's Necklace," "Arsène Lupin in Prison") and adopting a variety of anagram monikers (Luis Perenna, Paul Sernine).
However, the Maurice Leblanc Day that takes place in Lupin Chapter 5, in which fans flock to the coastal town of Étretat dressed in top hats and capes, seems to be a slight exaggeration. Leblanc's holiday home at the commune was converted to the museum Le clos de Arsène Lupin, faithfully recreated in the style of the gentleman thief's lodgings, complete with his accomplice Grognard present to lead Lupin enthusiasts through an immersive, eight-part adventure in the style of his Étretat-set novel The Hollow Needle. That said, it's unclear if Leblanc's December 11 birthday is a national holiday for Lupin fans, nor if the commune regularly swarms with top-hatted readers like in Part 1's tense finale.
With Part 1 ending on Guedira tracking down Diop and addressing him as "Arsène Lupin?", it seems likely that the two fans from either side of the law will team up to rescue Diop's son Raoul from Pellegrini's people. In terms of how they'll do it—well, there's a wealth of material to choose from, but it will also require tapping into the more emotional aspects of the Lupin canon. As Sy told Variety, "[Assane's] main tool is his head; he has difficulties working with his feelings—his heart and belly. So now his son is in danger [and] he will have to work with his instinct, and he never did." Considering that The Hollow Needle ends in tragedy, hopefully this will be another case of Netflix's Lupin diverging from canon.
Lupin is streaming now on Netflix.