Features
Bridgerton: Best Shows to Watch After the Netflix Series
Keep the Bridgerton glow going with these romantic, daring, thrilling series.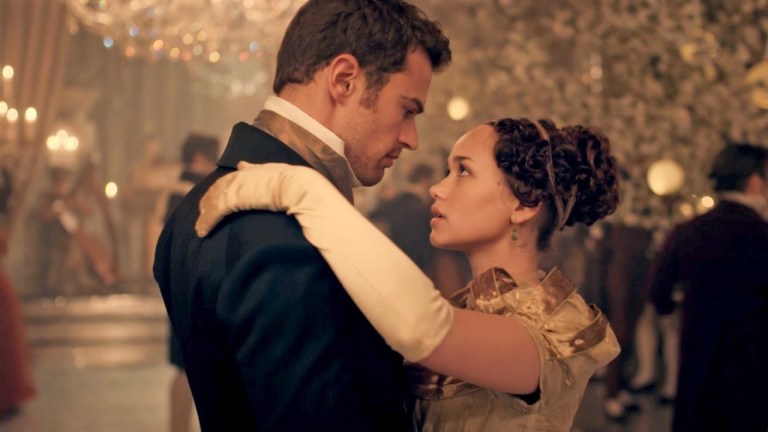 Netflix's Bridgerton has swept viewers off their feet with its lush blend of romance tropes—fake relationship, forbidden love, "we could be together if only we could stop misunderstanding each other"—anchored by the soapy, searing gossip of one Lady Whistledown. Those eight episodes went down like tea sandwiches, doubtless leaving viewers hungry for more Regency romance and timeless drama.
Thankfully, you can sate your appetites with these nine TV series. A mix of adaptations and original series, they reimagine famous figures as compelling heroines and transplant viewers into immersive towns and households, with new scandals and love stories to get obsessed with.
Here are the shows you should binge after finishing Bridgerton: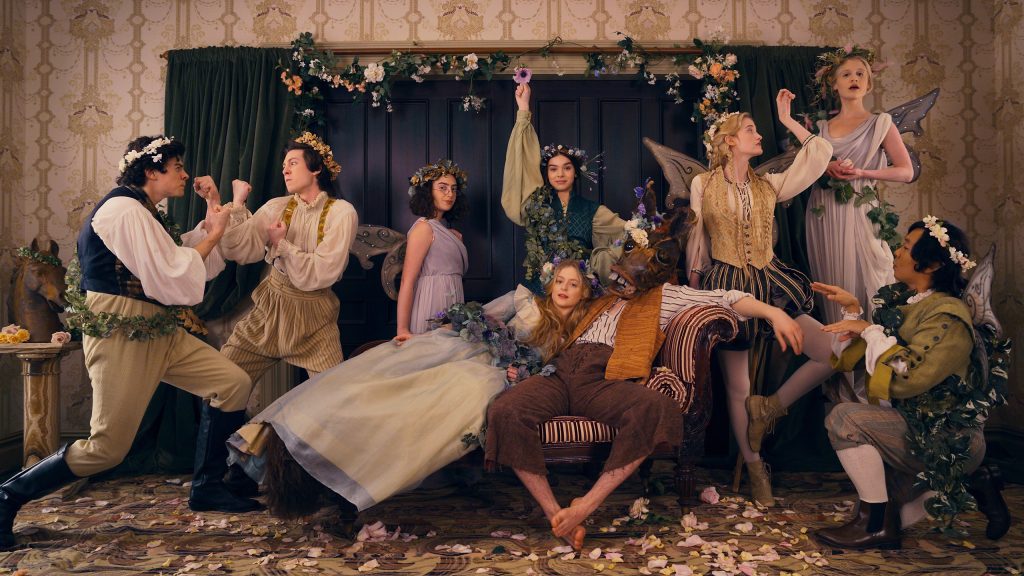 Dickinson (AppleTV+)
Alena Smith's brilliant, queer dramedy series audaciously reimagines the historically reclusive poet as a Millennial soul stuck in 19th-century societal constraints. It's delightfully anachronistic, with artful contemporary music choices—like one sequence set to Lizzo's "Boys"—and gleefully meta cameos like John Mulaney as Walden naturalist Henry Thoreau and Zosia Mamet as Little Women author Louisa May Alcott. The sophomore season (which premiered January 8) sees Emily grappling with the fear of losing her sight, yes, but also something far worse: writer's block. The reason for her creative dampening? Her poems may finally be published. But fame proves a fickle creature, as Emily struggles with an attraction to her editor Samuel Bowles (Iron Fist's Finn Jones) while her dear Sue (Ella Hunt) retreats into the glittery world of out-of-touch influencers. This season, expect seances, spa days, and more than one fabulous house party.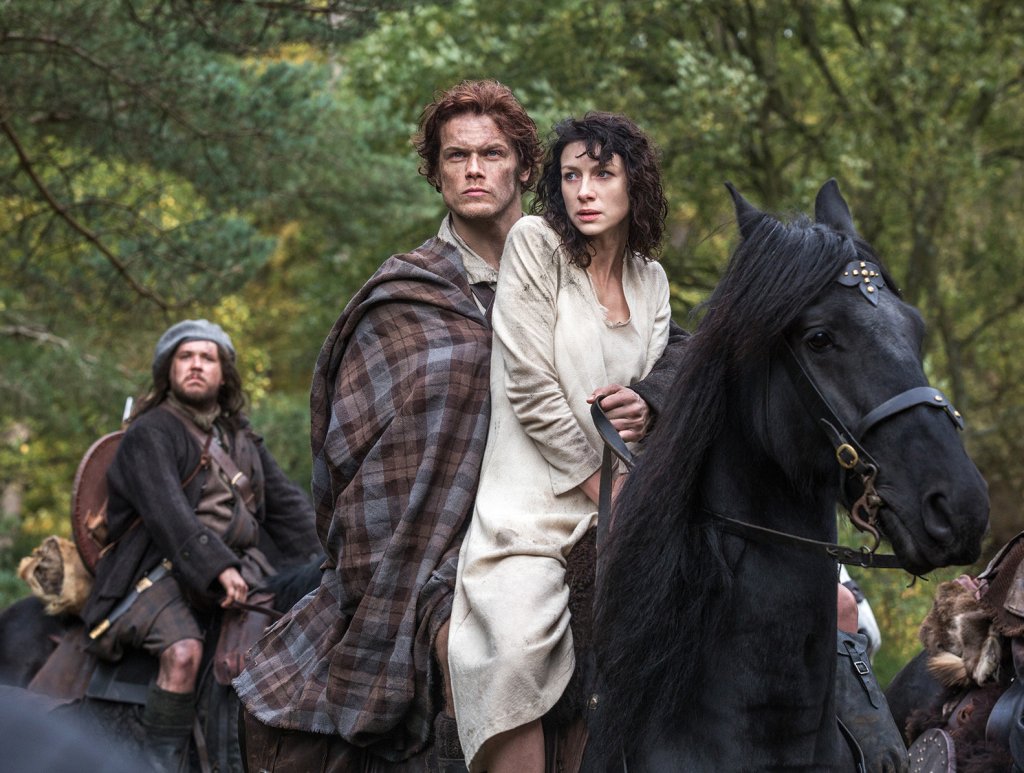 Outlander (Starz)
Daphne Bridgerton has to survive the season, but Claire Beauchamp Randall Fraser (Caitriona Balfe) has to stay alive across several historical wars, not to mention the realities of being a 20th-century doctor sent back in time two hundred years to where she's little more than property to be traded or kidnapped. Thankfully she's got the romance hero to end all heroes in sensitive Highlander Jamie Fraser (Sam Heughan)—and their sex scenes rival even Daphne and Simon's romping honeymoon. If you've never gotten into Diana Gabaldon's sweeping romantic epic (with Ronald D. Moore's adaptation touch), get ready for a breathless adventure. And if you're tuning in for next season, you'll appreciate how like the Bridgertons, the Frasers nurture a big, close-knit clan—blood and chosen—whose own adventures in time travel, spywork, and war spin out into various triumphs and high drama.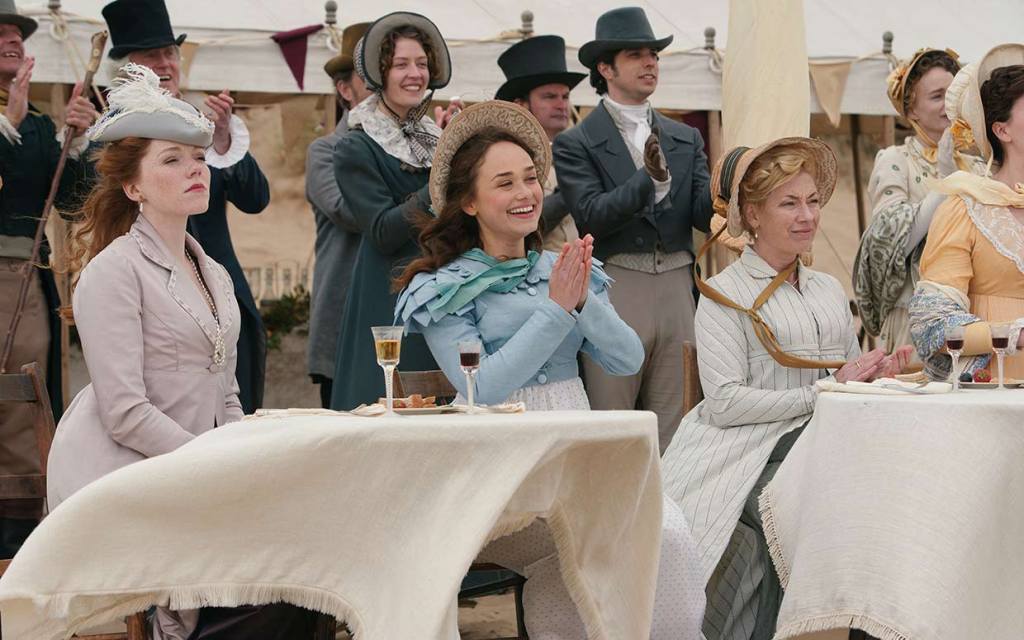 Sanditon (PBS Masterpiece)
Adapted from Jane Austen's final, unfinished novel, Sanditon takes place in the eponymous seaside town, a sleepy retreat poised to become a Regency resort destination. An accident of chance brings the unconventional and impetuous Charlotte Heywood (Rose Williams) to Sanditon, where she bonds with the bold Georgiana Lamb (Crystal Clarke), Austen's first and only black character. And of course, Charlotte clashes with the hunky Sidney Parker (Theo James), part of the family looking to change Sanditon. Andrew Davies, the writer behind the classic Colin Firth Pride and Prejudice and other Austen adaptations, uses the unfinished manuscript to set up the pilot, then takes those characters in new directions. That means engaging with England's colonial history in surprising ways, but also includes an ending to the eight-episode series that challenges readers and viewers used to the genre's conventions.
Harlots (Hulu)
Anthony Bridgerton's opera-singer lover Siena would have fit right in with the pragmatic, hardworking women of London's seedier districts a century before the events of Bridgerton. Alison Newman and Moira Buffini's series similarly builds its drama on circulated pamphlets that, like Lady Whistledown's missives, could make or break a young woman's future prospects—only these ladies are sex workers. The short-lived series tackles sex work, abuse, secret societies, racism, and a mafia-like war between the city's top two brothels.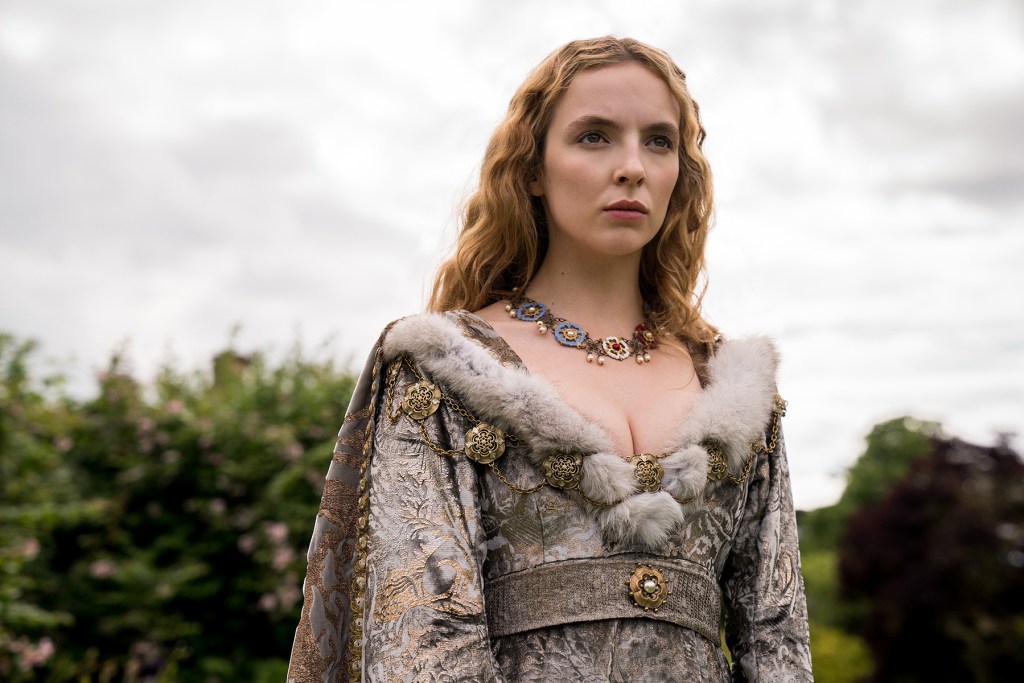 The White Princess (Starz)
Before she dazzled (and terrified) on Killing Eve, Jodie Comer's breakout role was as Elizabeth of York, mother of Henry VIII, in this miniseries adaptation of Philippa Gregory's historical novel. Forced into a political marriage with the new king Henry Tudor in order to unite their houses, Lizzie realizes that she can wield her own brand of power through pregnancy and heirs. The White Princess will scratch that "enemies to lovers" itch while dramatizing a turning point in England's royal history.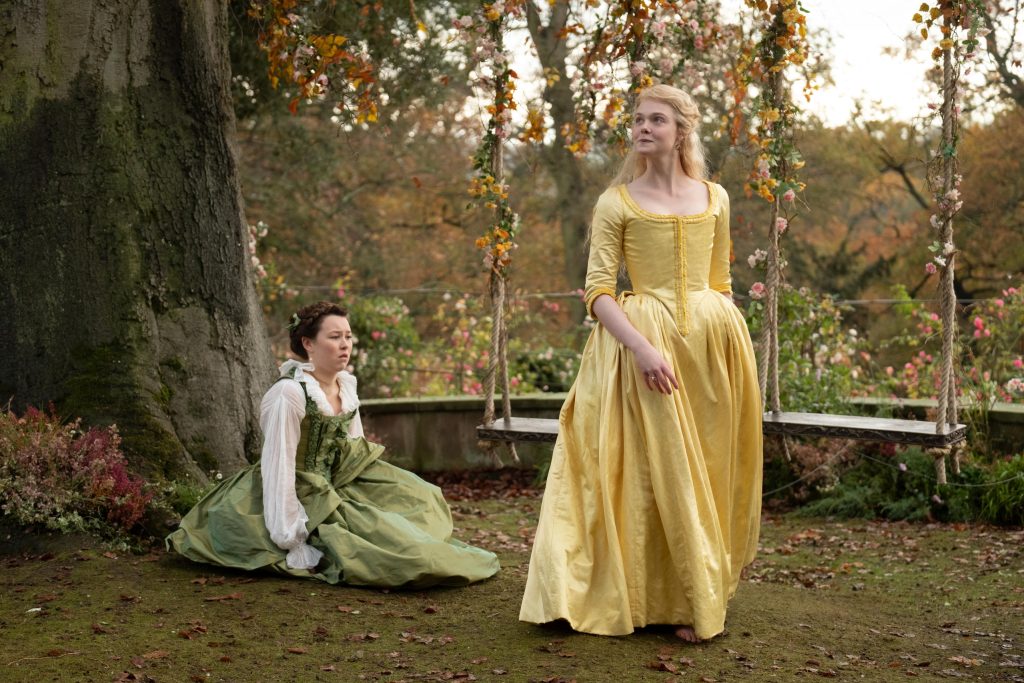 The Great (Hulu)
Like Daphne, Catherine of Prussia (Elle Fanning) approaches her marriage with alarming naïveté at the start, only for her idealized hopes for life at Peter III's (Nicholas Hoult) court to be smashed like fine crystal with a mocking "huzzah!" Instead, she must learn to navigate the cutthroat Russian court of simpering and sabotaging ladies, while convincing the tantrum-prone Peter that she is interesting enough not to be killed. All this while fomenting a revolution with the help of her street-smart maid and various sympathizers who may be willing to consider that Catherine could be good, perhaps even Great. Tony McNamara's Hulu series takes the brilliance of his 2018 film The Favourite and expands it over series arcs (season 2 is forthcoming) that will make you cheer and even cry.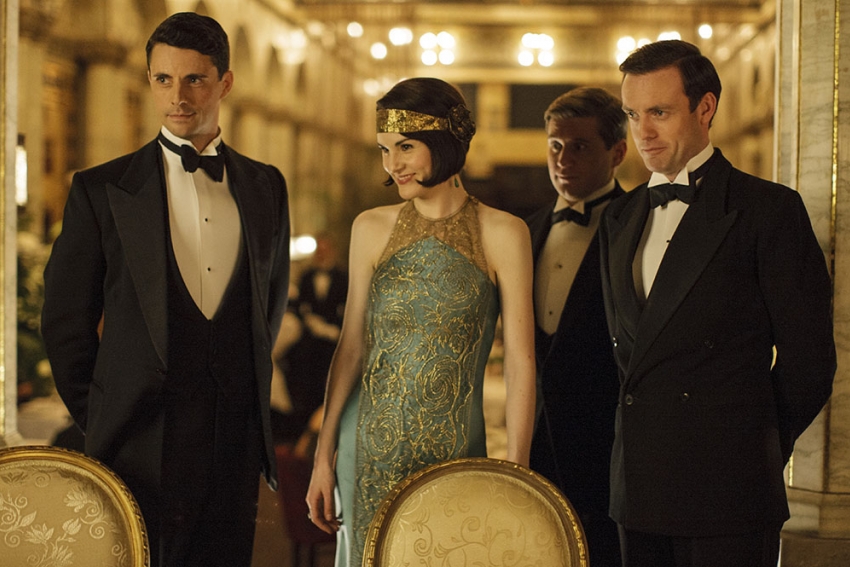 Downton Abbey (Peacock)
The one thing Bridgerton could have used more of was the "upstairs/downstairs" dynamic of servants commenting on their employers' ridiculous interpersonal drama. We got a little bit of that with housekeeper Mrs. Colson laughing at Eloise Bridgerton's accusation that she is Lady Whistledown (as if she had the time!), but Downton Abbey serves up plenty of shade through the eyes of the valets and maids who keep the Crawley family comfortable at their country estate. Don't worry, there's still plenty of scandal, from diplomats dying during sex to real-world events like the sinking of the Titanic and the assassination of archduke Franz Ferdinand. And those missing Bridgerton's Queen Charlotte will delight in Maggie Smith's scathing Dowager Countess.
Miss Fisher's Murder Mysteries (Acorn TV)
If you found Daphne's lack of sex ed and real-world knowledge a tad tiring, you might find the company of Miss Phryne Fisher (Essie Davis) as refreshing and heady as a whiff of exotic perfume. Melbourne's most glamorous lady detective spends the 1920s solving all manner of murders—at society functions, on trains, at the dance hall—with nary a hair out of place. But the best part of the series is Phryne's refreshingly modern attitudes about sex and her simmering banter with the stern Detective Inspector Jack Robinson (Nathan Page). Despite all the death and unrequited attraction, Miss Fisher's Murder Mysteries is a spectacular romp that will be over all too soon—but then the cast reunited for a movie, Miss Fisher and the Crypt of Tears, to keep the fun going just a little longer.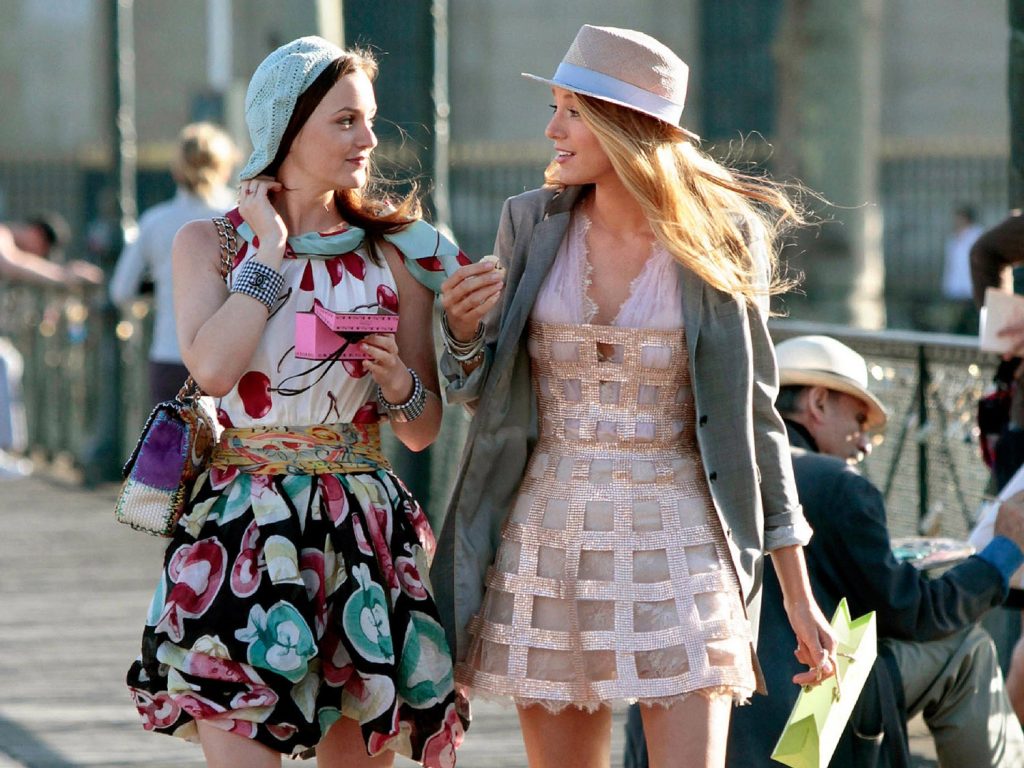 Gossip Girl (HBO Max)
Hear us out—the Upper East Side in the early 2000s definitely gives the Ton (that is, Bridgerton's high society) a run for its money. You've got sex tapes, secret children, faked deaths, and the unlikeliest of matches, between golden girl Serena van der Woodsen (Blake Lively) and "Lonely Boy" social outcast Dan Humphrey (Penn Badgley, prepping his stalkery writer skills for You). After all, Gossip Girl walked so Lady Whistledown could run. And with a reboot coming to HBO Max this year, there's never been a better time to catch up on the original.
Want more Den of Geek, but in print? Subscribe to our quarterly magazine for FREE below!