News
Nat Geo WILD Shares Social Distancing Tips from the Animal Kingdom
Bears, otters, kestrels, and more display their health and hygiene best practices in a series of new Nat Geo WILD PSAs.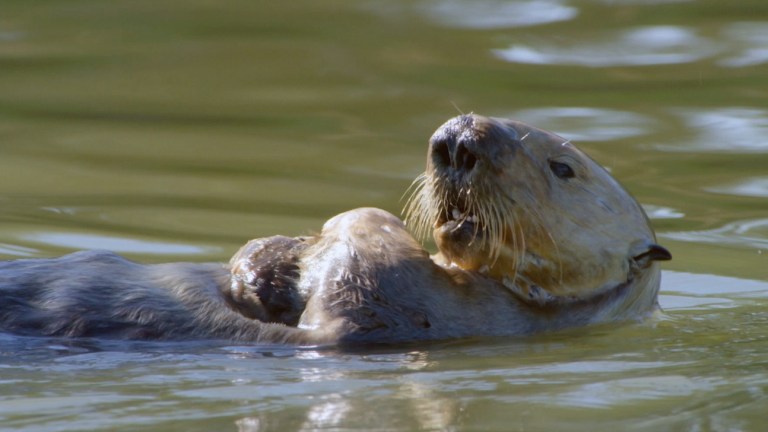 Social distancing and proper hygiene techniques in the time of the coronavirus pandemic can be hard. Staying away from our fellow human beings is antithetical to everything that makes us human beings in the first place! As is washing one's hands until they are dried out, leathery husks.
Thankfully mother nature has a place we can look to for inspiration. In a new series of PSAs, National Geographic's animal offshoot Nat Geo WILD shares some social distancing and hygiene tips from animals who have turned the techniques into an art form.
"At Nat Geo WILD, we realize that animals know best, so we're letting them do the talking," Janet Han Vissering, SVP, Development and Production, Nat Geo WILD, says. "Amazingly, animals have the innate ability to adapt to whatever Mother Nature throws their ways. We can take a lesson by adapting these behaviors ourselves – now's not the time to be sitting ducks!"
Beginning today, Nat Geo WILD will begin airing these PSAs on its cable channel and across its social media platforms. Here Den of Geek can exclusively reveal these five helpful ads, along with some devastatingly twee animal puns.
Socially Isolate:
Be a Smart Bear: Bears typically like to socialize, but smart bears know when it's time to paws, keep their distance, and growl from afar.
Be a Smart Penguin: Penguins love cuddling with their friends, but smart penguins know when it's time to isolate and chill.
Wash Your Hands Often:
Be a Smart Sea Otter: You never really know how dirty your paws are, that's why smart sea otters wash their hands often. Scrub like a sea otter.
Don't Hang in Crowds:
Don't be a Silly Goose: Geese are known to travel in flocks, but smart geese know when it's time to spread their wings and fly solo.
Order in Food:
Be a Smart Kestrel: Kestrel birds are stuck with their kids at home, too! Don't let the chirping get you down, and order in your food to keep the whole family safe.
Understandably, the global pandemic has thoroughly dominated the news and cultural landscape of late. As such, brands far and wide have chimed in with their own safety tips based on CDC guidelines. What few of those brands have, however, is a stable of animals to demonstrate the proper techniques.
At this point, we're all undoubtedly hand-washing, social-isolating experts, but it's nice to know that Drs. Bear, Otter, Penguin, Goose, and Kestrel are there should anyone need a reminder.