Features
Sci Fi Fidelity Podcast – The Optimism of Cosmos: Possible Worlds
Cosmos: Possible Worlds host Neil deGrasse Tyson and executive producer Ann Druyan share the show's message of hope on the podcast.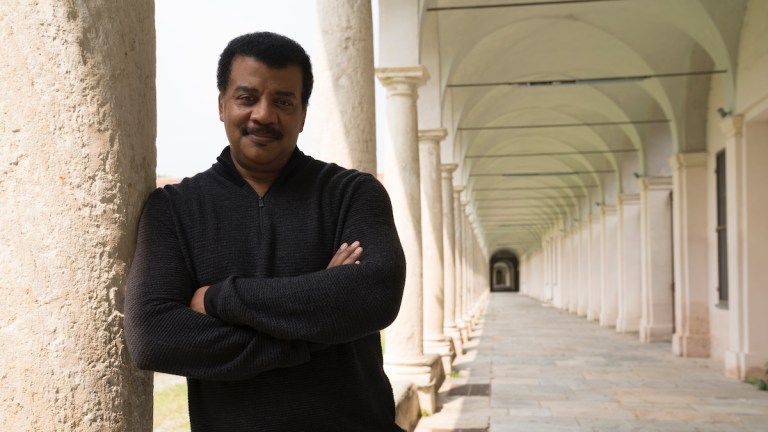 Cosmos has been around since 1980, and the optimistic tone of both the late Carl Sagan's show and the current iteration hosted by Neil deGrasse Tyson has been the hallmark of the series. In its effort to make science more accessible and more inspirational to the average viewer, Cosmos: Possible Worlds has taken us on powerful visual journeys through space and time, and much of the credit for the impact of the show's message must go to writer and executive producer Ann Druyan and the always relatable host Neil deGrasse Tyson, who joined the Sci Fi Fidelity podcast before the March 9th premiere on Nat Geo.
Druyan spoke to us on release day for her new book based on the latest season of the series, also titled Cosmos: Possible Worlds, which serves as a sequel to the popular novel tie-in with the original series written by her late husband, Sagan. "I know how big those shoes are probably better than anyone on Earth," she says of Sagan's legacy, "so as I was writing it, I was worried that it wouldn't be worthy of Cosmos… I meet people all the time who were first attracted to science by Cosmos, and I think it's true of both books, I hope, and all three seasons of the show. I am not a scientist; I am just a hunter/gatherer of stories who was privileged to have the most astonishing 24-hour tutorial with probably one of the greatest teachers in history."
The subtitle of the show, "Possible Worlds," refers to more than just the planets beyond our solar system; it focuses on a past we can learn from and a future that's promising. "I even well up every now and then when I just re-recite the title because it is so filled with hope," Tyson admits. "The concept of possible worlds need not be interpreted only literally. In the thirteen episodes you will encounter exoplanets… but there are also worlds within our own solar system, not only planets but moons of other planets, and there are worlds within our own world… So a cosmic perspective, which is one of the DNA strands of Cosmos, is to learn enough about what else is going on out there to know how you fit into that big picture."
Druyan confirms that this positive connotation is integral to the optimistic message the show, which is able to visit distant places and those closer to home. "That's exactly what I intended with the title: not just the possible worlds of the exo-planets that we can visit, worlds of other suns, but the worlds within us," says Druyan. "The architecture and physics of dreaming, the immensely sophisticated use of symbolic language that other species on Earth, non-human, utilize."
In the podcast, Druyan and Tyson share some of the topics the new season of Cosmos: Possible Worlds will explore and appreciate along with our hosts the attention to detail that goes into the design of this science show. Be sure to subscribe to Sci Fi Fidelity so that you never miss an episode! Each week we review a currently airing show, discuss a topic of interest to genre television, or interview someone from behind the scenes of our favorite series. Find us in your podcast app of choice or simply listen to the full interview below!