Features
Nat Geo WILD's Critter Fixers Dispel Myths About Country Vets
Veterinarians and lifelong friends Vernard Hodges and Terrence Ferguson share their rural perspectives in Nat Geo WILD's Critter Fixers: Country Vets.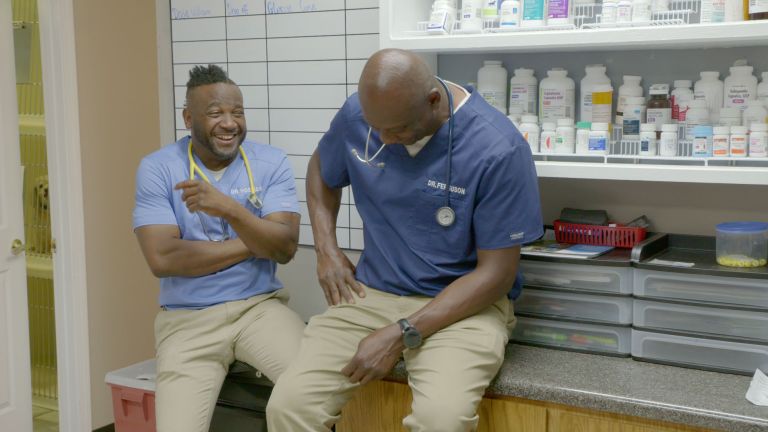 A little over 20 years ago, Drs. Vernard Hodges and Terrence Ferguson stood in a parking lot in front of a building that would soon become their veterinary hospital in Byron, Georgia. As they gazed upon the structure, they realized that something important was missing from their new practice: a name.
"Me, being the stoic one, I said 'Let's do Byron Animal Hospital or Byron Veterinary Clinic,'" Ferguson says. "That sounded great to me. (Dr. Hodges) looked at me and was like, 'No man, we don't want to be Byron. Let's be Critter Fixer.'"
And so Critter Fixer they became. Hodges and Ferguson have been operating their whimsically named veterinary hospital since 1999 in Byron, 100 miles south of Atlanta. Now the two men will lend their time and the Critter Fixer name to another enterprise – a new docuseries set to premiere on Nat Geo WILD on March 7 at 10 p.m. ET. Critter Fixers: Country Vets will follow Hodges and Ferguson as they treat a diverse array of animals like cats, dogs, pigs, ducks, and a turtle (named Yurtle of course); all the while seeking to tell their own stories about what it means to be black veterinarians in a small town.
Hodges and Ferguson first met as undergrads at Fort Valley State University with Ferguson studying veterinary science and Hodges studying biology. The pair worked frequently together, eventually going to Tuskegee School of Veterinary Medicine, becoming friends, and then business partners.
After years spent honing their veterinary practice and making appearances on local news, Hodges and Ferguson got the attention of a Nat Geo WILD network looking to mix up its nature storytelling.
"(A producer from Nat Geo WILD) was like, 'do you guys Skype?' I said, 'Nah, what am I going to Skype for?' We live in the country. Everybody I know, I can just go see," Hodges says. "I then made the phone call to Doctor Ferguson and told him we had a possibility for a TV show. There was a little silence and then he said 'whatever your antics are, I'm rolling with you.' Those were literally his words."
"I thought he was just joking because you're talking about a television show," Ferguson says. We're South of Atlanta. (TV shows) are for people in Atlanta, not for us country boys."
But the country boys got their TV show all the same. Now they are set on using the opportunity to dispel some myths about the South and rural veterinary medicine.
"(People think) the medicine that we practice is old, antiquated, and that's not the case. (Critter Fixers) will show that we practice quality medicine," Ferguson says. "We have the same tools. We have ultrasounds, x-rays, endoscopy, all the same things that we practice there. I think for some people, their perception is that we don't or can't do it like they do it in the city."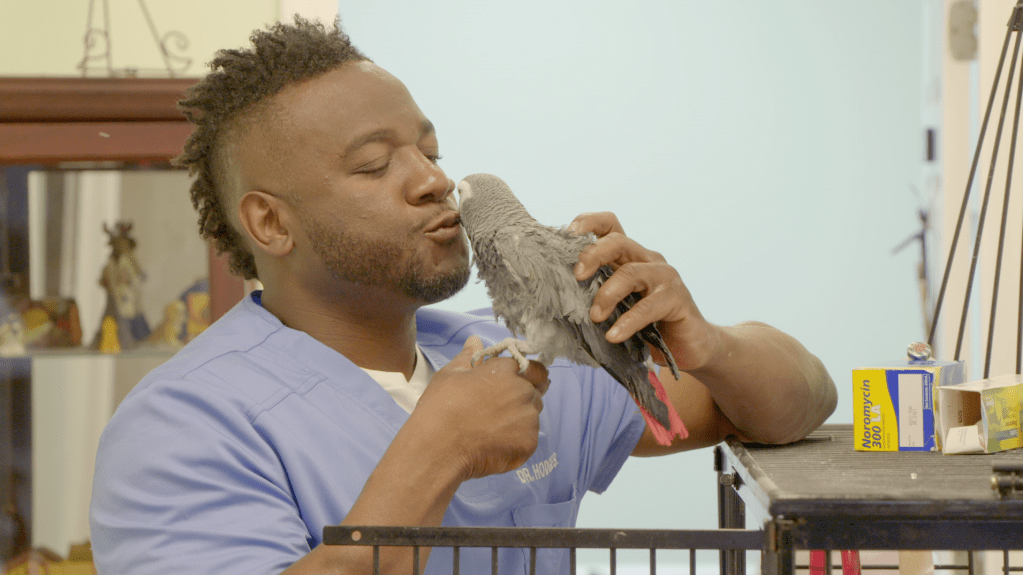 Still, trying to start a veterinary practice from scratch anywhere does present certain challenges. Hodges and Ferguson recall driving to Gadsen, Alabama early in their history to buy a World War II-era X-Ray machine from a retired doctor.
"It was hot. (Ferugson's) truck didn't have AC. Couldn't afford it," Hodges said. "We also got an old anesthesia machine and we made it work. Even though we didn't have a lot of money, or a lot of other things, we still had our brains."
And they had the building that would one day become Critter Fixer's first location (the pair has since added a practice in Bonaire, Georgia).
"We put a lot of sweat equity in the building. We actually went in and renovated the building ourselves," Ferguson adds. " It was just him and I. We were the receptionist, the technician, the veterinarian, the dog bather, the surgical assistant. We were all that. We were overqualified for some things and qualified for some. But that blossomed a little over 20 years ago into where we are today."
Today Ferguson and Hodges are not only successful businessmen and burgeoning TV personalities but also, they hope, aspirational figures for the community. According to the Boehringer Ingelheim, black Americans make up only 2.1 percent of veterinarians in the U.S. despite making up 12 percent of the workforce.
"There are a lot of people who don't see black veterinarians," Hodges says. "We plan to be a measuring rod and let kids see that anything is possible. That's something you definitely going to see on our show besides good medicine. You're going to see diversity."
"It makes a difference when you see it," Ferguson adds. "I wanted to be a veterinarian since I was seven or eight years old. Then the first black veterinarian I saw was when I was a junior in college. During that span, I slipped a little bit and was like, 'I don't know if I can do this.' But I met that person at the right time. Had I not, I probably would not have been a veterinarian. I know the platform that Nat Geo is providing for us can be very powerful."
Now that Hodges and Ferguson have that platform they plan to make the most of it…and fix a lot of critters.
Critter Fixers premieres March 7 at 10 p.m. ET.