Features
A Guide to Pet Safety During the Holiday Season
Nat Geo WILD's resident Critter Fixers, Drs. Vernard Hodges and Terrence Ferguson share their tips for keeping pets safe amid all the candles, tinsel, and Christmas cheer.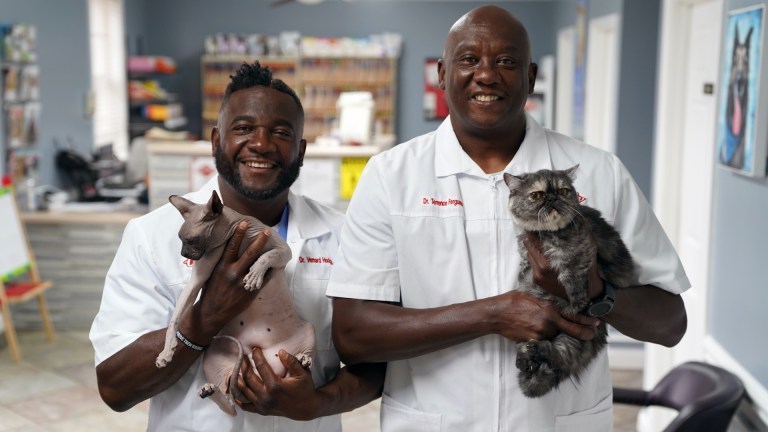 When you think about it, the holiday season is an unusually dangerous time. Christmas and the subsequent year-end festivities typically involve large quantities of humans gathering together. And wherever large human gatherings go, disaster statistically usually follows. Even during this very strange Christmas season, in which families will (hopefully) forego mass gathering due to the coronavirus pandemic, plenty of dangers linger. What are chestnuts roasting on an open fire, if not massive fire hazards?
As the human animal has demonstrated time and time again, there's probably not much we can do to mitigate the dangers of the winter holidays. Brittle, flammable Christmas trees must be lit, and blister packaging must be torn open with a giant knife (NOTE: Please do not do this anymore). But hopefully we can at least all agree to do our best to protect the other, non-human animals we like to call our friends.
For as dangerous as the holiday season is for people, it can be just as dangerous for our beloved pets. The holiday landscape is positively littered with items and decorations that could prove toxic to dogs, cats, birds, and more. Not only that but more animals land in the ER around the holidays due to burns from candles than in any other season.
Drs. Vernard Hodges and Terrence Ferguson are the veterinary duo behind the Critter Fixer Veterinary Hospital in rural Georgia and the stars of Nat Geo WILD's documentary series Critter Fixers: Country Vets. They know better than most the dangers that the holiday season can pose to our furry, scaly, and/or feathered friends.
"During the holidays, we're only really closed on Christmas Day," Dr. Ferguson says. "We're open the rest of the time."
"I am sure I've spent at least five and maybe six Christmas mornings up. Accidents and emergencies happen," Dr. Hodges adds.
Den of Geek spoke with Dr. Hodges and Dr. Ferguson (who also penned this year's childrens' book C is for Critter Fixer) about what it takes to keep pets safe during the holiday season.
Dangerous Decorations
Perhaps the most consistent and pervasive element of the holiday season, decoration is also the most dangerous to pets. While human beings know (for the most part) that tinsel, streamers, and mistletoe aren't there to be munched on, animals don't have the same savvy.
Of all the possible decorations during Christmas, Hanukkah, the New Year, and other observed winter holidays, Dr. Ferguson and Dr. Hodges point to plants as the most problematic.
"One of the most popular plants is poinsettias and they are highly, highly, highly dangerous to dogs and cats," Dr. Ferguson says. "You definitely want to keep them out of reach so they can't get at them. They can be very toxic. They can cause death."
Lilies, another common holiday mainstay, can be toxic to dogs as cats as well. But the doctors also point out that toxicity isn't the only hazard presented by plants and other decorations. Anything consumed that was not meant to be consumed can prove to be dangerous to animals whether toxic or not.
"We get a lot of animals in here that are vomiting or can't hold food down. They have blockages," Dr. Ferguson says. "A lot of these cats are very curious. The mistletoe, the tinsel, and things like that, they like to play with them and then they'll ingest them."
Oh, Christmas Tree
Of course, the ultimate decoration during any Christmas festivity is the mighty Christmas tree. Christmas trees pose many potential hazards to pets due to their height, ornamentation, and lighting. As one might expect, the ornaments in particular can prove irresistible to felines.
"The cats will try to get up and bat the balls and everything. They aren't normally afraid of them, so you want to be really careful with the cat actually tipping over the tree. If you have certain things on it you can probably cause a fire, so you want to be careful with that," Dr. Hodges says.
"Even with your lighting, some cats are 'pawers,' some cats are biters, so you don't want your cat to be electrocuted either," Dr. Ferguson adds.
Burns are indeed a real concern during the holiday season, and the dangers aren't just posed by the lighting on Christmas trees.
"When potpourri was big, we used to see a lot more cats getting burned and I guess things are now not quite as bad. They smell those candles and potpourri and they instantly want to play with the wax and stuff," Dr. Hodges says.
Watch What You (And They) Eat
While this is bound to be a safer holiday season for humans (and hopefully animals) than usual due to fewer people at family celebrations, one area of concern that won't change much is in food preparation. Just about everyone knows that chocolate is toxic to dogs, cats, and other pets, but Drs. Hodges and Ferguson point out that there are many other foods cooked during the holidays that could be harmful to animals.
"You want to be really careful with some stuff while you're cooking. If an onion falls on the floor, get those onions. Onions are quite toxic," Dr. Hodges says. "Also grapes; people prepare salads and fruit salads and different things. When you're preparing and that grape falls on the floor, don't think, Okay, just let the dog eat it,' because that actually destroys the kidneys. You get some nephrotoxicity from grapes. Garlic as well."
Even holiday food that is not necessarily toxic in the moment for dogs and cats can cause issues down the road. Dr. Hodges identifies the common practice of throwing fat from meat on the floor for dogs as a common cause of pancreatitis for the animals.
"Animal-specific food only," Dr. Ferguson says of his holiday food guide for pets. "Dog food for the dogs and cat food for the cats. Nothing from the table."
Specific Risks for Dogs, Cats, Birds, and More
Perhaps you've noticed thus far that cats and dogs are the pets that make up the majority of the risk during the holiday season. Part of this is because they are the two most common house pets in the U.S. by far. But it also cannot be denied that they are just uniquely chaotic creatures. Which of the two represent the most danger to themselves and others during Christmastime? According to Drs. Hodges and Ferguson, it's the doggos.
"I've got to give it to dogs," Dr. Hodges says. "Cats, they stalk and do different things, but dogs are, by nature, notoriously kind of clumsy. If anything hits the floor, they'll eat it. I can't remember the number of times I've had dogs come in. A vet is just trying to figure out 'what the heck is going on? What has this dog done?'"
Dr. Hodges recalls a time that an owner believed that their dog got its paws on golden chocolate coins (gelt) from Hanukkah celebrations.
"Sure enough, I took an X-ray and this dog ate them whole. I think I cut out maybe 40 of these things – just whole coins from a whole bag. Dogs, I think, will find a way."
Though dogs and cats make up the majority of holiday mischief, the vets' advice to owners of less popular pets like birds, lizards, and hamsters is similar
"It's pretty much the same thing," Dr. Ferguson says. "If they can't be watched or are not observed, then they need to be in their confinement so that they can't get into these different things."
"With birds, you have to be really careful with Teflon because Teflon is very toxic," Dr. Hodges adds. "When you're searing that butter and then the butter burns, that will move to your bird and you'll find it at the bottom of their cage."
What To Do During a Christmas Day Emergency
Thus far all of the Critter Fixers' advice has been surrounding how to avoid holiday season pet emergencies. But what if an actual pet emergency arises on Christmas Day? According to Dr. Ferguson, the best plan of attack is to consider that possibility ahead of time and have access to your personal vet's emergency line.
"We always let owners know to make sure they have our number, but they also have the number to the local emergency hospital so that when emergencies happen, you're not scrambling trying to find numbers and you already have them stored," Dr. Ferguson says.
Dr. Hodges concurs: "If this is truly an emergency, then you definitely want to reach out to your veterinarian or emergency cert because some of this stuff can't wait. A lot of times clients will call and they'll be like, 'I'm not sure if it is an emergency or not,' and I normally say, 'Look, if it was important enough for you to call, more than likely it's an emergency, let's get to the hospital." We'd rather be safe than sorry."
How Will COVID Effect Pets' Holiday Experience?
Of course, the pet elephant in the room this holiday season is the ongoing COVID-19 pandemic. Medical experts have rightfully recommended that people not travel or visit with family this holiday season. Given the stress of that new normal, wondering how our animals will react to a change in schedule for the holiday season is probably not high on everyone's list of concerns. But it's worth asking the question anyway: will our pets notice these new, unusual holiday celebrations?
According to Dr. Ferguson and Dr. Hodges, our pets have already spent much of quarantines and lockdowns adjusting to their owners' new schedules.
"The pandemic is allowing us to be home more so when we do leave, it causes a lot of anxiety in the pets because they've become accustomed to you being there all the time," Dr. Ferguson says. "It's not like normally when you leave in the morning and come home in the evening. They become accustomed to that and now they're accustomed to being there all day."
"I have this exact case," Dr. Hodges says of a patient in exam room 6. "The guy was a truck driver and he'd been home (for quarantine) and when he started leaving again, the dog was really acting out."
The jury's still out on how changes in holiday preparation will affect pets' psyche but the duo explains that as long as owners are attentive to their pets' emotional state, things should be just fine.
Despite the strangeness of this COVID holiday season, and all the risks inherent to seasonal celebrations, the Critter Fixers have some good news to go out on.
"Hopefully with the vaccinations coming out, we'll all be able to experience a normal holiday next Christmas. In the meantime, give your pets a lot of love and enjoy that unconditional love," Dr. Hodges says, before adding, "We've been asked this all throughout (the pandemic): 'Can pets get COVID and give it to you or vice versa?' The answer is no. We all know that your pets are COVID-free, so you're free to hug and kiss them."
You heard the doctor's orders. Happy holidays, everyone. Go hug and kiss some animals.