Features
Mythic Quest: Everlight Ushers in the Post-Pandemic TV Era
Following up on beloved pandemic episode "Quarantine," Mythic Quest's next standalone installment "Everlight," looks to a more hopeful future.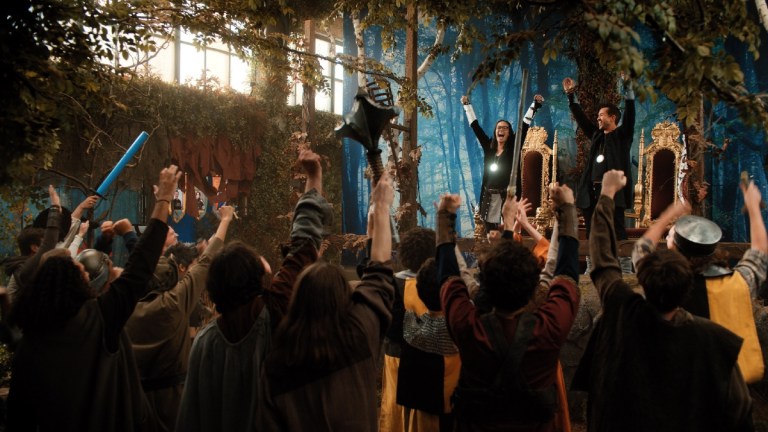 The pandemic is still here, regardless of what the headlines (including the one above) would have you believe. Masks, social distancing, and a devastating combination of fear and illness remain a reality for now.
But thankfully, nearly a quarter of the American population is vaccinated, and a return to something that suspiciously resembles normalcy appears to be on the horizon. After producing the first bit of great pandemic television with the standalone episode "Quarantine" last May, Apple TV+'s Mythic Quest is now aiming to conjure up some great post-pandemic TV as well. 
"We wanted to put the entire pandemic behind us," Mythic Quest co-creator and star Rob McElhenney says of season 2. "We just felt like by the time we would air, no one's going to want to watch a show with everybody wearing masks and talking about viral loads and social distancing. So we wrote an entire season that takes place sometime in the near future when it's behind us."
Mythic Quest returns for its second season May 7 on Apple TV+. Before it gets rolling into its next batch of viral-free episodes, however, its producers still want to acknowledge what a strange, difficult transition back to normalcy this all will be. To that end the show is going back to the "very special episode" route one more time. Enter Mythic Quest: Everlight, the sunnier followup to Quarantine, which premieres April 16 and gets the whole team back into the swing of office life. 
"We all recognize that it's going to be a difficult transition," McElhenney says. "We can't just fly past that as if it didn't happen. We have to at least pay respects to the fact that it's going to be a difficult transition for people to go from where we are now back to a sense of normalcy. That's where the episode is born out of."
Everlight finds the Mythic Quest staff arriving back to work for a very important event in the canon of their MMORPG. In the ancient times of the Mythic Quest world, darkness overtook the kingdom and the king vowed to save his people by finding a hero who could wield the blade of light and cast the darkness out. This setup is established through a stunning animated sequence from Titmouse Animation (which kind of resembles "The Tale of the Three Brothers" from Harry Potter and The Deathly Hallows – Part 1). The necessary exposition is also provided via voiceover from none other than Sir Anthony Hopkins.
"Anthony Hopkins is obviously the biggest fish in the sea," co-creator and actor David Hornsby says. "Sometimes it's just as easy as finding someone who knows someone, who knows someone, getting their number, texting that person and being like, 'Hey, can you talk to this person about getting Anthony Hopkins number?'"
To honor the in-game event, the staff behind Mythic Quest hold a LARP tourney of their own to determine who will be the hero to cast out the darkness with the Blade of Light. "Everlight" is a yearly event in the Mythic Quest offices, but this year it obviously feels particularly poignant. The concept for the episode was initially conceived as part of season 2, but when it came time to transition the show back into the workplace, the idea proved to be a perfect fit.
"We wanted the legend of Everlight to bring people into a space that felt very mystical and full of wonder, but also spoke to the feelings that people have been having during this quarantine. This feeling of a sort of darkness creeping in," Ganz says.
Within the metastory of Mythic Quest as a TV show, Everlight will always be tied into its spiritual cousin Quarantine as bonus episodes without a season accompanying them. But while the aims of the two episodes are similar in their desire to uplift and reassure, their execution is quite different.
Quarantine was conceived of and filmed under strict early pandemic production challenges, leading to an entirely socially distanced episode with a stunningly intimate conclusion. Everlight's execution is a bit more…energetic.
"I loved getting to play with swords, I hadn't done that since I was a kid. It was really cool to learn how to slash throats," Jo actress Jessie Ennis says.
Mythic Quest: Everlight premieres on Friday, April 16 on Apple TV+. Mythic Quest season 2 premieres its first two episodes on May 7.