News
MST3K Turkey Day 2022: How to Watch the Marathon This Thanksgiving
Want to know when, where, and how to watch the MSTK3K Turkey Day Marathon this Thanksgiving? How about what the schedule of Mystery Science Theater 3000 episodes is for it? You've come to the right place!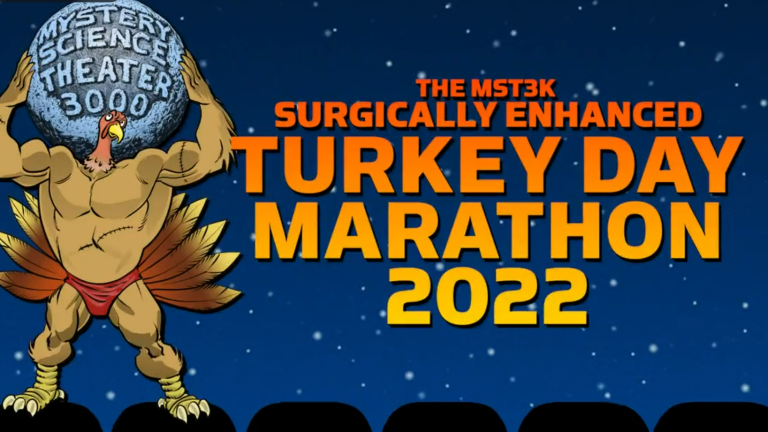 Mystery Science Theater 3000 goes with Thanksgiving Day like turkey goes with gravy. The show made its debut on Thanksgiving back in 1988 and there have been many, many Turkey Day marathons throughout the years, no matter if the show itself was active or not. Usually, MST3K Turkey Day meant getting to see six beloved episodes in a row over the course of the day. If you were lucky, there would be news about the next time we would see the show make a comeback.
Turkey Day 2022 is a different feathered beast. Right now, MST3K is in the tail end of its thirteenth season. Since March of this year, new episodes have been debuting on the Gizmoplex, a streaming service dedicated to riff-based entertainment. Twelve of the thirteen episodes have aired so far (one of which is in 3D!), while we're just weeks away from Christmas Dragon.
With MST3K in full swing right now, we aren't just getting a 12 hour marathon like most years. No, this time we're getting just over TWENTY HOURS of MST3K! That's ten episodes and a little Season 13 short for extra spice.
MST3K Turkey Day Marathon 2022 is Surgically Enhanced
The marathon will be hosted by current MST3K villains Kinga Forrester (Felicia Day) and Synthia (Rebecca Hanson). Part of the gimmick of this year's Turkey Day is that the older episodes are now "surgically enhanced."
What that means is that all the non-Season 13 episodes will go from 480p to 1080p. Because if there's anything we need, it's an upscaled Joe Don Baker!
How and Where to Watch MST3K Turkey Day 2022
The marathon will be available all over the place. The primary way to watch the MST3K Turkey Day Marathon will come via their official app, the Gizmoplex, which you can get (or watch live) here. One perk of the Gizmoplex is that if watching live isn't an option "you can choose to start watching when it's most convenient for you and your circadian rhythm."
Don't feel like going the Gizmoplex route? Don't worry, there are PLENTY of other options.
Not only on the MST3K channel on Twitch and YouTube, but also on Roku, Pluto TV, Sling, and… a lot more to be honest. There's a comprehensive list of the other services here. That has everything you'll need.
Want to know the actual schedule? We've got you covered there, too!
MST3K Turkey Day Marathon 2022 Schedule
Experiment 617: The Sword and the Dragon (7 am ET)
As part of the MST3K subgenre of Russian fantasy films, The Sword and the Dragon is one of those movies that feels cheesy enough to make fun of, but genuinely watchable on its own due to its imagination and good-for-the-times special effects and monster designs. A guy with a magic sword goes off on a quest and fights various beasts, including a three-headed dragon (coming out eight years before King Ghidorah was a thing!).
While it's a fun episode, beware of the Ingmar Bergman host segment. If only this episode aired later in the day. This segment would be perfect for a post-turkey nap.
Experiment 612: The Starfighters (9 am ET)
Be warned, this one is really hard to sit through, with or without jokes. It's rough. Despite its exciting title, Starfighters is a propaganda piece about the Air Force and its planes. If there is a story in there, it's not an interesting one and you will find yourself watching endless footage of planes being refueled in midair. The one reason to watch this movie is the mention of a uniform called a "poopy suit." You can't talk about such a thing with a straight face and not expect us to laugh, military guys.
Experiment 204: Catalina Caper (11 am ET)
MST3K and RiffTrax rarely tackle comedies because it's a hard type of movie to make fun of. Luckily, beach movies are regularly stupid enough that they're fair game regardless of their intended humor. Like other teen beach movies, Catalina Caper has a lot of different subplots going on to hold your mild interest, but nothing that you'll be invested in. Yes, there's some teen romance and thievery and even a Little Richard musical number, but nothing that's going to keep you on the edge of your seat. It's just an hour and a half of solid riff fodder.
Experiment 817: Horror of Party Beach (1 pm ET)
Leaked radioactive waste creates a seemingly unkillable race of aquatic monsters that look like they have a dozen hotdogs coming out of their mouths. These beasts go around killing teenagers while a scientist tries to get to the bottom of what's going on. It's a fun romp that gets especially inane once Dr. Gavin figures out the monsters' special weakness. It's a plot device that's just thrown out there and the movie begs you to just go with it without going too far into detail.
Experiment 1301: Santo in the Treasure of Dracula (3 pm ET)
The first episode of the Gizmoplex season is all about Mexico's most famous luchador taking on the king of all vampires. Usually, that would be weird enough for a movie, but the setup is nuttier than you would expect. El Santo has this device that when used on somebody, allows you to see footage of their past lives on a monitor. He uses this on a woman who, in a previous life, hung out with Dracula and knew where he kept his secret treasure. Sadly, none of this craziness leads to El Santo taking on Dracula in the squared circle.
Experiment 1303: Beyond Atlantis (5 pm ET)
A group finds an area rich with pearls, but the problem is that it's inhabited by bug-eyed aqua people with a knack for slaughtering outsiders. This is a bizarre movie, as it comes off as an exploitation film that cut out all the raunchy stuff to get a PG rating. But hey, it has Sid Haig! He's always a plus!
As another episode from the current season, this is the first regular episode to be hosted by MST3K Live star Emily Marsh as Emily Connor. It also includes Kelsey Ann Brady as the voice of Crow.
Experiment 501: Warrior of the Lost World (7 pm ET)
In what Joel refers to as "Sad Max," we see Robert Ginty star in a Road Warrior knockoff. Of course, instead of his actual name, Joel and the Bots just keep calling him "the guy from Paper Chase." In a movie that also gives us performances by Donald Pleasence and Fred Williamson, we wander a very low-budget post-apocalypse filled with both awful vehicles and awesome vehicles. By awful, I mean the hero's talking motorcycle that constantly warns him of "bad mothers" being on his tail. By awesome, I mean THE MEGA-WEAPON, a Killdozer-type of truck that Crow and Tom immediately fall in love with.
Experiment 403: City Limits (9 pm ET)
Oh, what's that? You want even more mid-80s Mad Max knockoff action? Well, aren't you in for a treat! This time it's City Limits, featuring James Earl Jones and Kim Cattrall! While there's more post-apocalyptic angst and motorcycle action in this one, it's also a lot less interesting than Warrior of the Lost World. Even with that moment of a couple skinny dipping in a water tower.
Experiment 811: Parts: The Clonus Horror (11 pm ET)
Clonus has a very unique history. This late-70s sci-fi piece is about a secret clone farm where clones of rich and high-ranking people are raised. Little do any of them know that they exist mainly for their organs, as they will be taken away and stripped for transplant if their original selves need replacement surgery to survive. One of these clones ends up discovering the truth and escapes.
It's one of the MST3K movies that has you thinking that it's almost a fairly solid movie, all things considered. It's something that COULD be remade into a good movie. Then in 2005, Michael Bay made a total ripoff of it called The Island, starring Ewan McGregor and Scarlett Johansson. Countless MiSTies all immediately reacted with, "Wait, what the HELL?!" Clonus director Robert S. Fiveson sued over infringement and got a nice little settlement out of it. Good for him.
Experiment 512: Mitchell (1 am ET)
Joel's final performance as the regular host came with Mitchell, a grimy tale of an obnoxious detective played by Joe Don Baker who insists on going against his bosses' orders and investigating a criminal conspiracy. Mitchell is supposed to come off as something of a badass, but Joel and the Bots continue to razz him for being a drunken, unlikeable slob. I mean, this is a guy who reaches over and grabs a six-pack with his foot during coitus, so it's not like they're over the line.
Season 13 Short: Sleep for Health (3 am ET)
But hey, don't miss Joel too much! He's back for this short about the importance of sleep and routine! Two kids complain about how much their baby sibling sleeps and it leads to a brief, albeit dull, explanation about how they too need plenty of sleep to remain healthy. On the upside, this does take a turn by letting us see the brother dream about flying around in a tiny plane!
MST3K Turkey Day Marathon 2022 Trailers
Ladies and gentlemen, I bring you the pure nostalgia goodness of Penn Jillette reading copy for an MST3K ad.
And here's Kinga and Synthia talking it up, which is a bit less nostalgic.