Features
MST3K Season 13 Is Embracing the Chaos
Joel Hodgson explains how Mystery Science Theater 3000 entered the Gizmoplex and returned to its DIY roots.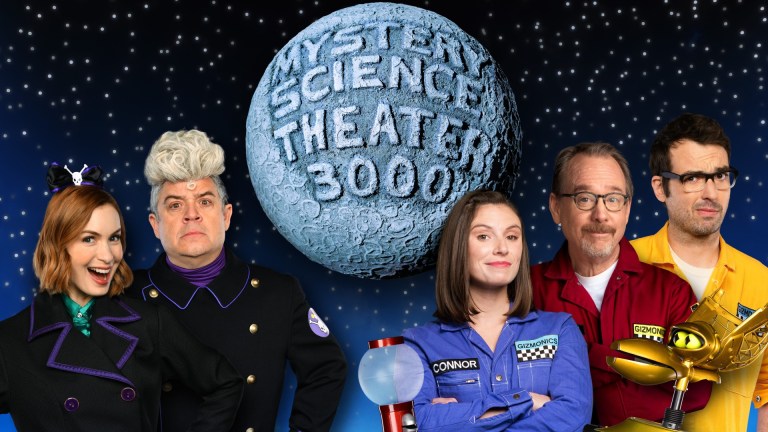 Mystery Science Theater 3000 season 13 officially premiered on May 6, but Kickstarter backers were given early access to the first episode, "Santo in the Treasure of Dracula," on March 4. The live event, the first hosted by MST3K's own app, the Gizmoplex, opened with 20 minutes of technical difficulties. A black screen with a white dot (and host Joel Hodgson himself, from what appeared to be a kitchen) sporadically gave updates as the audience waited. Once the movie started, there was terrible sound quality. The end credits weren't done yet, either.
And it was the most fun MST3K has been in a long time.
Everyone behind the scenes seemed to feel it too – the adrenaline of a near-disaster. The live post-show chat was filled with jokes about the difficulties of getting the episode to air, with the production team reveling in the mishaps and the occasionally jury-rigged solutions to their newly pared-down budget.
"We always gotta make sense out of it, no matter what hand we're dealt," series creator and returning host Joel Hodgson tells Den of Geek, elaborating that keeping things DIY and being able to improvise is "a big part of who we are."
As explained by producer Matt McGinnis in the live chat, the team discovered, only after the fact, that the cut of Santos in the Treasure of Dracula they'd received was a colorized European release of the Mexican film – one that had substantial gratuitous nudity added. Meanwhile, some of MST3K's robots were lost in shipping. The signature movie sign miniatures of sliding doors were replaced with printed posterboard. Pivoting to green screen composites instead of in-camera work came with a learning curve.
But none of the above seemed to faze the team; everything was openly shared with viewers, all with a shrug and laugh. McGinnis even referred to the white dot that invaded the screen as MST3K's newest breakout character. In fact, until the official premiere in May, the on-demand version of "Santo" kept the white dot and the (significantly shortened) technical problems. Call it a badge of dishonor.
Embracing the chaos has been a part of Mystery Science Theater 3000 since its earliest days on KTMA, a humble UHF station in Minnesota, all the way through two seasons on streaming juggernaut Netflix. Because regardless of the network, the hosts, or the shake-ups behind the scenes, there will always be Mads tormenting some hapless jumpsuit with "the worst motion picture wrecks." Bad movies are one of the few constants of the universe, and someone's got to make fun of them.
Season 13 may be smaller and scrappier in every way – "a much more stripped down production," according to Hodgson – but the riffs are still rapid-fire. A significantly smaller budget and COVID precautions gumming up the status quo were no different than any of the other hurdles the show has had to clear over the years.
Mystery Science Theater 3000 has always been "a function of what resources do we have, what's available," Hodgson says. "MST is very flexible, you know what I mean? Our audience is very flexible too so they seem willing to go with it."
That flexibility has certainly been stretched to the limit this season, and not only because of the technical hiccups. Instead of weekly broadcasts or bingeworthy releases, new episodes (and shorts) premiere on the Gizmoplex, MST3K's own independent streaming platform, with twelve premieres spread out over nine months. Livestream tributes and themed months of classic episodes are peppered in between, most with new host segments. It's almost like having a Turkey Day marathon every week.
For the first time, too, there's more than one host, and more than one team of bots. Jonah Ray, Baron Vaughn, and Hampton Yount return from Netflix and alternate duties with the traveling live show team of Emily Marsh, Kelsey Ann Brady, and Conor McGiffin. It's a move that keeps the audience on its toes, with each team bringing something different.
But even with all those changes – or perhaps because of them – there seems to be more of an eye on the past than ever before. Specifically, on the barely-contained chaos of the first few seasons of MST3K. Back when the show was, just coincidentally enough, new and weird and still figuring itself out.
Excluding a single cameo in season 10, Hodgson's return to the red jumpsuit for "Demon Squad" was the first on-screen appearance of his character Joel Robinson since 1993. Dr. Laurence Erhardt (J. Elvis Weinstein), not seen since the first season on the nascent Comedy Channel, also makes a few appearances. Gamera vs. Jiger became the sixth Gamera movie to grace the silhouetted screen, and the first since the mythical KTMA shows. Most recently, Jonah, Baron, and Hampton revisited The Million Eyes of Sumuru, a movie first riffed by Hodgson back in that original "zero" season of 1989.
It's entirely accidental, Hodgson says – but maybe a little bit inevitable, too.
Reflecting on the show's past is just "the reality of life." Hodgson was 28 when he first created Mystery Science Theater 3000. Returning to the role now, he can't pretend nothing has changed. If nothing else, he has to figure the difference of his physical look into the show's mythology.
"Do I really remember who that guy was, thirty years ago?" Hodgson says.
He did over 100 episodes as a host, but it was, in many ways, an entire lifetime ago. The Netflix seasons and the current Gizmoplex era were put together with an all new cast, all new crew, and all new writers. And together they had to, in Hodgson's words, "reconstitute" the show.
"With trying to evoke the old seasons, that's always the dance," he says. "We have a lot of writers that grew up watching Mystery Science Theater, and so they always love trying to drop back in famous riffs from previous seasons."
Figuring out how to do that without the new shows becoming "love letters" to the old ones is something Hodgson pushed for – both for the jokes and the storylines, as well as for his return as Joel Robinson.
"I wasn't trying to recreate my performance as much as I was trying to meditate on it," he says. "That's all I tried to do: approach this as myself, who I am now in relationship to the characters and the movie riffing."
But if season 13 does have a little bit of that cowtown puppet show energy, that's not necessarily a bad thing. Mystery Science Theater 3000 was able to build a cult following out of spare parts, eventually becoming a national shorthand. And, 30 years on, that's a legacy that's hard to deny.
The next episode of MST3K season 13, "H.G. Wells' The Shape of Things to Come", premieres Friday, Sept. 30 on the Gizmoplex.