Reviews
Ms. Marvel Episode 1 Review: Generation Why
Ms. Marvel episode 1 is a shot in the arm for the MCU: an irresistible sugar rush with good vibes to spare.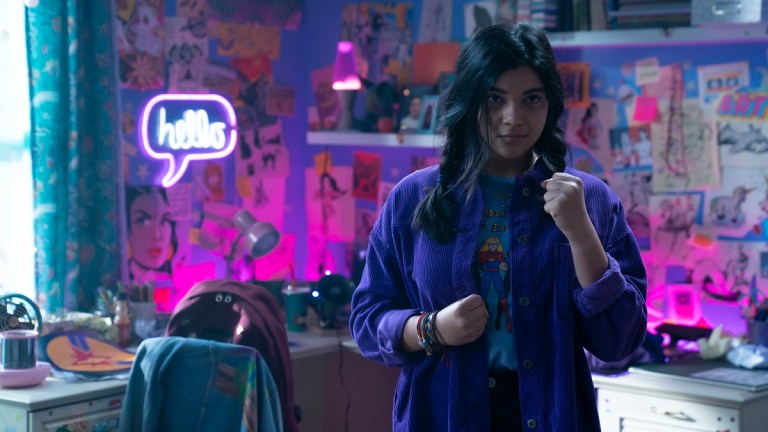 This review contains Ms. Marvel spoilers
Ms. Marvel Episode 1
MCU Phase 4 has been a time of experimentation for Marvel Studios. After a slam dunk Phase 3 climax with Avengers: Endgame, there was a shift as Marvel seemed to understand that in a lot of ways they had to start from scratch by building new corners inside their established universe. But the foundations of Phase 4 were built on familiarity. We got spinoffs for Wanda Maximoff, Sam Wilson and Bucky Barnes, Loki, and a Black Widow prequel. Soon enough, it was time to start introducing new lead characters. Shang-Chi was warmly received, the Eternals not so much. Then, the Disney+ arm of the MCU round-housed us with the ambitious-but-divisive Moon Knight earlier this year, and even some hardcore Marvel fans started wondering if Phase 4 was getting a bit messy.
The second Disney+ series to dish up a new MCU superhero this year is Ms. Marvel, but pre-release anticipation for this one was a little muted. Far from the dark and more complex nature of Moon Knight, Ms. Marvel perhaps looked rather too earnest and wholesome in comparison. Would we be far too grumpy for an endearing teen origin story right now? Would it play well with older audiences? Would it really matter if it didn't?
Well, I'm halfway to ancient and I loved every minute of this first episode. For my money, this was the best Marvel Disney+ pilot of the lot. I can't speak for others outside the target audience range, but I'd be at least mildly surprised if the majority fired up Disney+ this week, checked out Iman Vellani's portrayal of the show's central character, and had anything other than "I've only had Kamala Khan for one episode, but if anything happened to her, I would kill everyone in this room and then myself" feelings about this show afterward.
Watching this was like drinking the combined end credits sequences of Jon Watts' Spider-Man trilogy and the spirit of Into the Spider-Verse in a big ol' Slushie – just an irresistible sugar rush. We've also gone from basically zero Easter eggs and Marvel connections in Moon Knight to an almost overwhelming amount here. They zip by so fast that you'll probably need to rewind and rewatch to catch them all. My personal favorite was the Trust a Bro moving van during the end credits. I miss those bros, bro!
Ms. Marvel is just immaculate vibes all around. From the soundtrack, which begins with The Weeknd's uplifting banger "Blinding Lights" over the Marvel ident (did you spot Moonie this time?), to Kamala's thoughts on the Avengers and her complex family dynamic, episode one boasts a lot of the kind of fun we were denied when Marvel decided Spider-Man didn't need his own MCU origin story: a teen with relatable coming-of-age problems who also has to contend with suddenly acquiring superpowers.
Kamala's origin story is a joyful one because she's already so enamored with that superhero life, and we've seen so many MCU projects by now that we're all there with her. As fellow Den of Geek editor Alec Bojalad quite succinctly put it, Ms. Marvel is "a fun superhero origin story for MCU fans, about MCU fans, and starring an MCU fan." Kamala collects merch and yearns to attend the very first Avengers Con. She idolizes Captain Marvel and can't get enough of Scott Lang's tall tales. She makes and posts her own videos about Earth's Mightiest Heroes online. Kamala is a stan, but we all know how the most starry-eyed of MCU stans react when presented with even the most well-meaning criticism about their heroes, and it will be interesting to see how Kamala processes her idols' flaws when she meets them, or when she has to cope with the fallout of their many (many) mistakes. It's clear that she must begin by reckoning with her own.
Though the series delivers a large helping of effortless charm from the entire cast, Vellani is the star of Ms. Marvel, and much of this episode's success rests on the 19-year-old's shoulders. She plays Kamala as sweet and kind, but often self-centered and burgeoning with the kind of youthful optimism and scrappy over-confidence that I definitely wished I had at that age (but didn't lol). From the get-go, you can envision Vellani reprising this role again and again in the MCU because she captures Kamala so well, and while we're still focusing on the beginning of her story, we know it will definitely continue beyond this show.
It will be fun to watch Kamala's eagerness play against other MCU characters in the future, but for now I'm hyped to see how this story turns out for her before we get to all that. Right now, it's Kamala's world and we're all just living in it.