Features
Mrs. Davis Pits a Nun vs. a God-like AI: "How Close Are We to AI Saying It's Jesus?"
Exclusive: Betty Gilpin, Damon Lindelof, and Tara Hernandez break down their new show about a nun taking on a God-Like AI. And that's just the tip of the Mrs. Davis iceberg.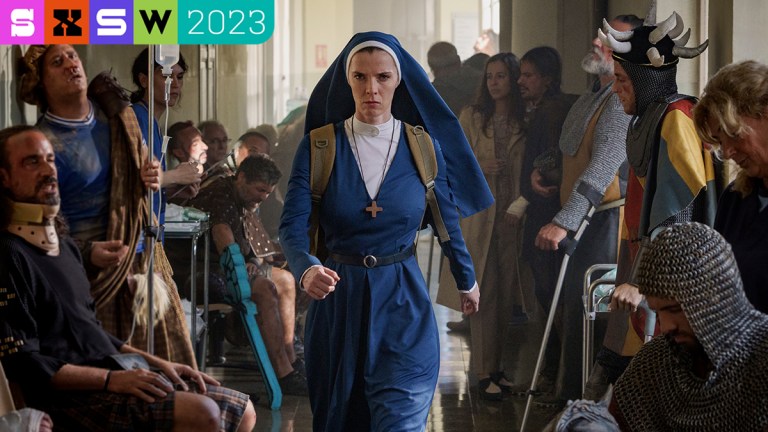 When working on Peacock sci-fi series Mrs. Davis, lead actress Betty Gilpin (GLOW) never quite got used to explaining the plot to guest actors and extras.
"I would try to summarize what the whole show was about every time and be like, 'They didn't tell you anything? Okay. It's about, well, oh God…'"
Gilpin even recalls performing an entire scene opposite an actress, only to discover that she had a fundamental misunderstanding about who, or what, her character was.
"She was amazing. And then she was like, 'Wow, that was fun! That was my first time playing a hologram.' I was like, 'Oh, you're not a hologram. You're a real person.'"
Suffice it to say Mrs. Davis is an ambitious and, at times, confusing television endeavor. Thankfully one of its creators, Damon Lindelof (Lost, Watchmen), has a simple enough elevator pitch: "Nun vs. A.I.: Who ya got?"
As Peacock's promotional material for its show is careful to note, the nun in question is not Mrs. Davis but rather Sister Simone (Gilpin). Plagued by a (literally) painful childhood, Simone donned the nun's habit to live a life of quiet contemplation—honoring God and making jam preserves with her convent in the western American desert. While Simone secluded herself from society, humanity found itself a new Siri or Alexa-like artificial intelligence to fall in love with.
The algorithmic entity, known by the matronly moniker "Mrs. Davis," claims to have solved all of humanity's problems. War is over, everyone is fed, and all that's left is to settle into a lifetime of rest and relaxation… provided you keep your eye on your phone to learn of Mrs. Davis's next "quest" that could earn you your "wings."
For as high-concept as that Deus v. Machina premise already sounds, that's only scratching the surface of the madness Mrs. Davis has in store for viewers. The series' first two episodes incorporate enormous twists seemingly every minute, Las Vegas showman-style magic (Teller of Penn & Teller served as a consultant on the show), and even an unexpected Western-meets-slapstick tone.
"It's 'No Country for Old Looney Tunes' in the best way," Gilpin says.
Through it all, however, is the central theme of science vs. faith. Faith has been a consistent presence through Lindelof's previous acclaimed television work like Lost, The Leftovers, and Watchmen. But never has it loomed so large as it does here. Part of that is undoubtedly due to the changing techno-sociological landscape.
"How close are we now to a viable artificial intelligence saying it's Jesus?" Lindelof asks, citing the rise of OpenAI bots like ChatGPT. "It could be programmed really well, incorporating all scripture to guide you. What would Jesus do? He'll tell you, and that's scary."
Perhaps there's another reason for Mrs. Davis's faithful leanings as well. The show's creation is a story of divine intervention…three specific divine interventions, in fact.
The first was the meeting of two like-minded writers. Coming off the massive success of HBO's Watchmen, Lindelof concluded that he needed a break from the arduous task of showrunning.
"I don't want to run shows anymore," Lindelof says. "Other careers, like athletes, get to retire and move into coaching positions. I felt like it would be really exciting to partner with someone who took the lead position."
The search for a partner led him to a script from TV writer Tara Hernandez. As a longtime scribe for The Big Bang Theory and Young Sheldon, Hernandez had precisely the nuts-and-bolts television experience Lindelof sought. And she had an excellent spec script to boot.
"[Hernandez's script] was this out-there, post-apocalyptic concept, but from a much different perspective. It was about nuns who are taking care of these kids who have these dates stamped on the bottom of their feet. It was funny and weird."
After Lindelof and Hernandez teamed up, the second divine intervention arrived, and it might be the one you're expecting.
"While this is not a pandemic show, creating television within that time certainly influenced the process," Hernandez says.
When the COVID-19 pandemic shut down writers' rooms across Hollywood, Lindelof and Hernandez enjoyed long phone conversations about their craft as they walked around their respective neighborhoods. That's where the idea of an all-powerful artificial intelligence began to seep into their discussions.
"If you can remember that early stage [of the pandemic], we had no clue what to do," Hernandez says. "So that became 'what if we had this A.I.?' What if we had something that could just tell us what to do and guide us through this very confusing time in our lives?"
"It was 'nun plus A.I.' That was the veritable chocolate and peanut butter that became Mrs. Davis," Lindelof adds.
And then, finally: the third intervention. With the show's titular character not corporeal or tangible in a conventional sense, so much of the plot's success lies solely on Simone's shoulders. Finding the nun whose faith would never be shaken in this titanic battle between faith and technology would be paramount, and the duo knew exactly who they wanted. Having worked with Betty Gilpin previously on The Hunt (a film that became a political lightning rod and then a COVID release casualty), Lindelof was certain she was the right fit for the role.
"Betty just goes all the way every time. You have to cast someone who believes. And I imagine little Betty watching Peter Pan clapping to save Tinkerbell, screaming at the top of her lungs and standing on her seat. She's just that person."
Of course, Gilpin was already contracted to resume her role as Debbie "Liberty Belle" Eagen in season 4 of Netflix's wrestling drama GLOW. And it's not like a streamer would abruptly cancel a show it had already renewed…
But after Netflix did exactly that, Mrs. Davis got its Simone, and Gilpin got to return to streaming television.
"It's everything that I've ever wanted," Gilpin says of the role. "I have been told to tone down my 'slapstickness' for 30 goddamn years. It was very interesting to play scenes where the stakes were as high as life or death, and also there were two pratfalls."
Three acts of divine intervention brought Mrs. Davis to life but will it require more to find an audience and receive a second season? As for the latter, both Hernandez and Lindelof promise that the eight episodes that make up Mrs. Davis season 1 constitute a "closed loop" with a conclusive finale. The concept of a season 2 will be a mystery to confront at a later date.
As for the former question, however, Gilpin is confident that Mrs. Davis has the goods.
"It doesn't stop until the last episode," she says. "I can't believe all the things that happen in this series. I can't believe it's only eight episodes. Whatever the good version of PTSD flashbacks are, I'm having them now, and it's wild."
Mrs. Davis premieres its first four episodes Thursday, April 20 on Peacock.