Features
Miranda Richardson's Best Roles, From Blackadder to Good Omens
Over a career that so far spans four decades, Miranda Richardson consistently proves she's one of our generation's most talented, versatile and underrated actors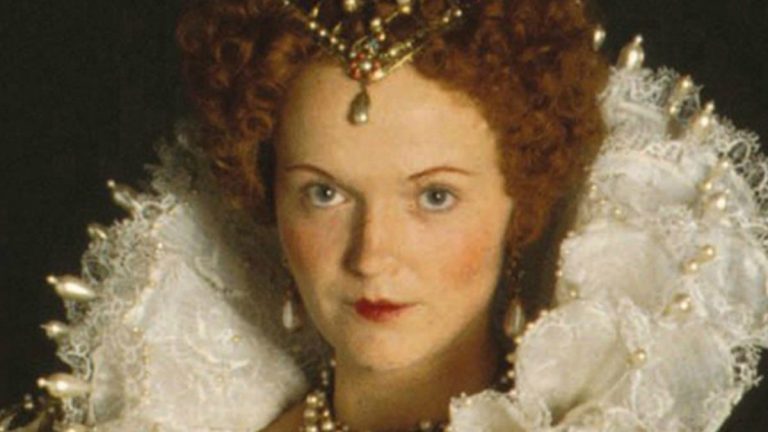 She's been nominated for seven BAFTAs (winning one), seven Golden Globes (winning two), a couple of Oscars and an Emmy. She's worked with armfuls of top directors including Steven Spielberg, Tim Burton and David Cronenberg. And 40 years ago, she created one of sitcom's best-loved characters as the capricious Queen Elizabeth (Queenie to her pals) in Blackadder.
And now Miranda Richardson has proven herself so good she's been cast not once but twice in Neil Gaiman's Good Omens, first playing Madame Tracy in series one, and now taking on the tailor-made role of Shax, who becomes Hell's representative on Earth after Crowley (David Tennant) gets fired.
What better time to revisit some of Miranda Richardson's most memorable performances, from her impressive film debut in Dance With a Stranger to her more recent appearances in Harry Potter and Agatha Christie's And Then There Were None? It's a tough job narrowing down a shortlist of her best roles, but here goes:
Dance With A Stranger (1985)
Richardson's feature-length movie debut was as the star of Mike Newell's tragic true life story of the last woman to be hanged in Britain. Richardson is terrific as Ruth Ellis, the divorcee and nightclub worker who falls for the suave racing driver David Blakeley (Rupert Everett, My Best Friend's Wedding) in a relationship that grows ever more damaging when he refuses to marry her and eventually casts her aside. Cold, beautiful, and initially in control, Ellis is undone by a destructive cross-class affair that would end in a crime of passion when the spurned Ellis shot Blakeley outside a pub and was sentenced to death. A must-watch for true crime fans.
Blackadder II (1986)
Capricious, childish and obsessed with presents and executions, Richardson's Queenie is a perfect foil for Rowan Atkinson's Lord Edmund Blackadder. Flanked by her former nanny Nursie (Patsy Byrne) and Lord Chamberlain Lord Melchett (Stephen Fry) Richardson's take on Queen Elizabeth I is playful, naughty, cruel and flirtatious, and her high-pitched squeals and mischievous behaviour makes her the star of the series. Richardson also has cameos in Blackadder The Third and Blackadder Goes Forth, but nothing could rival the eccentricities of the our beloved Queenie.
Enchanted April (1991)
Richardson reunited with Mike Newell for this wistful drama which won her a Golden Globe for best actress. Based on a novel by Elizabeth von Arnim, the film follows four women in the 1920s who unite for a trip to an Italian castle (in April, hence the name), finding peace and self expression there. Richardson plays Rose Arbuthnot, a rather reserved woman who ventures to the castle on the appeal of her more enthusiastic neighbour (Josie Lawrence, who also appeared in Good Omens, as Agnes Nutter). Both women are neglected by their husbands but through sunshine and travel manage to salvage their relationships, and Richardson is suitably enchanting.
The Crying Game (1992)
This Troubles-set crime thriller sees Jody (Forest Whitaker, Black Panther) play a soldier on leave who is kidnapped by the IRA, and forms an unlikely friendship with his captor Fergus (Stephen Rea, V for Vendetta). The Crying Game is often remembered for one particularly surprising scene (no spoilers here), but one of the film's real standouts is Richardson as Jude, the hard-as-nails honeytrap used to lure Jody in. When Fergus travels to London under a new identity to track down Jody's girlfriend whom he'd promised to protect, he's pursued by Jude, with Richardson playing the role with a terrifying fanaticisim. The Crying Game eventually and deservedly won numerous awards, including an Oscar for Neil Jordan's screenplay.
Damage (1992)
The heart wants what it wants in Louis Malle's steamy thriller – but lust is dangerous and acting on it can be carnage. Jeremy Irons (Dead Ringers) plays politician Doctor Stephen Fleming, who embarks on a destructive and obsessive affair with his son's fiancee (Juliette Binoche, The English Patient). While the movie is something of a heightened fantasy at times, it's Richardson's turn as Stephen's spurned wife Ingrid who packs the biggest emotional punch. Her performance was rightly rewarded with a BAFTA win and an Oscar nomination. Just give the Netflix miniseries based on the same book a miss.
Merlin (1998)
Not to be confused with the BBC's 2008 series starring Colin Morgan, this nineties mini-series boasts a massive array of talent, including Sam Neill, Helena Bonham Carter, James Earl Jones and John Gielgud. Despite that, this particular retelling of the Arthurian legend is one of the more obscure adaptations, although it's worth revisiting even if only to enjoy Richardson as the iconic, ethereal and strange Queen Mab. The show played fast and loose with the myth (not least by including Queen Mab in the first place), and this version sees her and Merlin in a bitter and entertaining conflict.
Sleepy Hollow (1999)
Tim Burton's high gothic loose adaptation of Washington Irving's The Legend Of Sleepy Hollow sees Johnny Depp play police constable Ichabod Crane, who is sent to investigate the decapitations of several members of a rural community. Richardson plays Lady Van Tassel, wife of one of the town elders, giving a dignified and poised performance right until the film's bonkers ending. There's a sense that Richardson really had fun with this role, and this comes across on-screen to great effect.
Harry Potter And The Goblet of Fire (2005)
Armed with her Quick-Quotes Quill and nose for a scoop (true or otherwise), reporter for the Daily Prophet Rita Skeeter is an unscrupulous tabloid journalist and general pest in Harry Potter and The Goblet Of Fire, who profiles Harry after his entry into the Tri-Wizard tournament. Richardson is spiky and funny as the professional stirrer, whose false reporting is responsible for a smear campaign against Harry, and she's rightly a fan favourite in the series.
Mapp and Lucia (2014)
Who would have thought a pair of bickering 1930s middle-class ladies battling over the social scene of a modest English village could be so entertaining? This three-part BBC drama was based on E F Benson's Mapp and Lucia novels, and stars Miranda Richardson as Elizabeth Mapp, who rents her cottage in the village of Tilling to Emmeline 'Lucia' Lucas (Anna Chancellor, The Hour). Unfortunately for the domineering Mapp, Miss Lucas is quite the hit in the village social scene, and the women end up in a bitter and often vicious rivalry over dinner parties, a summer fete and a visit from an Italian contessa. Although the cast is packed full of stars like Steve Pemberton (Inside No 9), Mark Gatiss (Sherlock), Felicity Montagu (Alan Partridge) and Paul Ritter (Friday Night Dinner), all of whom are superb, it's Richardson and Chancellor that shine throughout.
And Then There Were None (2015)
This 2015 adaptation of one of Agatha Christie's more twisted murder mystery novels was an edge-of-your-seat thrillfest, telling the story of a group of eight strangers invited to stay on a remote island, before – one by one – they begin meeting various grisly ends. Richardson more than holds her own as the troubled aristocrat Emily Brent among an outstanding cast including Charles Dance (The Crown), Anna Maxwell-Martin (Motherland) and Aidan Turner (Poldark), in a three-part drama that will keep you gripped right to the bitter end.
Good Omens Series Two is now available to stream on Prime Video