News
Matt Ryan Wants to Play John Constantine in HBO's Justice League Dark
Matt Ryan has been playing John Constantine to perfection on his own show, Arrow, Legends of Tomorrow, and now in Justice League Dark: Apokolips War. So why not bring him back for the HBO Max series?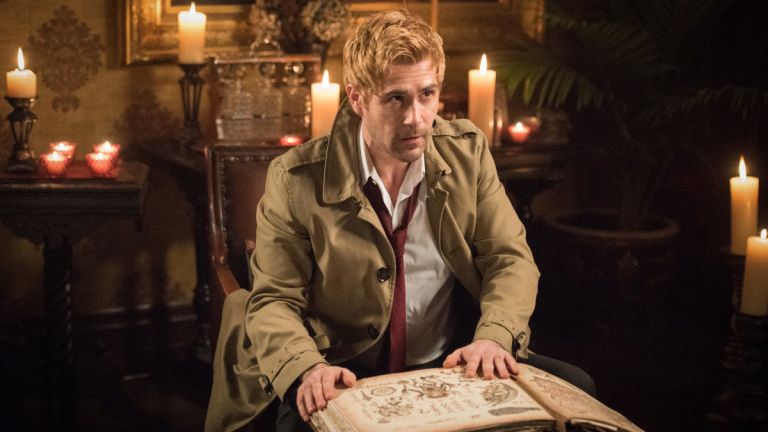 There's only one John Constantine. Well, technically if we're talking about on-screen portrayals there's been two. But as much as I have a soft spot for Keanu Reeves' take on the iconic occultist, I am of course talking about Matt Ryan. That's the power the Welsh actor has. He's taken on a character whose only cinematic outing was brought to life by one of Hollywood's most beloved actors and has through multiple television series and animated films molded himself into the definitive on-screen John Constantine for comics fans everywhere. So it probably shouldn't be surprising that when I spoke with him about Justice League Dark: Apokolips War, he had plenty to say about the recently announced Justice League Dark HBO Max series… once he knew it existed, that is. 
Ryan has played Constantine in two seperate TV shows: NBC's short lived self-titled series, and The CW's massively popular Legends of Tomorrow. He's also voiced the character in multiple animated shorts and a couple of DC Animated movies as well as appearing in other Arrowverse shows during Crisis on Infinite Earths. Even before I mention the J.J. Abrams-helmed HBO Max series, Ryan is effusively explaining his dreams for a new John Constantine movie. "I love the darker elements of John. There's something about the Joker movie that really kind of connected to me in the way of like, 'Shit, they need to do–I would love to do–a John Constantine movie like that!' Listen, I've had sleepless nights about it, honestly. God, I've written treatments!"
Personally, my own vision for a Justice League Dark series would center around Zatanna, with Ryan as Constantine and Derek Mears returning as Swamp Thing. So I couldn't help but ask if Ryan would have or would want any part in it. But, as it turns out, he wasn't aware it was happening. "I've been reading over the years about the Justice League Dark movie, about all these attempts. But is this thing confirmed? Is it going ahead?" he asks me. 
After filling him in on the recent (and very minimal announcement) and the fact it will be helmed by J.J. Abrams, Ryan shares a brilliant anecdote. "There was a rumor years ago about a Justice League Dark movie with Guillermo del Toro," he says. "And I had a meeting with him years ago about The Strain. The one thing that I find is that a lot of the time they don't use the same actors in the TV show as the movie. Now sometimes that's understandable. It's all about tone and audience, all these different factors. But when that movie was gonna go ahead, I called my agent. I said, 'Listen, I know that they probably won't use the TV actor in the movie.' But I said, 'All I would like is just get me in the room because I'm not a TV actor, I'm an actor.'"
Of course, that project never ended up happening to the sadness of many fans. But with a new iteration of Justice League Dark on the horizon just after Justice League Dark: Apokolips War, Ryan hopes that he'll at least be considered. "I'm a theater actor, you know? That's where I spent most of my life. I always say to them, 'Just get me in the room.' And then if they don't want me for the role that's their choice. But I would be very disappointed if a project like that went ahead without even sitting down and seeing what I could do with the material." 
As for what Ryan would bring to the potential new iteration of John Constantine, he has a lot of ideas as well as experience of straddling different versions of the character.
"Even though the material is different and I know that I'm gonna have to adhere to the material in my head, I have to stay in that world of John Constantine and all of those comics that I love," Ryan says. "So even though I have to dance to these different tunes, that's what I want to think about, and that's what I fell in love with. Whatever happens, John Constantine is a great character. I have no right to this character, no ownership over him. I'm an actor! How many people play Hamlet or Macbeth? I feel lucky to have played him, but there's a part of me artistically that wants to dive into a part of John that I want to explore, and hopefully that opportunity comes!" 
Justice League Dark: Apokolips War is out now on VOD and hits Blu-ray next week.