News
Legends of Tomorrow: Who is DC's Enchantress
No, you didn't imagine that: Legends of Tomorrow just introduced DC's Enchantress. Here's why this is important.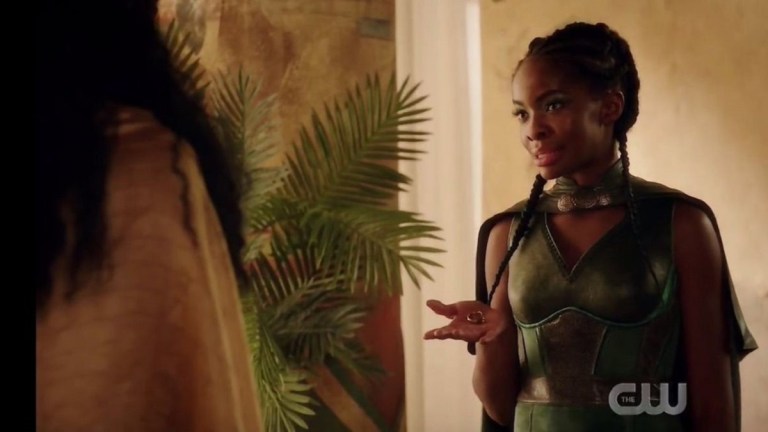 This article contains Legends of Tomorrow spoilers.
A good chunk of "The Great British Fake Off," the tenth episode of Legends of Tomorrow's terrific fifth season, was spent furiously googling and muttering "wait, THE Enchantress?" The appearance of the sorceress is maybe the biggest one-off cameo introduction to the Arrow family of shows that Legends of Tomorrow has ever seen. Enchantress first showed up in ancient Egypt, hiding Charlie's piece of the Loom of Fate for her, and was later revealed to be the woman running the boarding house Constantine would later own where the piece of the Loom was found. But who is the Enchantress? Why was she a big deal to include? We have some answers, and some informed speculation for you.
The Enchantress was created in 1966 by Bob Haney and Howard Purcell in Strange Adventures #187. June Moon was a freelance illustrator who found a secret room at a party in a castle, and was imbued with magical powers to fight off an evil spirit in the building. All she would have to do is say the words "the Enchantress" and she would be powered up and ready to take on any magical foe. So Shazam, basically.
In her next appearance, though, she was starting a slow turn evil that would stick. She fought Supergirl, her coworker, because she believed she had a way to get omnipotent magical power. But her plan would devastate the area they worked in with natural disasters, so Supergirl stopped her. From there, she continued her dark turn and ended up fighting on the villains' team in Crisis on Infinite Earths. So evil Shazam, basically.
Post-Crisis is when June gained most of her profile. She was one of the inaugural members of Amanda Waller's Suicide Squad, fighting alongside other joke villains like Deadshot, Punch and Jewlee, and Captain Boomerang on missions they wouldn't likely come back from. It was there that we discovered the Enchantress side of her personality was the demon Dzamor, ruler of the Nightshade Dimension and one of the most powerful magical beings in the entire DC Universe. This is where her biggest fame was born – this version of June is the basis for her characterization and several of the story beats from the DCEU's Suicide Squad, where she was played by Cara Delevingne. 
It was Suicide Squad where she started her shift from "evil lady Shazam" to schizophrenic and extremely powerful magician, a characterization that has persisted through the decades up to today, where she's commonly found as a member of the Justice League Dark alongside folks like…John Constantine, her tenant on Legends of Tomorrow. Her presence on Legends is probably just a fun cameo, but we've been spending an awful lot of time on this show dealing with magical creatures (in season 4), in actual Hell (in season 5), and in and around Constantine's home, very likely the House of Mysteries that the Justice League Dark used as its headquarters in the comics before they earned space in the Hall of Justice. It's hard to see all of these Justice League Dark trappings and not wonder if there's a plan to transition Legends from being a workplace comedy about time traveling superheroes to a workplace comedy about magical superheroes. And a Justice League Dark tv show would be a hell of a thing. 
For more on Justice League Dark, Legends of Tomorrow, or any other surprise cameos on DC TV, stick with Den of Geek!