Features
Marvel's WandaVision Episode 1: MCU Easter Eggs and Reference Guide
WandaVision episode 1 is more than just an homage to classic sitcoms, and features plenty of clever (and hidden) Marvel and MCU Easter eggs and references.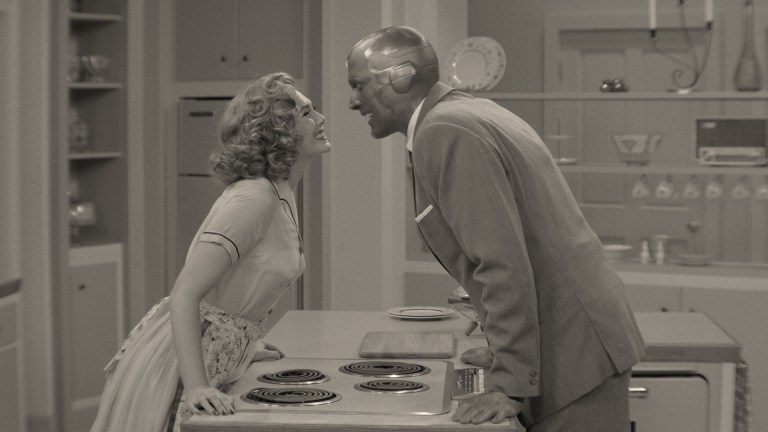 This article contains WandaVision Episode 1 spoilers, and potential spoilers for future episodes, the wider MCU, and Marvel Comics. We have a spoiler free review here.
Marvel's WandaVision has finally arrived on Disney+! While two episodes kicked things off, there's so much goodness (and weirdness) packed into each of the episodes that we're just gonna go one at a time for now.
Here are all the Marvel, MCU, and classic sitcom Easter eggs we've found so far in WandaVision episode 1…
Sitcom Inspiration!
The episode takes most of its style and appearance from The Dick Van Dyke Show. The layout of the pair's home is similar to that seen on the series. Wanda and Vision's dynamic is also similar to that of Dick Van Dyke and Mary Tyler Moore. WandaVision producers even reached out to Van Dyke before the series for "sitcom school."
But that's not the only classic sitcom that influenced the episode:
Wanda's signature move seems to be to "snap" when doing her magic. It's a fun little callback to similarly magical sitcoms like Bewitched (where Elizabeth Montgomery's Samantha would twitch her nose) or I Dream of Jeannie. And…ahem…we know who ELSE likes to "snap" right, folks?
Wanda being overwhelmed comedically by domestic duties as things spiral out of control feels very I Love Lucy.
The main thrust of this episode (Vision's boss coming to dinner and Wanda scrambling to make something delicious) is a tried and true sitcom trope. Shows such as Bewitched, Three's Company, and even The Simpsons have used the situation for comedic fodder over the years. It was most popular in the '50s and '60s timeframe that WandaVision is covering due to the more strictly defined gender roles. 
Arthur Hart's wife Mrs. Hart is played by Debra Jo Rupp, who is essentially sitcom royalty. Perhaps best known for playing Kitty Forman on That '70s Show, Rupp has also appeared on Newhart, Family Matters, Seinfeld, Friends, and more.
The opening credit theme was written by EGOT-winners Kristen Anderson-Lopez and Robert Lopez.
The closing credits for the "show" portion look like those of I Love Lucy with the "satin pillow" background.
We wrote more about the sitcom references in the first two episodes right here.
August 23
August 23rd can also be written as 8/23. But a date like that can also (perhaps more sensibly) be written as 23/8. And if you apply that 238 number to a Vision and Scarlet Witch friendly series like Avengers, you come up with Avengers #238, a story that dealt with an incapacitated vision trying to reactivate. Hmmmm…
And the cover of that issue?
"My husband and his indestructible head," Wanda says when Vision walks into a plate. Unfortunately we know from Avengers: Infinity War that his head (or at least the Mind Stone inside it) is definitely destructible. 
"You're awfully dense, aren't you, Vision?" This is cute since Vision can manipulate his density. You can see this when he phases through the ottoman in the show's opening.
Wanda
Wanda, what are you doing?
Vision dismisses Wanda's behavior with his boss as a "traditional Sokovian greeting." This is, of course, an acknowledgement of her MCU origins. Arthur's response of "We don't break bread with Bolsheviks" is a reference to the Red Scare of the '50s and '60s, which is the timeframe this episode is harkening back to. 
During dinner, you can see that the wine they're drinking is called "Maison Du Mepris," which translates to "House of Contempt." More interestingly, if you just start with "House of" and leave the last word untranslated, you pretty much get "House of M." There's even that big M on the neck of the bottle, giving it a subtle touch. House of M is the big Marvel storyline where Wanda lost her mind and lost control of her powers, thereby transforming reality. Uh-oh…
The Toastmate 2000 (from Stark Industries) Commercial
We don't have to tell you who Stark Industries is, right? But there's some other fun stuff at work here…
The "toaster" looks a little like Vision, but also looks something like the Ultron-1 as it first appeared in the comics. But "toaster" was a derogatory term that was often thrown at Vision in the comics by humans who were suspicious of him, especially in the similarly suburban-set (and brilliant) Vision by Tom King and Gabriel Hernandez Walta.
On Battlestar Galactica, the Cylons (who were, like Vision, humanlike AI) were often referred to as "toasters" by their opponents.
The Final Shot
After the I Love Lucy style credits roll, we see the inside of a mobile command center, where a mysterious organization is monitoring the events of Wanda's "reality." The trailers for the show have already revealed that this is SWORD, yet another Marvel secret organization.
In the MCU SWORD is an acronym for "Sentient Weapon Observation Response Division" whereas in the comics it had a more cosmic mandate of "Sentient World Observation and Response Department."
We wrote much more about SWORD here.
The Credits
The fact that each episode "ends" with fake sitcom credits before we get to the "real" credits for the series feels very much like a meta joke about Marvel's storied history with post-credits scenes. They're accompanied by blocks similar to those filtered through a tube with the three electron beams (red, green, and blue) of an old CRT TV screen.
The real credits also seem to borrow the aesthetic from House of M. Mainly the way Wanda rearranges reality by breaking it down into block-like form. For example:
Lingering Questions
At the moment, we can't find any MCU significance for that August 23 date, or 8/23 or any variant of it. Worth noting that Marvel architect Jack Kirby was born on August 28, though. We just like to remind folks of that.
Vision works for "Computational Services" which doesn't appear to be significant, but correct me if I'm wrong.
The fake magazine they read is called "Glamorous." This shows up again throughout the series. Has it ever appeared elsewhere in the MCU? Of course, a 'glamor' is often shorthand for a form of magic that allows a witch to create an illusion.
Vision's boss' name is Arthur Hart. Is there any significance to this?
Do any of the names in the "fake credits" at the end mean anything to anybody?
Looking for our guide to WandaVision episode 2 Easter eggs and MCU references? Click here!