News
Marvel's Helstrom Trailer and Release Date
The new trailer for Marvel's Helstrom on Hulu features Daimon and Ana Helstrom meeting with their disturbed mother to find out that something sinister is on the horizon.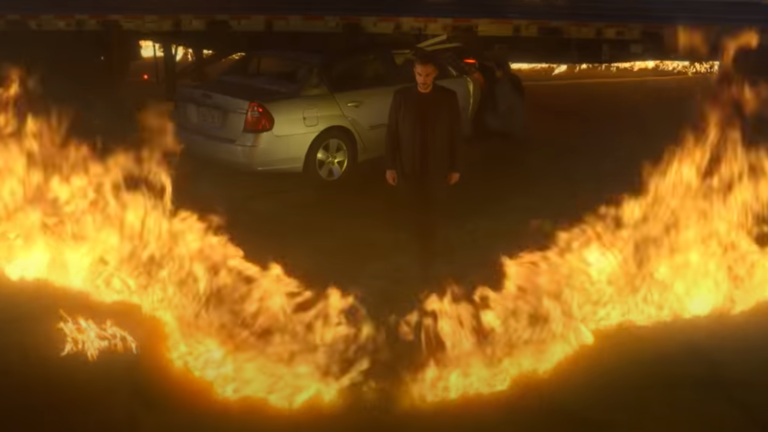 With Marvel taking its television spinoffs to Disney+ and making them more high-profile and important to the Marvel Cinematic Universe, one does get a little nostalgic for the default kind of Marvel show. The kind that takes place in that universe, but probably won't get any references on the big screen. The kind of show where you'd see someone like Quake or the Defenders or the Runaways or Cloak and Dagger. While we wait for them to announce a series for D-Man or NFL Superpro, we can at least get ready for this October's Helstrom.
Helstrom is the story of two siblings who investigate and hunt down the worst of humanity, including literal demons. Daimon Helstrom (Tom Austen) and Ana Helstrom (Sydney Lemmon) are the title characters, inspired to hunt evildoers due to their father being some kind of otherworldly serial killer. Of course, comic fans would know them better by the names Son of Satan and Satana.
The series will be released on October 16 on Hulu with ten one-hour episodes all being released in one go for your binge-watching pleasure. To hype it up a bit, the showrunners and cast came together for a Comic-Con@Home panel.
Here's the whole thing:
Granted, a lot of the talk here is pretty raw and delves more about the problems going on right now in the world than just puff piece promotional dialogue.
But if you want to skip all of that and get to the show-specific stuff, there's this trailer right here.
The emphasis here is Elizabeth Marvel (heh!) as Victoria Helstrom, the mother of the two protagonists, who is institutionalized and seems to be overwhelmed with some kind of supernatural connection. As creepy as their mother is, the Helstrom siblings appear to be up against something far more monstrous in the form of their mysterious father.
What's interesting in all of this is how Helstrom ties into what was supposed to be a sister series in Ghost Rider. Helstrom and Ghost Rider were initially announced as parts of a corner of Marvel TV called "Adventure Into Fear." Ghost Rider was set to star Gabriel Luna, reprising his role introduced in Agents of SHIELD as the more modern Robbie Reyes incarnation. At the end of 2019, they dropped development of Ghost Rider and went with just Helstrom.
In the comics, the Helstrom siblings are the children of a high-level demon who is basically Satan. Marvel has a thing about having various demon villains who are Devil stand-ins without officially being the Devil. It can get confusing sometimes. But the idea of their father being a serial killer so evil that he's extended into the supernatural? That is very, very similar to Robbie Reyes' uncle in the comics, who exists as the source of his demonic powers.
Also tying into Ghost Rider, Helstrom features Robert Wisdom in the role of Caretaker. Not only was Caretaker very much a Ghost Rider-based character in the comics, but he was initially created for the 2007 Nicholas Cage film, as played by Sam Elliott.
It makes me wonder if Helstrom is laying the seeds to make Ghost Rider happen after the fact, which is basically the MCU way. After all, what good is "Adventure Into Fear" if it's just a single show? Either way, it's apparent that Helstrom is slumming it a bit by keeping it more grounded for the sake of holding down costs. In the comics, Daimon and Satana have always been very loud and gaudy about their ties into the underworld. Daimon's usually carrying a pitchfork and wearing a cape for Pete's sake.
While the show doesn't feature the two looking like they do their shopping at Party City, it at least seems to be building on their main dynamic: the way they disagree about how the world created them. In the comics, Daimon leans to his human side while Satana leans to her demonic side. The way the show has them dealing with whatever is going on with their parents means showing how differently molded their traumatic upbringings have made them.
I don't know about you, but I'm suffering MCU withdrawal. This October, I'll take what I can get.