Reviews
Marvel's What If…? Episode 1 Review: Peggy Carter Changes MCU History
Captain Carter officially enters the MCU as the first episode of Marvel's animated multiverse series What If...? features the very different WWII adventures of Peggy and Steve.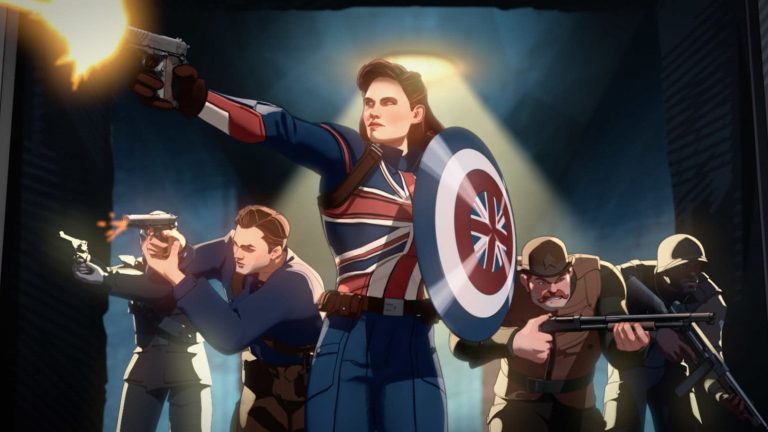 This review contains spoilers for What If…? episode 1.
What If…? is the latest Marvel Studios small screen project to arrive on Disney+ after much fanfare. The animated anthology show, created by Trollhunters: Tales of Arcadia writer A.C. Bradley and Marvel storyboard vet Bryan Andrews, aims to explore alternate timelines in the MCU multiverse. In order to fully grasp the basic premise of What If…? as a whole it helps to have watched Marvel's Loki, which recently introduced the multiverse to the MCU.
What If…? episode 1, "What If… Captain Carter Were The First Avenger?," focuses on a (mainly) WWII-era version of Peggy Carter who made a key alternate choice that affected the creation of Captain America in a major way.
It's a fun episode! Your mileage may vary depending on how much you love Peggy Carter, but since I love her a whole lot I had a good time watching this. The main downside, I suspect, to any of these installments, is that they're inherently redundant. As far as we know, none of the fantastical concepts here will bleed into the live-action MCU. But if you're here for a good time and not a long time, What If…? should make for a neat weekly diversion.
Our What If…? reviews are going to adopt a different format. More of a "breakdown" that we hope will still satisfy regular readers but also help younger viewers and those less familiar with the MCU keep up.
With that in mind, let's take a look at "What If… Captain Carter Were The First Avenger?"
Required viewing
In terms of understanding the central characters and how things changed inside the branch timeline featured in this first episode, we would recommend revisiting Captain America: The First Avenger, Marvel One-Shot: Agent Carter, and the opening act of The Avengers. If you're on a full Peggy Carter binge, why not add both seasons of ABC's live-action Agent Carter series to your watchlist, too?
What's different?
This episode explored what would have happened if Steve Rogers was unable to take the super soldier serum during World War II and Peggy Carter volunteered to become Dr. Abraham Erskine's lab rat instead.
Peggy's "what if…?" was deciding to stand her ground and stay in the room while the serum was administered during the iconic transformation sequence featured in Captain America: The First Avenger. She then had a chance to intervene in the Hydra bombing, but Steve got caught up in the action and was subsequently shot.
With time running out to perform the super soldier process, Peggy jumped into the machine and went on to become Captain Carter, having all the physical powers of Captain America along with a different costume and an altered shield with a Union Jack at its center.
Steve was badly injured and had to undergo intense physiotherapy while Peggy trained to be the best she could be. Their relationship blossomed and, thanks to Howard Stark, Steve took on the role of her sidekick in a Tesseract-powered Hydra Stomper – basically an early version of the Iron Man suit. Meanwhile, Peggy faced interference from Colonel John Flynn, who was regularly on hand to pour out a stream of misogyny regarding her place in the fight.
In a familiar First Avenger train sequence, Peggy went on an altered mission with Steve, Bucky Barnes and the Howling Commandos to take out the Red Skull, however it was Steve who ended up falling from the train in this timeline and not Bucky, so it stands to reason that Bucky wouldn't then go on to become the Winter Soldier.
Other more minor changes include Peggy probably not making out with her own niece during any Civil War shenanigans in the future – and please do not direct me to any fan art depicting that scenario in the comments, I beg you.
In the end, the Red Skull used the Tesseract to summon a tentacled "champion of Hydra" and Peggy had to sacrifice herself to push it back back into the space portal from whence it came. She emerged from the portal pre-The Avengers' Battle of New York.
Who are the voices?
Jeffrey Wright plays the show's narrator, Uatu The Watcher, and he'll be here for every episode.
Returning to voice their characters from Captain America: The First Avenger were Hayley Atwell as Peggy Carter, Sebastian Stan as Bucky Barnes, Dominic Cooper as Howard Stark, Neal McDonough as Dum Dum Dugan, Toby Jones as Arnim Zola, Samuel L. Jackson as Nick Fury, and Stanley Tucci as Dr. Abraham Erskine. Other MCU actors joining in were Jeremy Renner as Hawkeye and Ross Marquand as the Red Skull, reprising his role from Avengers: Infinity War/Endgame.
Bradley Whitford may seem like a new addition as the arrogant Colonel John Flynn, but he previously portrayed the character in the live-action Marvel One-Shot: Agent Carter released back in 2013, so even in the Sacred Timeline Flynn continued to be a thorn in Peggy's side for quite a while.
The elephant in the room here is Steve Rogers. Chris Evans did not add his voice to the What If…? mix, so it was up to Marvel animation alum Josh Keaton to stand in for Evans, and he honestly did a really good job of it all things considered.
Standout moments
I gotta say it was truly wild for me to witness Captain Carter have adventures onscreen at all! It was obviously great to see Peggy kicking ass with her enhanced strength – the serum only beefed up her already brave and competent nature – but this version of the character has something of a unique origin, having been concocted as a kind of throwaway addition to the match-3 game Marvel Puzzle Quest in 2016. A couple of years later, Saladin Ahmed added her to the pages of Marvel Comics in Exiles #3, and it clearly didn't take Marvel Studios long to figure out how to apply the enthusiastic Captain Carter fan response to an MCU project.
Peggy riding Steve's Iron Man-esque Hydra Stomper into a dogfight during the WWII montage sequence was a delight, frankly. The animation in most of the fighting sequences was terrific and really took golden opportunities to reach for the kind of punching, kicking, shield-throwing ballet that the live-action format could never quite achieve with its restrictions of reality.
I found myself slowly warming to What If…?'s animation style, which I probably still wouldn't describe as my favorite if I'm honest. I love the What If? comics, and this series felt like an opportunity to really push the weirdness envelope a little more. You only have to look at what Netflix accomplished with its anthology series Love, Death & Robots to see how differently a What If? series that embraced other styles and voices could have gone, but I grew up on Saturday morning cartoons, stop motion, Fantastic Planet, and Heavy Metal, so forgive me for briefly imagining the possibilities of this project in a wilder sense.
One of the oddest standout moments for me was when the episode subverted my expectations somewhat. After Steve was seemingly killed during the train heist, I thought the creators of the show were all set to explore him becoming the Winter Soldier, and I have to admit the idea intrigued me a little! However, it didn't go down like that, and I was left to mentally wander down a different "what if…?" rabbit hole alone.
How does it work out?
In the future, Nick Fury used the Tesseract to transport Peggy back from wherever she ended up after she entered the portal, and it looks like she joined the Infinity Saga-era Avengers Initiative in Steve's place. Whether it all worked out well for this episode's specific MCU timeline remains to be seen, but it would be really fun to see if Agent Coulson had a pack of Captain Carter trading cards!
More to come
Episode 1 played like a pilot for an ongoing Captain Carter series for good reason: What If…? has been confirmed to include at least one Peggy Carter installment in every season going forwards.
"A lot of the season one episodes are riffing off certain points in the cinematic universe and maybe even delving in a certain phase, but we need to expand and explore more things, so we had to come up with other ideas that were a little further down the timeline," director Bryan Andrews told us, later adding "Peggy Carter is pretty awesome; Captain Carter is pretty awesome, we'd love to see more of her."
Marvel's What If…? is now streaming weekly on Disney+ every Wednesday.