News
Hugo Weaving Says Marvel Made Avengers Return "Impossible"
Hugo Weaving has been talking about why he didn't return to the role of Red Skull in Avengers: Infinity War and Endgame.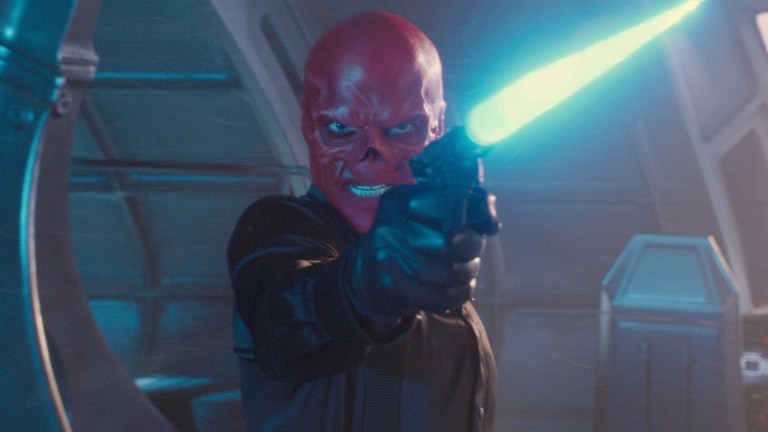 Hugo Weaving's relationship with the character of Red Skull has been consistently evolving since he first appeared as the villain in 2011's Captain America: The First Avenger.
Just a year after the film came out, he told Collider that reprising the role was "not something I would want to do again", explaining he "did sign up for a number of" MCU movies and "contractually, I would be obliged to, if they forced me to, but they wouldn't want to force someone to do it, if they didn't want to" and that "it's not the sort of film I seek out and really am excited by."
Later, in 2016, he admitted to Yahoo that it was actually "fun to play" Captain America's nemesis, but that he still didn't know if he'd ever do another Marvel movie.
Then, Avengers: Infinity War and Avengers: Endgame happened. Red Skull was back, but Weaving very much wasn't, with the role going to The Walking Dead star Ross Marquand.
Now, in a new interview with Time Out while promoting the National Theatre's The Visit, in which he leads the cast alongside Lesley Manville, Weaving has revealed that Marvel DID try to coax him back for its blockbuster Avengers projects, but perhaps those endeavours were much too weak to get the job done.
Indeed, on this occasion, the actor was much more enthusiastic about the role, indicating that the blame for his absence lay at Marvel's feet.
"I loved playing that character Red Skull – it was a lot of fun. We were all obliged to sign up for three pictures: I was thinking [Red Skull] probably wouldn't come back in Captain America but he may well come back as a villain in The Avengers. By then, they'd pushed back on the contracts that we agreed on and so the money they offered me for The Avengers was much less than I got for the very first one, and this was for two films. And the promise when we first signed the contracts was that the money would grow each time. They said: 'It's just a voice job, it's not a big deal'. I actually found negotiating with them through my agent impossible. And I didn't really wanna do it that much. But I would have done it."
Weaving also confirmed that he won't return to be part of the cast in Lana Wachowski's upcoming sci-fi sequel, The Matrix 4, due to scheduling conflicts.
"The Matrix is a very different story. It's unfortunate but actually I had this offer [for The Visit] and then the offer came from The Matrix, so I knew it was happening but I didn't have dates. I thought [I] could do both and it took eight weeks to work out that the dates would work – I held off on accepting [a role in The Visit during that time]. I was in touch with [director] Lana Wachowski, but in the end she decided that the dates weren't going to work. So we'd sorted the dates and then she sort of changed her mind. They're pushing on ahead without me."
Did you notice Weaving wasn't the one playing Red Skull right away when you first saw Avengers: Infinity War, or were you too taken aback by his sudden appearance on Vormir at the time?