Features
Marvel's Hawkeye Trailer Breakdown and Analysis
Marvel Studios has unleashed the first trailer for their next Disney+ series, Hawkeye. Let's take a closer look at the upcoming adventures of Clint Barton and Kate Bishop.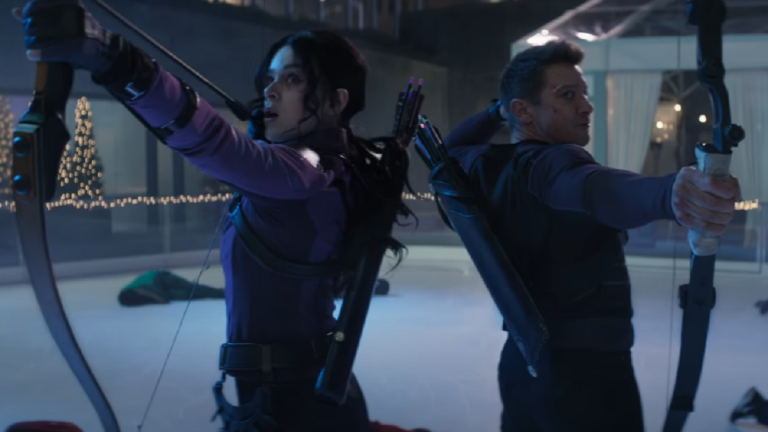 With What If…? still in the middle of streaming on Disney+, it's never too early to start thinking about MCU Christmas, and the first Hawkeye trailer has arrived to let us get a feel of that expensive present way ahead of time, even as Marvel continues to add the bows (sorry) and trimmings to Clint Barton's upcoming TV series behind the scenes.
Starring Jeremy Renner reprising his role as Barton/Hawkeye and introducing Hailee Steinfeld to the MCU as his eager archery prodigy Kate Bishop, Hawkeye also boasts a supporting cast that features Vera Farmiga, Fra Fee, Tony Dalton, Zahn McClarnon, Brian d'Arcy James, and Alaqua Cox as Maya Lopez (aka Echo). There's no sign of Florence Pugh's Black Widow character Yelena Bolova in the trailer, but you can expect to see her pop up, too. The series has been directed by Rhys Thomas (Documentary Now!, Comrade Detective) and duo Bert and Bertie (The Great).
Now, if you haven't seen that Hawkeye trailer yet, check it out below…
And here's an official synopsis from Marvel:
"Former Avenger Clint Barton has a seemingly simple mission: get back to his family for Christmas. Possible? Maybe with the help of Kate Bishop, a 22-year-old archer with dreams of becoming a Super Hero. The two are forced to work together when a presence from Barton's past threatens to derail far more than the festive spirit."
Hawkeye will be heading our way at the end of November, but the trailer does give us a pretty good idea of what to expect, so we're breaking down everything we learned from it right here.
Matt Fraction
Like so much of the MCU, Hawkeye isn't adapting any particular storyline beat-for-beat. It is, however, drawing a lot from one particular (and excellent) run of comics. Matt Fraction and David Aja's Hawkeye series is essential reading, not just if you're a Marvel fan, but if you love comics in general. A lot of the characters (human and otherwise) that we're meeting here, and the general tone of Clint as an exhausted everyman getting his ass handed to him at every opportunity, are really straight out of those stories.
Linda Cardellini
It's winter in New York and Clint is determined to give his kids a proper post-blip holiday. During the events of Avengers: Endgame, Clint was able to help bring his family back from Thanos' brutal Snap, so it looks like he's going to go all out this Christmas with dinner and tickets to the hottest new show in town: Rogers: The Musical (more on that in a bit).
But missing from the family trip is Clint's doting wife Laura (Linda Cardellini). Perhaps she couldn't join the gang in New York for whatever reason (Cardellini may have been busy filming Dead to Me Season 3), but we do later see Clint assuring Laura on the phone that he'll be back with her very soon.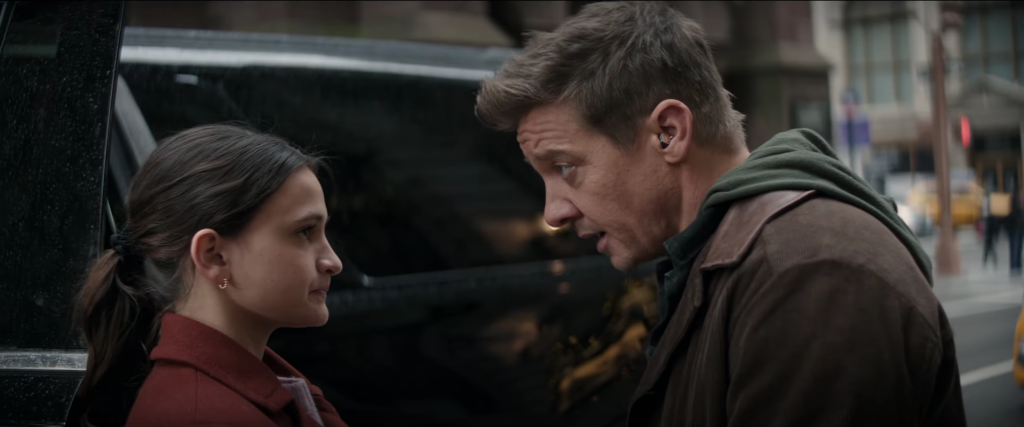 Clint Barton's Hearing Aids
The character of Hawkeye has been depicted as partially deaf in the comics at multiple points in his history since the early 1980s. It's never been implied that the MCU's Clint Barton suffers from hearing loss, but Clint is clearly shown wearing hearing aids in the trailer. We'll probably get some kind of in-universe explanation for this, but really, Clint has been around enough explosions in his life that it's probably self-explanatory. Now, in the comics, the incident that brought on new hearing loss for Clint was tied very directly to the story that this show is drawing a lot of inspiration from, but we won't get into that for now.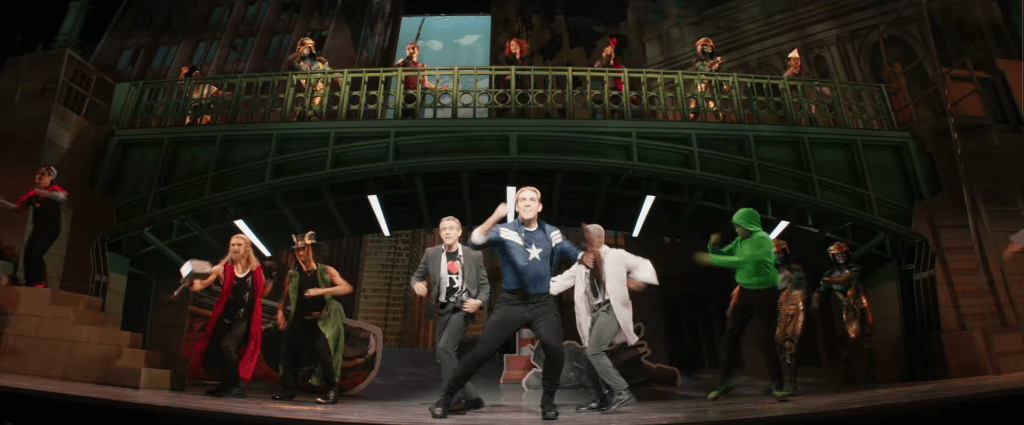 The Captain America Musical
We get an amazing glimpse of the Captain America show that Clint is taking his kids to. Rogers: The Musical even has its rave reviews plastered outside the theater, like "a timeless story of a timeless hero" and "a super-powered sensation" but the actual stage performance is just so wild.
Actors cheaply dressed as Thor, Loki, and Tony Stark perform a group number while a couple portraying Clint and Natasha Romanoff are higher up on stage. The actor playing Steve looks like more like Antony Starr's Homelander in The Boys than Steve Rogers, but the jury's out on whether that's purely accidental or a cheeky nod to Amazon's uber-violent superhero series.
A Captain America musical really was genuinely in the works at one point, and if you're not familiar with that very strange tale, we wrote about it in more detail here.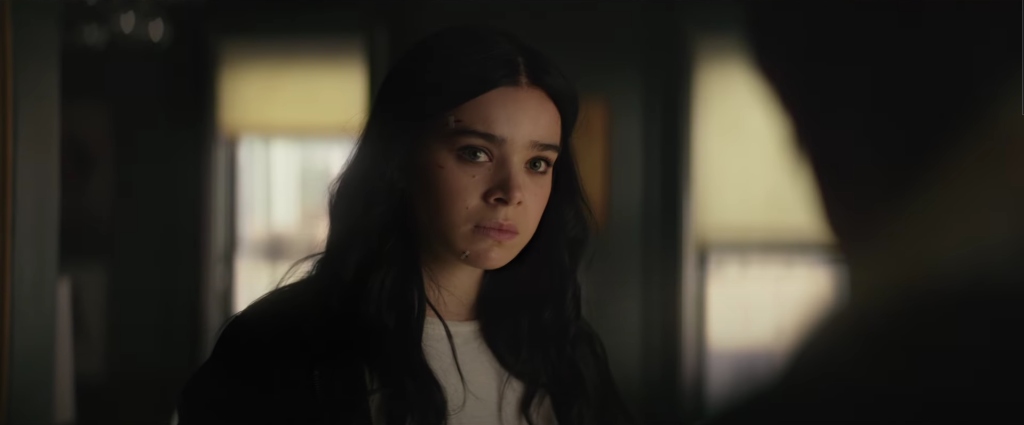 Kate Bishop
There's a lot of Hailee Steinfeld's Kate Bishop in this trailer, as you would expect from a series that plans to hand the Hawkeye mantle onto her, just as Marvel did in the comics.
From how we understand it, Kate is Hawkeye's biggest fan, and has modeled her "world's greatest archer" thing on him. Something tells us that she's going to be a little disappointed in her hero once she gets to hang out with him up close, as their relationship in the comics is definitely not your usual superhero/sidekick dynamic. Expect lots of fun banter and exasperated looks from both.
Young Avengers
The arrival of Kate is yet another massive key to what appears to be the MCU's version of the Young Avengers being slowly introduced through all these Disney+ shows. WandaVision brought Wiccan and Speed to the party, The Falcon and the Winter Soldier gave us Elijah Bradley, and Loki introduced Kid Loki. While we wouldn't expect this any time before 2023, it sure does look like Disney+ wants an MCU Young Avengers show in the not-too-distant future.
Ronin
If you thought the MCU was going to forget Clint's Ronin killing spree during the Blip, you thought wrong. It looks like the damage he inflicted on criminal gangs during the time he stayed off the grid is going to come back and bite him in the ass during this series, reignited by Hawkeye fangirl Kate Bishop choosing to don the Ronin garb and dish out some local justice with her bow and arrow.
The Ronin situation did seem to have been quickly swept under the rug when Natasha dragged Clint back to Avengers HQ for some time travel shenanigans in Endgame, but we learn here that there are plenty of people who haven't forgotten Clint's vengeful sword work, and they're extremely pissed off.
News reports in this trailer (which come via actual NYC local cable news outlet NY1 rather than the usual fictional MCU channels) indicate that people think that Kate's darkly hooded attire means that Ronin is back, but we have another theory on this…
Is Ronin really Maya Lopez/Echo?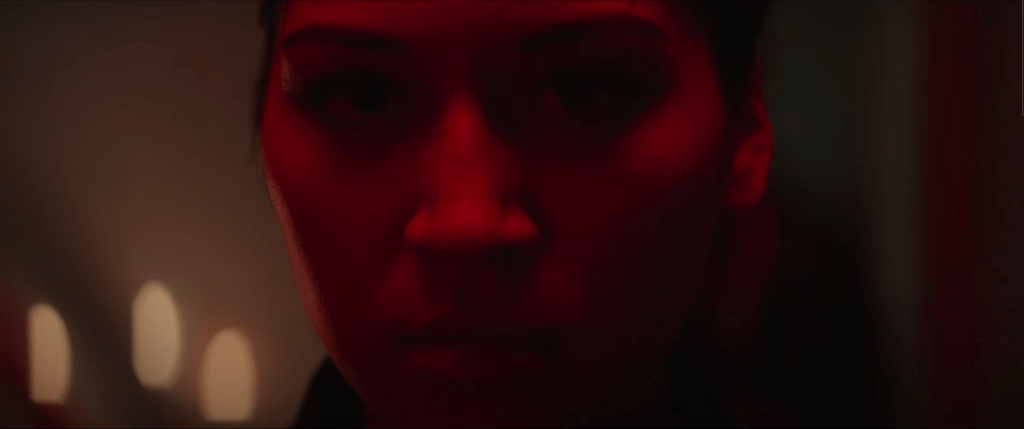 We're pretty sure we only get one very brief shot of Alacqua Cox's Maya Lopez in this trailer. Maya Lopez briefly took on the Ronin identity in the comics, as well, and began her career as a Daredevil antagonist (we're not going to open the MCU Daredevil can of worms just yet). Is it possible that when we first meet Echo here, she's hunting down Clint while wearing the Ronin garb?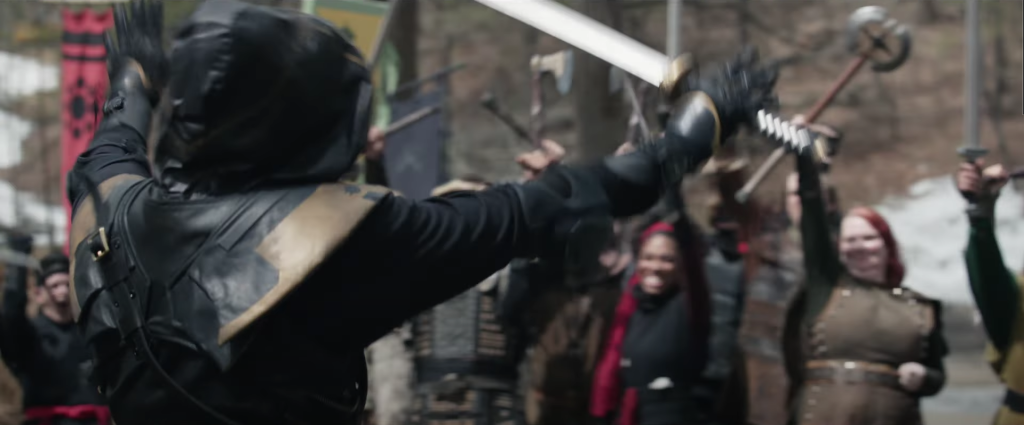 If that's the case, then the individual in the Ronin costume wielding a sword during what appears to be a little dust-up at a renaissance fair isn't Kate, but Maya! Echo has the Taskmaster-esque ability to mimic other people's fighting styles, so it's easy to imagine how easily she could pick up a sword and become a big hit at an event like this. Anyway, while we can't be sure, for the moment our money is on this being our first real look at Echo in the MCU.
We wrote more about Echo and the possible Daredevil connections here.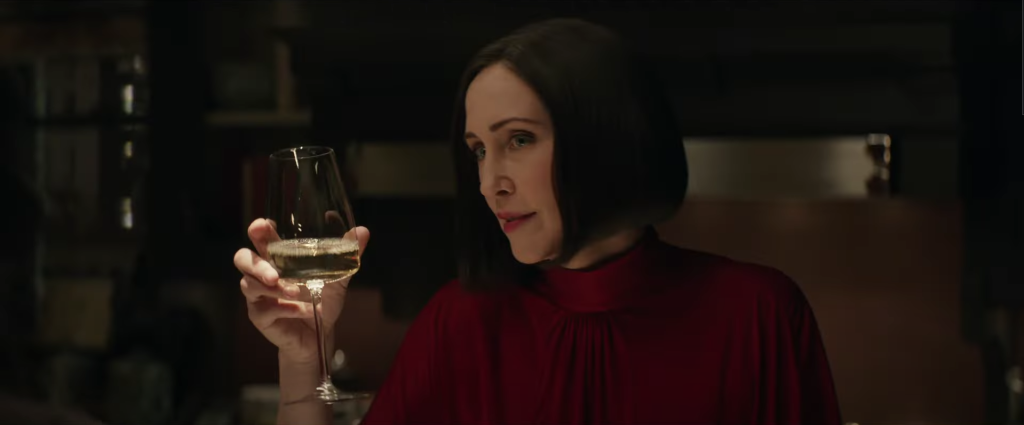 Vera Farmiga
The Conjuring and Bates Motel star Vera Farmiga is playing Kate's mom Eleanor Bishop in Hawkeye. The character seems very fancy from the brief shot we get of her, and that's no accident. In the comics, Eleanor was the matriarch of a very wealthy Manhattanite family.
She apparently died at one point but was later revealed to be very not dead, and behind the actions of Kate's nemesis, Madame Masque. You don't get Vera Farmiga in for a throwaway role, do you? Nah, we can almost definitely expect some villainous stuff from the actress here, but those secrets are kept closely guarded in this first trailer. Did we mention that she might also be a vampire? Look, comics are wild, folks.
We have more details on who she's playing here.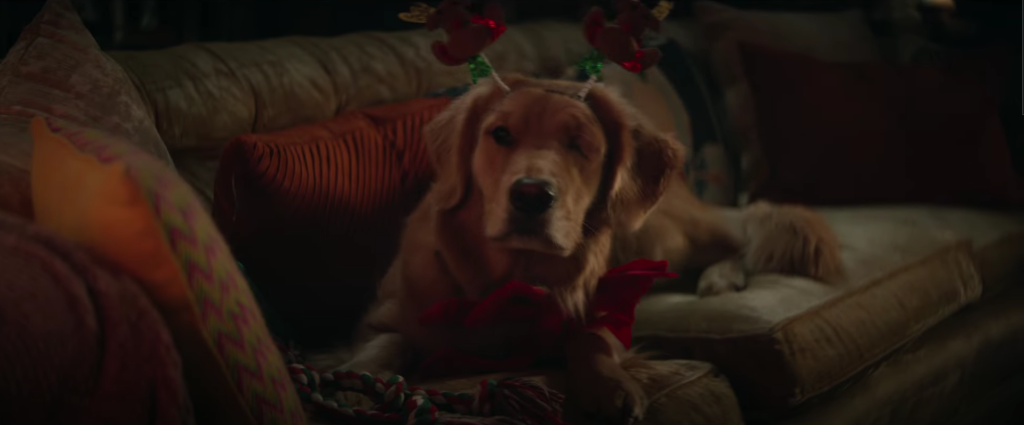 Lucky the Pizza Dog
The very best boy in all of Marvel Comics history finally makes his live action debut. While Clint and Kate were the obvious headliners of Matt Fraction and David Aja's Hawkeye comic, Lucky was unquestionably the third star, even getting an entire issue told solely from his canine point-of-view. It is, no joke, one of the best single issues of any Marvel comic of this century and you should read it immediately.
You'll note that Lucky appears to have only one eye in this pic. That's because Clint names him "Lucky" since the poor pup is anything but. Kinda like Clint himself. Pet Avengers, please continue to assemble!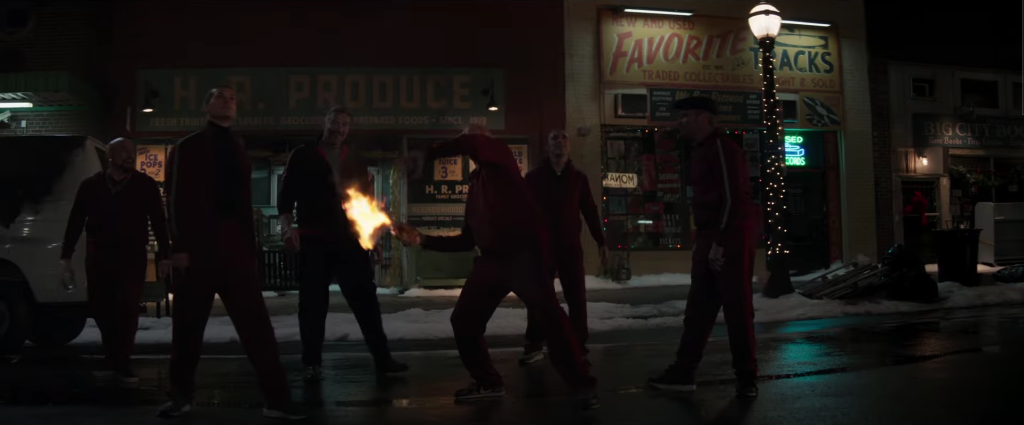 Tracksuit Draculas
The "tracksuit mafia" are a group of low level Russian organized crime operatives who make it their business to harass Clint Barton. We don't appear to see their boss, the Clown (played by Fra Free) anywhere in this trailer, but these guys aren't terribly bright, are pretty ruthless, and like to refer to everyone and everything as "bro."
It's definitely them chasing Clint and Kate, not just as evidenced by the fact that someone is hanging out the window of a car while clearly outfitted in a tracksuit, but also because of this delightful detail: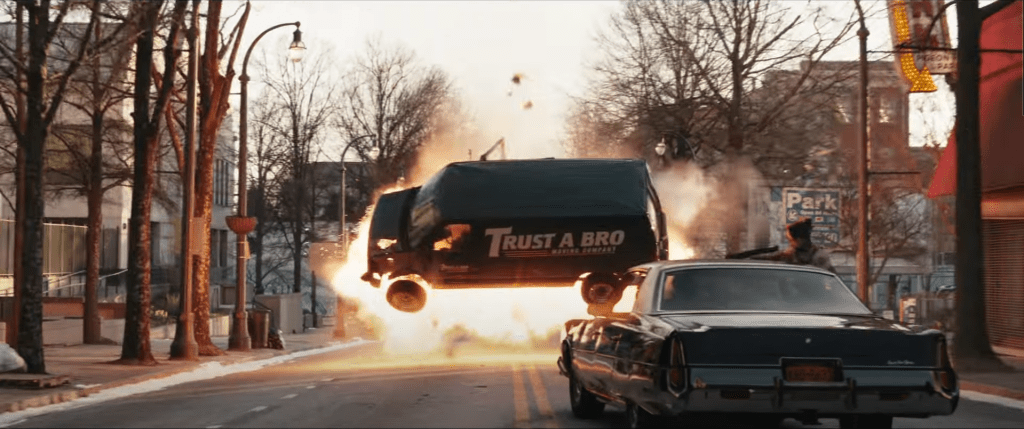 Well, bros? What did you think? Did you spot anything we missed? Let us know in the comments!
Hawkeye will be streaming on Disney+ from November 24.