News
Marvel's Hawkeye TV Series is a Christmas Show
Marvel's Hawkeye TV series on Disney+ will explore the MCU at Christmas.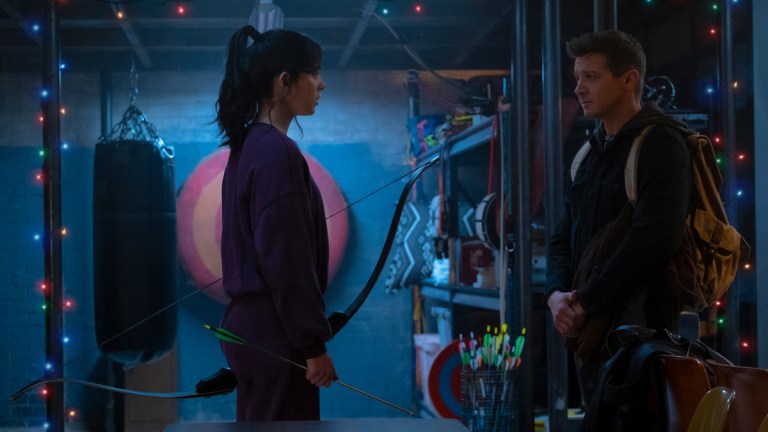 Superhero movies and TV shows set during the holiday season are pretty rare beasts. Sure, we've had the occasional vaguely holiday themed episode of an Arrowverse show from time to time (since those shows, at least pre-pandemic, tended to operate more or less in "real time" with their broadcast schedules), and of course both Iron Man 3 and Shazam! were set around the Christmas season. But it's rare that they really revel in the atmosphere of the season. That's going to change with Marvel's new Hawkeye series coming to Disney+ in November, which according to executive producer Trin Tranh is "grounded and funny, packed to the brim with Christmas spirit."
Fans had already suspected that Hawkeye could be set around the holidays when the first official image from the series, featuring Hailee Steinfeld as aspiring superheroic archer Kate Bishop hanging out with former Avenger Clint Barton (Jeremy Renner). That image, seen above, included some prominently placed Christmas lights among the various trick arrows and targets scattered around a basement.
Tranh's remarks come from the latest issue of TV Guide, in which she sheds a little light on both the setting and flavor of the next MCU live action show. While we've already glimpsed the MCU at Christmastime in Iron Man 3, this will be the first holiday season we spend there after the events of Avengers: Endgame. In other words, it will be the first time we see how the citizens of the MCU are enjoying the holidays after they've been reunited with many relatives who had been "snapped" away by Thanos at the climax of Avengers: Infinity War.
"[New York City] has, in many ways, recuperated and continued thriving," Tranh told TV Guide, "but the same can't be said for its citizens."
We'll leave any current real world parallels there to your imagination.
Tranh also spoke about how Kate ends up in the orbit of Clint, saying that she has put in years of training specifically so that she can become a superhero.
"Kate is looking for ways to implement those skills," Tranh says. "That's when she runs into Clint, who has no clue who she is and doesn't really understand her obsession for him."
Hawkeye is taking at least some of its inspiration from the celebrated Matt Fraction and David Aja comics that kicked off in 2012. Those stories are an absolute riot, and fans of them may note that the friendship between Kate and Clint isn't exactly without its hurdles. It's easy to imagine Kate becoming quickly disillusioned with an exhausted Clint who might just be hoping to put the chaotic events of the last five years behind him so he can spend time with the family that had been taken from him.
The Hawkeye cast also includes Vera Farmiga as Eleanor Bishop, Fra Fee as Kazimerz Kazimierczak, Tony Dalton as Jack "Swordsman" Duquesne, Florence Pugh as Yelena Belova (whose involvement was teased during the Black Widow post-credits scene), Alaqua Cox as Maya "Echo" Lopez, and Zahn McClarnon as Willie Lincoln. We wrote more about all these new characters here.
Marvel's Hawkeye premieres on Disney+ on Nov. 24. Just in time for the holidays!