Reviews
Martin Scorsese's Fran Lebowitz Netflix Doc Series is an Irresistible Tonic
In seven half-hour episodes, Pretend It's a City documents NYC through one of its finest filmmakers, and funniest commentators: Martin Scorsese and Fran Lebowitz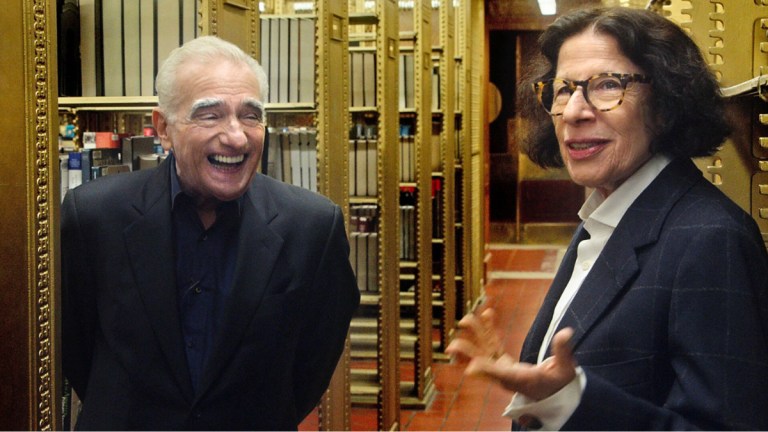 Filmmaker Martin Scorsese and humourist Fran Lebowitz aren't sure how they met. It may or may not have been at the 50th birthday party of a mutual friend, neither remembers. What they do remember is that every time they ended up at the same party, they'd spend the whole night talking. To guess from their new seven-part Netflix documentary series, it's likely that Lebowitz did most of the talking, and Scorsese most of the laughing.
Talking is Lebowitz's job. Her previous Scorsese collaboration, 2010 HBO film Public Speaking, followed the speaking engagements that have earned her a following, a reputation as one of America's sharpest, funniest commentators, and, for the last forty years, a living.
Starting as a columnist and movie critic in underground NYC newspapers including the Andy Warhol-founded Interview in the 1970s, Lebowitz published her last essay collection in 1981. One children's book and two unfinished novels later, she's shifted career from writer to speaker. To hear Lebowitz tell it, writing is hard, talking is easy and she is lazy.
Laziness, if that's what it is, suits her. It certainly suits Scorsese, whose enjoyment of Lebowitz is reason alone to watch these half-hour episodes. She talks, he listens and laughs and nods, shoulders shaking with pleasure at almost her every pronouncement. These aren't conversations, they're monologues to an audience of one. Lebowitz is entertaining her friend, enjoying her effect with a glint in her eye and every so often, the beginnings of a smile. Us? We're fortunate enough to be able to sit in.
It's an attractive dynamic with an intimacy you can't fake. As an interviewer on stage at live events, or in specially filmed segments at Grammercy Park's Player's Club, Scorsese doesn't interrogate. If he does more than prompt then he's used the edit to cut himself out and keep Lebowitz centre frame. His role is to hold open the door for her tightly delivered, rhythmically funny verdicts, to stay out of her way, and to enjoy.
That's not a tall order, because Lebowitz's persona is easy to enjoy. She's quick, opinionated and, now 70, can draw on decades of observation about what's wrong with the world and how it could be fixed if only anybody would listen to her. She's able to apply her comic instincts to apparently any topic, as demonstrated by the wide-ranging questions asked by her audiences. Politics, real estate, money, art, subway travel, tourists, immigration, Me Too, reading, talent…
Young people mostly want to ask her whether New York in the 1970s was as great as it sounds. (Answer: financially bankrupt but culturally alive, it was dirty and dangerous and nostalgia gets us nowhere. Imagine all that but made funny, with a choice anecdote about an apple and a packet of cigarettes.)
As a New York City celebrity since the publication of her first book in 1978, look online and you'll find videos of Lebowitz interviewed by all manner of people. At masterclasses and festival appearances and on TV spots, she delivers the goods as a performing wit in conversation with chat show hosts, novelists, artists, journalists and academics.
These seven half-hours on Netflix though, are the ones to watch. They're a distillation of Fran Lebowitz's voice, directed by a filmmaker who knows NYC as intimately as she does. Scorsese is a terrific illustrator, and the series' blend of archive city footage with free-roaming interludes of Lebowitz pounding its pavements, or wandering its streets in miniature at the Queens Museum's Panorama of the City of New York, make the perfect enrichment. Stay for the end credits, which house yet more clips. (You may as well, because you'll be selecting 'Next Episode' anyway.)
Scorsese isn't the series' only interviewer; the series includes segments of conversations between Lebowitz and Toni Morrison, Spike Lee, Alec Baldwin, David Letterman and more. They all prompt and duly receive her wit, but none seems to delight in her quite as much as 'Marty'. Their sense of brotherhood and affinity for each other is irresistible, just like this tonic of a series.
Pretend It's a City is available to stream now on Netflix.
Subscribe to Den of Geek magazine for FREE right here!