News
Real Life Gangster Inspiration for Martin Scorsese's Casino Dies
Frank Cullotta, Chicago hitman and consultant for Martin Scorsese's Casino, dies at 81.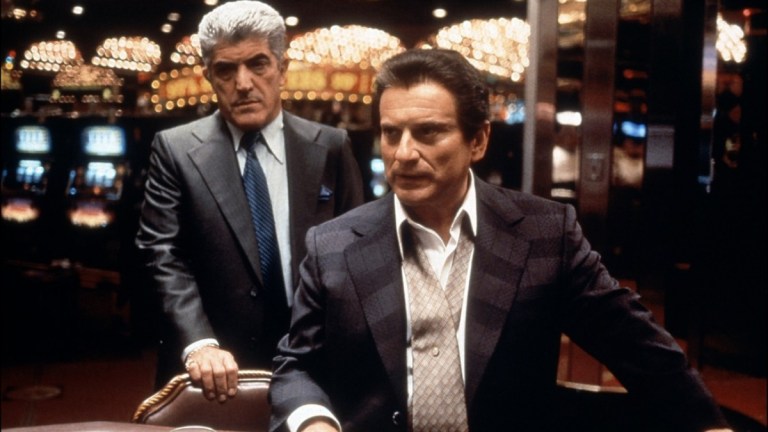 Frank Cullotta, a member of Chicago's mob the Outfit, died of a variety of ailments including COVID-19 at a Las Vegas hospital, on Thursday, Aug. 20, according to Deadline. He was 81.
Chicago gangster Anthony "Ant" Spilotro brought Cullotta to Las Vegas in 1978 to oversee the legendary robbery crew called the "Hole in the Wall Gang." Known for bypassing alarm systems by drilling or precision explosives, the crew burglarized between 250 and 300 homes in Las Vegas by 1981. The crew was caught on July 4, 1981, after a botched robbery at Bertha's home furnishings store on East Sahara Avenue.
After being told there was a contract on his life, Cullotta cooperated with the FBI and Las Vegas police against Spilotro, who was killed along with his brother Michael in 1986. Cullotta served as a technical consultant on Martin Scorsese's 1995 gangster epic Casino. He was played by veteran actor Frank Vincent as Frank Marino, and also has a cameo role as the hitman who whacks Andy Stone  (Alan King) in the steakhouse parking lot.
Cullotta was born in Chicago on Dec. 14, 1938. His father, Joe Cullotta, was also a criminal but not connected with the Outfit. Cullotta and Spilotro were childhood friends and went into crime together as teenagers. In 1962, Cullotta killed William McCarthy and James Miraglia. Their bodies were found dead in the trunk of a car on May 14. Miraglia had been strangled McCarthy's head had been placed in a vise and his throat slashed. Cullotta later confessed to the killings.
In 1968, he was sentenced to eight years in prison for burglary. He was paroled in 1972, and transferred to Federal Correctional Complex, Terre Haute to serve the federal portion of his sentence. He was released in 1974. He then moved to Las Vegas in 1979 to become part of the Hole in the Wall Gang. On orders from Spilotro, Cullotta killed grand jury witness Sherwin "Jerry" Lisner on Oct. 10, 1979.
Spilotro was indicted for conspiracy and obstruction of justice in the Lisner murder in September 1983. In 1983, he admitted he was involved in over 300 crimes, including four murders, perjury, robberies and burglaries, at a trial in October 1983. Cullotta was given immunity for previously uncharged crimes, but sentenced to 10 years in prison. He was paroled to the witness protection program in 1984.
Besides consulting on Casino, Cullotta also gave mob tours and worked with the Mob Museum in Las Vegas. Cullotta co-authored, with Dennis N. Griffin, the autobiographical books Cullotta: The Life of a Chicago Criminal, Las Vegas Mobster, Government Witness, which came out in 2007, and The Rise and Fall of a 'Casino' Mobster: The Tony Spilotro Story Through A Hitman's Eyes, which was published in 2017.