Features
Mark Gatiss on His Love of Christmas Horror, M.R. James, and Real-Life Ghost Stories
Mark Gatiss dishes on M.R. James and why Christmas is the perfect time to tell ghost stories.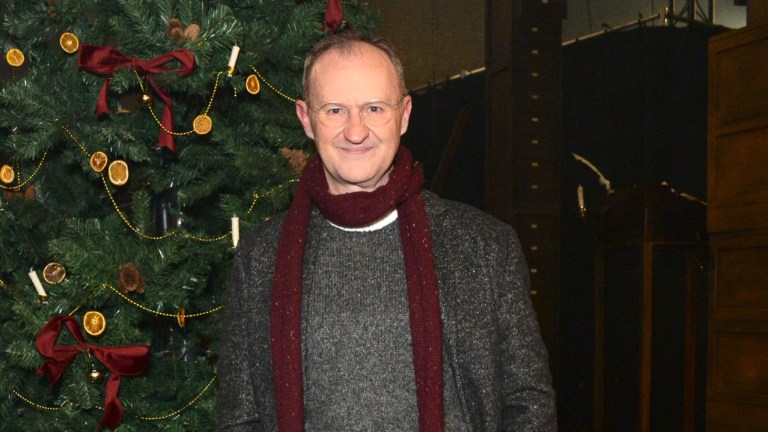 When it comes to the tradition of telling ghosts stories during Christmas, Charles Dickens still reigns supreme, with medieval scholar M.R. James in a very close second place. But in recent years, actor, writer, and director Mark Gatiss has quickly earned mention alongside those two by reinvigorating the United Kingdom's heritage of holiday horror.
Best known for his work on Doctor Who, Sherlock, Dracula, and the comedy troupe League of Gentlemen, Gatiss has become the force behind the BBC's revival of A Ghost Story for Christmas series of television films. The original run of annuals was largely helmed by Lawrence Gordon Clark, and aired from 1971 until '78, before returning sporadically in 2005. Gatiss made his directorial debut in 2013 with The Tractate Middoth, the Ghost Story adaptation of James' work. He has since written and directed three more for the series — James adaptations Martin's Close and The Mezzotint, and the original story The Dead Room — along with writing mini-series Crooked House (2008) and writing and directing The Amazing Mr. Blunden TV film, which both aired at Christmas.
Now he is back as writer and director for Count Magnus, the long-anticipated adaptation of James' 1904 tale. In a recent interview on Den of Geek's Talking Strange paranormal pop culture podcast (available on Apple Podcasts, Spotify, and YouTube), Gatiss speaks about his love for season's screamings and this year's Christmas ghost story, which airs Dec. 23 on BBC Two in the UK and drops the same day on streaming service BritBox in the US.
The short film revolves around travelogue author Mr. Wraxall (played by Jason Watkins) who discovers the story of a tyrannical count from the past while visiting an ancient Swedish manor house. Upon learning of the count's unholy pilgrimage, Wraxall is gripped with dangerous curiosity about the ominous figure's dark dealings and monstrous companion. It is a perfect example of a classic story by James, who is a master of the genre and would narrate his yarns to friends and students during the holiday season while serving as provost at King's College and Eton College in the early 20th century.
Count Magnus is likewise an example of what makes Christmas so ripe for tales of terror.
"It is a liminal time," says Gatiss. "We are looking backwards and looking forwards. Christmas is both joyous and melancholy, and what could be more perfect for that time than a ghost story around the fireside?"
Perhaps not surprisingly, the first Christmas ghost story Gatiss recalls is the 1970 Albert Finney-starring film adaptation of Dickens' 1843 blockbuster A Christmas Carol. He says it got under his skin even before he realized Dickens was responsible for the "whole package," and that "the whole association of Christmas and ghosts really stems from there and from four distinctively different types of spook in one fell swoop."
Then he discovered the "pleasing terror" of James' work, populated by beings "nasty and vengeful, and very strange and frightening, demonic or almost sometimes sort of Lovecraftian things, which shouldn't be named."
Gatiss also draws parallels between what makes James' writing so compelling and our own cultural fascination with the paranormal and telling stories about spooky things that have happened to us — but typically only after we establish our own level of reliability or skepticism in the form of a preface.
"As James said, you want to start with 'about 30 years ago,' or 'Shortly after the war,'" says Gatiss. "[It's] what he calls 'the haze of distance,' and it's amazing how powerful that is. It just gives it a little kind of bracket or parenthesis, which make it seem somehow convincing, especially if it's come from a nonbeliever."
He adds that James would also add credibility to his characters by labeling them something like, "The gentleman in question was a policeman of 30 years standing…He's solid, he's not going to talk bullshit, and then he goes, 'One night…' and then you're off."
Gatiss says the same pattern emerges when he gathers people together to share their own real-life ghost stories, which he collects.
"If there's enough of you, if there are sort of eight or 10 people, just introduce the idea of it, and I bet you any money you'll get one good one which is worth thinking about. People go, 'Oh, nothing's ever happened to me.' And they'll tell a story which happened to a friend of a friend, which is very M.R. James, and turns out to be some sort of urban myth. Then usually the quietest person will say, 'something happened to me once…'
By doing this, he says he has gathered "some corkers over the years" of really strange experiences. He says he's fascinated by the "traveling phenomenon" of ghosts and monsters, and how these tales traverse the globe and "become their own thing."
There's an amusing similarity between the downfall of characters in James' stories and how people act in real life and in potentially supernatural situations, according to Gatiss. He says a typical James character is "a middle-aged Englishman, sort of old beyond his years, rather set in his ways, who transgresses somehow."
"'A Warning to the Curious' could almost be the subtitle to all of them, because it's about not dabbling in things you don't understand and ignoring red flags, which is what Mr. Wraxall, in my latest one, absolutely does. He just blithely ignores all the warning signs."
Gatiss is haunted by the possibility he could be one of those characters, and find himself in an M.R. James-esque situation while combing through archives or giving in to his curious nature. He describes one such time when he ignored red flags on his way to a funeral in a natural burial ground outside of Brighton, England.
"For some reason, I do not know why … I decided to stay overnight, very close to the burial ground," says Gatiss. "And I checked into an old pub and I remember being dropped off by the taxi and I stood there looking like Max von Sydow in The Exorcist poster. I went in and said, 'I've booked a room.' And I thought, 'What have I done? This is quintessential M.R. James, and I'll be very lucky to get out of here alive.'"
Thankfully, Gatiss emerged unscathed and has returned to bring audiences Count Magnus this holiday. And though he says it's very difficult to get Christmas ghost stories made each year, James' "Casting the Runes" is his holy grail because it is the author's most ambitious piece.
If fans make BritBox a frequent haunt for Count Magnus, and for all the entries of A Christmas Ghost Story, there is a good chance Mark Gatiss might be able to continue in his role as caretaker of season's screamings. And that is a delightfully scary idea.
Den of Geek will have more from Gatiss and his thoughts on Count Magnus later this week!
For even more paranormal pop culture, check out Den of Geek's own Talking Strange podcast, hosted by Aaron Sagers, on Spotify, Apple Podcasts, and YouTube.