Reviews
Lucifer Season 6 Episode 10 Review: Partners 'Til the End
The Lucifer series finale pays tribute to each character with happy endings on earth, in Heaven, and in Hell.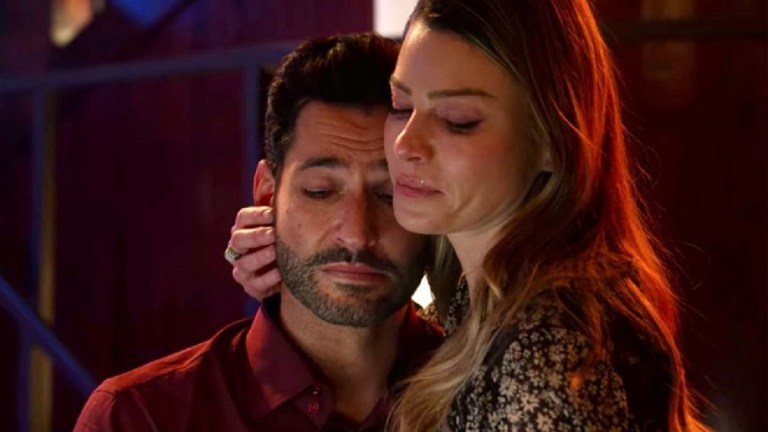 This Lucifer review contains spoilers.
Lucifer Season 6 Episode 10
"I'm an angel, remember? I'll see you on the other side."
There are endless avenues the Lucifer writing team could have taken with the series finale "Partners 'Til the End," but fans of the Netflix fantasy show are treated to an emotionally charged ride that finally places the characters exactly where they need to be whether in Heaven, Hell, or here on earth. Though the episode clearly centers on the circumstances behind Lucifer's disappearance and the impact it eventually has on Chloe and Rory, all the characters receive wonderful, albeit brief, tributes that offer the satisfying endings each deserves. All in all, just a beautifully executed conclusion to a show that began with such a preposterous premise.
The partners come full circle as Chloe gets shot in the series pilot and stabbed in the finale, but it's the actions of the half human, half angel Aurora that ultimately drives the final narrative and draws Lucifer and Chloe even closer together. In retrospect, viewing Lucifer as a series of metaphors remains an option, and with the emphasis lately placed on the themes of guilt and redemption, this approach makes perfect sense. "If the Devil can be redeemed, then anyone can," Lucifer explains to Vincent Le Mec during the final scene and hones in on the series' fundamental precept – Lucifer is us.
Lucifer's recurring refrain "what is it you truly desire," coupled with the fact that his character embodies the global concept of pure evil through the Devil persona, provides an opportunity to examine our own failings as human beings traversing the many pitfalls life puts in our way. All of which makes Lucifer's epiphany such a wonderful outcome as he recognizes that Hell doesn't need a keeper; it needs a healer. He's found his calling, and it couldn't be further from what we'd expect of the celestial being we meet outside of Lux when this journey begins.
Through six seasons, the Chloe Decker/Lucifer Morningstar relationship occupies much of the narrative capital, and once they settle their differences, the ongoing romantic entanglements disappear leaving the landscape open for others to move to the front. However, the appearance of their daughter Rory and the time travel element that brings her from the future, enable a long buried aspect of Lucifer's personality to emerge. Rory's anger toward her father and his own self-directed angst regarding his absence during her childhood disappear in the midst of an emotionally charged scene that leads to a promise to not change a thing. Rory realizes Lucifer was there when she needed him most, and in a scene visually and thematically reminiscent of Dan's ascension into Heaven, Rory returns to her own time in the future. Brilliantly handled.
While it may have been nice for Rory to remain in her parents' time, we always knew the future for Lucifer's nuclear family would remain unchanged. What we see in "Partners 'Til the End," though, is that the truth of the situation sets Lucifer, Chloe, and Rory free from the pain and suffering each endures now and in the decades to come. Even though Chloe and Lucifer now understand the events that lead to his absence during Rory's life, a somber mood surrounds the two at Lux as they work through the reality of how their lives will change. Lucifer doesn't disappoint, however, and sits at the piano, presumably for the last time, to play a "Heart and Soul" duet with Chloe. It's a sweet scene during which she tells him "I'll be with you always," though the visual of them kissing as he sits on Hell's throne is momentarily a bit disconcerting. To be fair though, it will be hell for them to be apart.
Though there's not much about the Lucifer series finale that requires in-depth explanation, that doesn't mean there aren't ideas and motifs that bear discussing. While regret and guilt play a significant role in determining one's ability to enter Heaven, the sacrifices Chloe and Lucifer make, not only for the sake of their daughter but also for the good of the human race, should not be dismissed lightly.
The series denouement comes fast and furious, and that's perfectly fine. This is Lucifer and Chloe's story, and even though we know she's on her deathbed in the future, it doesn't make seeing it any easier. Still, the sublime nature of the mother/daughter reunion in the future reveals even more layers of the sacrifices Chloe makes along the way. Her death and ascendance into Heaven is likewise handled with the beauty it deserves, and when the white robed Amenadiel appears behind her, we realize her journey is just beginning. "Are you ready to go home?" he asks her. And then it hits us.
Perfection is a dangerous word to throw around, but the show's final scene comes as close as celestially possible to achieving narrative perfection. Because the scene now turns visually dark, we immediately know we're in Hell, and wait to glimpse our first Hell loop. However, that's not how Lucifer rolls, and we find ourselves inside a therapist's office that looks eerily similar to Linda's. Instead of Linda conducting a session, it's Doctor Lucifer employing all of the tools and techniques gleaned from his sessions with Doctor Martin. Le Mec's inclusion in Lucifer's group session speaks loudly to the work the Devil plans with his healing mission.
And just so we know the new, improved Lucifer retains much of what makes him such a delightful character, a knock on the door prompts a response that the donuts must have arrived. A playful jab at law enforcement? Nevertheless, Chloe walks through the door prompting a magnificent call and response to end the series. "Hello, detective." And in a perfect tie-in to the episode's title, Chloe responds, "I thought you could use a partner." We don't know the mechanics involved, but since Amenadiel now occupies God's throne, we can assume Chloe's been granted free passage between Heaven and Hell. A happy ending for sure.
Nevertheless, it's not all about Lucifer and Chloe, and the members of Team Lucifer deserve and receive nicely presented scenes that provide enough closure to keep everyone happy. Ella meets the first group of girls for her STEM program and her relationship with Carol appears to be thriving. As much as anything Lucifer does in his final days on earth, this simple act shows not only that he cares, but that he listens to what people truly desire. Dan and Charlotte relaxing at an outdoor cafe would have been enough. Nevertheless, the writers hit a homerun adding a swanky metal serving dish whose removal reveals one of Dan's beloved pudding cups. Again, brilliant.
Even though Merrin Dungey joins the cast late and appears only briefly, her character plays an important role in Amenadiel's ascendance. Unfortunately, we won't get to see her working side by side with Chloe and Ella now that she's a detective, but we know her heart's in the right place, and she's working with the right people. Though I didn't hear the tinkling of a bell, an angel gets his wings which absolutely thrills his parents. We could have done with a bit more Linda, but Lucifer's homage at the end pays tribute nicely. And the powerful scene in which the celestials kneel before their new God drives home the fact that the human race is in magnificent hands.
Arguably the most delightful and engaging couple, Eve and Mazikeen work together as bounty hunters, but it's the phone call they receive while out on a job that reminds us what a strong bond Team Lucifer retains. Chloe brings infant Rory home from the hospital to meet the family that will love and support her through the challenging days ahead. These charming snapshots of the near future feel completely natural.
We've reached the end of our journey with Team Lucifer and the LAPD, so what do we know? Amenadiel has taken over as God now that their Father left this universe to be with his wife in another. Dan, Charlotte, and Chloe find themselves rewarded with new lives in Heaven, while Ella, Carol, Sonya, and present day Chloe hold down the fort at the precinct. Half-angel Charlie gets his wings, but we don't know the status of Linda's manuscript devoted to her experiences with Lucifer.
With Lucifer down under, who will occupy the penthouse? Chloe will likely want to stay in her home with Trixie and baby Rory, however, Lucifer's old digs seem perfect as a base of operations for Maze and Eve to begin their lives together. And what of Lucifer? The Devil reinvents himself, leaving the traditional perception of Satan in the dust in favor of a kinder, gentler figure. Eventually, we know he'll reunite with Chloe, but for now, there are patients to help.
Showrunner Joe Henderson has gone on record stating that this is it for Lucifer, and there will be no seventh season. It's always difficult to leave old friends behind, and such is the case with Team Lucifer, but "Partners 'Til the End" provides a marvelous ending to a series of stories that will continue. Unfortunately, we won't be there to witness these sublime delights. All good things must come to an end.