Reviews
Lucifer Season 6 Episode 8 Review: Save the Devil, Save the World
Doctor Linda's manuscript sends Team Lucifer into a whirlwind of activity, and Ella comes to terms with her standing in the group.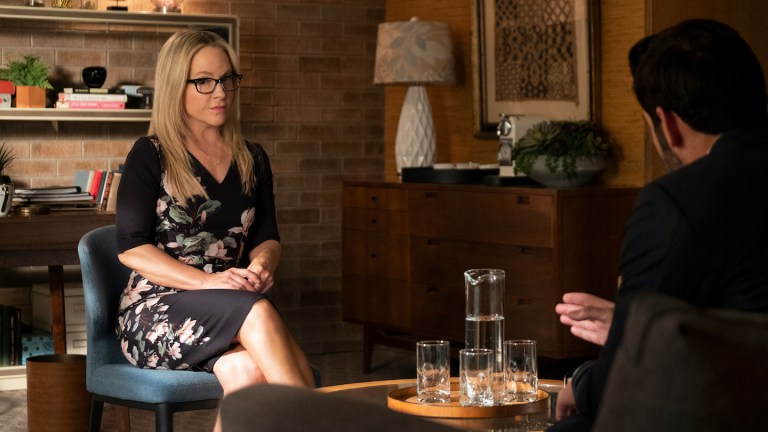 This Lucifer review contains spoilers.
Lucifer Season 6 Episode 8
"This is the worst idea the doctor has ever had."
It's the rare episode of Lucifer that moves outside its comfort zone of dead bodies, shady suspects, and puzzling evidence, but "Save the Devil, Save the World" does just that as it hones in on a much bigger problem. The end of the world appears nigh, and no one knows why.
While the introspective offering ventures into clip-show territory, the past scenes never feel obtrusive, nor do they stand in the way of fresh, new material. It's fascinating to learn how others see you, and that's certainly a big part of "Save the Devil, Save the World." But it's how we see ourselves that becomes the focal point of Team Lucifer's reaction to Doctor Linda's book about their leader. Of course, the greatest revelation is Lucifer's confession that "I don't want to be God," since it opens several narrative doors along the way. Who will take over for Dear Old Dad now that Lucifer has taken his name out of the running, and does this mean that the celestial war was fought for nothing?
It's not clear whether Linda deliberately brings her manuscript into the open, but it does appear she needs some validation, not only for the work she's done with Lucifer but the others as well. That it's only a first draft is made abundantly clear on several occasions, and it's not surprising that everyone's eager to dive into the material for a myriad of reasons. 
For the most part, I'm not sure we really need all the forays into the past to tell this story, however, where Ella is concerned, these flashbacks paint a compelling tale of the power of faith. "Was it fun for you guys watching me walk around without a clue?" Yes, she's hurt that the others didn't feel they could trust her with the truth, nevertheless, Lucifer makes certain she knows she's never been alone through all her trials. It's her faith in the absence of proof that warrants admiration even though she still faces serious spiritual doubts. And then there's the exchange she has with Carol in front of Lux when we know she's bursting to tell him everything she's learned. "It's not my secret to share," and his reaction reinforces everything we've learned about Chloe's LAPD replacement. He's a good guy.
In many respects this is Dr. Linda Martin's story, and it opens with an inexplicable scene in which we see the aftermath of her sexual encounter with an unnamed dude. Though he's made significant progress in his five years on the couch, Lucifer seems oblivious to what's going on. More to the point, did something happen between Linda and Amenadiel? Regardless, once her manuscript becomes the focal point of the team's search for answers, the questions become muddled. Linda wonders what her Hell loop would look like as she dodges accusations and criticisms of her character assessments. There's no reason to think she hasn't resolved her guilt related issues with Adriana, so her preoccupation with Hell seems unfounded.
At one time or another, all members of Team Lucifer find their way to Linda's couch, and while she offers suggestions, answers must come from within. Lucifer, however, takes her decision to withhold the book's ending as a sign she feels he'll fail in his quest to become God, and while there doesn't seem to be any truth to that assessment, it does provide a catalyst for Lucifer's nuclear family to work through their abandonment issues. 
You have to give credit to Rory because as forsaken as she feels, she's still willing to give her father another chance. And this time it appears Lucifer may have finally broken through her guarded exterior. In an episode of call backs, allowing Rory to take a shot at her dad, ironically solidifies the family bond. Though she's not part of the original group, Rory now sees her father in an entirely different light, and while we still don't learn the circumstances behind Lucifer's absence during her life, she now knows that he loves her unequivocally.
Even though we don't see Eve in this chapter of the story, Mazikeen's personal and emotional growth continues to shine, and her encounter with Dan stands as one of the episode highlights. Dan still struggles with his current state and remains unable to determine the guilt that prevents him from entering Heaven. "I'm going to torture your ass right into Heaven," Maze tells him, but even she strikes out in the attempt to learn the source of his subconscious remorse.
It's easy and understandable that we get caught up in the various characters' angst driven reactions to passages in Linda's manuscript, but Ella seems to be the only one truly focused on the coming apocalypse. With one of the snappier lines in the episode, Lucifer notes that Dad "probably thinks the apocalypse is a teachable moment," but we also have to question how seriously he's taking the situation. Still, it's Ella's insistence that ecological and environmental changes seem to presage the end of the world scenario that she describes and make for a nice piece of relatively unobtrusive social commentary.
As we head into the final few episodes of Lucifer, an apocalyptic scenario looms overhead, leading viewers to finally get serious regarding the series' conclusion. Nod to Heroes aside, someone needs to take charge, save the world, and ascend to God's throne. A classic setup episode, "Save the Devil, Save the World" arranges the pieces on the board, and now that Amenadiel has returned with an answer, it won't be long until the end of the series.