Reviews
Lucifer Season 5 Episode 4: It Never Ends Well for the Chicken
Lucifer sends the story back to 1946 with a classic film noir approach.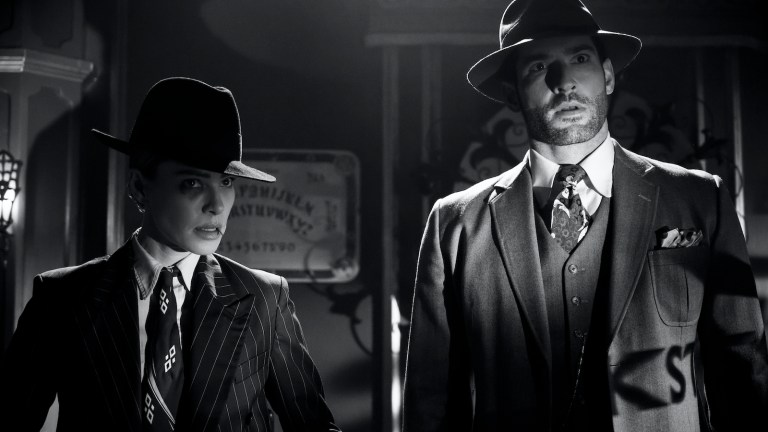 This Lucifer review contains spoilers.
Lucifer Season 5 Episode 4
"Why don't you fellas go jerk yourselves a soda."
Lucifer star Tom Ellis teased early in the year that the series would feature a "full blown" musical episode late in its fifth season, one of many indicators that the writers planned to pull out all the stops in what was initially thought to be the show's final run. Though it appears fans will have to wait for the second half of the current installment to experience this narrative divergence, showrunners Joe Henderson and Ildy Modrovich take another creative leap with the noir detective story "It Never Ends Well for the Chicken."
Any time a show steps out of its comfort zone to explore varied storytelling techniques, there's a good chance success may not necessarily follow. That's certainly not the case here as Lucifer puts familiar characters into exciting new roles that allow the actors to explore sides previously hidden or obscured. Unfortunately, Trixie often gets lost in the mix, and though some of her finest moments occur when she appears opposite Maze, here, her interaction with Lucifer during their modified game night brilliantly drives the episode despite her still limited screen time.
It's difficult to miss Lucifer's excitement as he readies the penthouse in anticipation of Chloe and Trixie's arrival for a relaxed evening with friends, and when the detective fails to accompany her daughter, she sends several unambiguous messages. Even though Chloe may not be ready to confront Lucifer about what she's learned from Michael, it's clear she trusts him with her only child, a point that should not be underestimated. It's true that Trixie tells Lucifer she was with her dad, but given the elaborate ruse that becomes clear at the end, that might not be true. Whether he understands the subtext here or not, we don't know, but Trixie's precociousness shines through as she manipulates Lucifer into telling her a story in lieu of another boring game of Monopoly.
Lucifer doesn't waste the opportunity to spin a compelling yarn, and the writers delightfully embrace one of cinema's classic periods to explore the mystery of the missing ring. However, the genius of the episode's structure also includes the homage to the classic film The Princess Bride and its delightful narrative interplay between a boy and his grandfather as the tale unfolds.
Though there are murders to solve, it's really the backstory of the ring Lucifer wears that comprises the bulk of the account presented in black and white, and we suddenly find ourselves smack in the middle of a 1940s noir detective story in which the renowned chanteuse at the local club is none other than Maze's mother Lilith. Lesley-Ann Brandt (Maze/Lilith) takes on a persona that allows her room to show off not only a powerful singing voice and familiar saucy attitude but also to develop a character who battles some of the same issues of self-esteem we've seen in Maze. When Lilith blasts some of the boss' boys with the retort that "I'm nobody's girl," her statement signals a refrain we've heard from Maze who often feels like an outsider abandoned by Lucifer and most recently Chloe.
"It Never Ends Well for the Chicken" does a wonderful job of world building and seamlessly immerses the audience in the reasonably authentic ambiance of post-war New York City. And though the many references and connections to the present day storyline work for the most part, a few manage to fall a bit flat even as they manage to still evoke a smile. "The Devil solving crime. It's the most ridiculous thing I've ever heard." Of course, young Trixie remains in the dark about Lucifer's true identity, but when 1946 Lucifer immediately seeks out Jack Monroe for help finding the ring, Chloe's daughter calls him out and asks "why does it have to be a guy?"
Needless to say Trixie's request for a "gender balanced narrative" paves the way for Laura German (Chloe Decker/Jack Monroe) to don a man's suit and hat, and we easily move past the fact that we're watching Chloe in the guise of a Chandleresque protagonist. While the value of fan service can certainly be debated, when you're able to bring back Tricia Helfer (Charlotte Richards) to portray Jack's wife Shirley in this narrative shift, everybody wins. We don't typically see Helfer in a submissive role, but she absolutely nails it as the frustrated partner of a man whose struggles extend far beyond his marriage. At the heart of the episode is, of course, the struggle Chloe and Lucifer face as they decide whether or not to repair their damaged relationship, and Jack's decision to ask his wife for help in the case and then later admit he wants to talk about their marriage, speaks to Chloe's underlying desire to reconcile with Lucifer.
However, it's the brief exchange that Lucifer has with Jack that lays bare what we've all been thinking since the beginning of the season. Like Lucifer and Chloe, Jack's meeting of Shirl was no accident, and though he harbors resentment towards his wife, he admits he still loves her. Lucifer asks the obvious question: have you thought about simply forgetting the past? And we have to wonder whether Chloe will be able to see beyond the celestial setup and value the real relationship she's forged with Lucifer during their partnership?
Even though Jack and Lucifer's search for the missing ring and subsequent related murders drive most of the action, there's little doubt that Lilith's belief that the ring confers immortality parallels Maze's belief that she'll be forever alone. In the most visually stunning and emotionally powerful scene of the episode, Lilith tells Lucifer that she's learned what connects humans is the knowledge that their lives are not infinite. "I think I've been immortal long enough," she admits, gives Lucifer the recovered ring, and then walks away as he stands in the night under a street light, the wet road glistening beneath his feet. It's the quintessential noir ending, and even though the episode proper still has a few minutes to run, we should consider that this might also signal the end of Maze's spiritual funk.
However, like all great mystery tales, there are twists still to be examined, and when Trixie asks Lucifer whether Shirl and Jack live happily ever after, we assume she's projecting these characters on to the real life situation with her mother and Lucifer. Though she contends they fixed everything, the real life story proves a bit more complicated, and when she encounters Maze in the elevator, the demon hands her money signifying that Maze set the whole thing up to get the story of the ring from Lucifer. Maze visits her mother Lily Rose (Lilith) to ask the fundamental question that plagues her. "Why did you abandon me?" Interestingly, Lilith makes no attempt to assuage her daughter's feelings leaving Maze no better off than when she started this journey.
There are some nice touches with the murders, and since this is Lucifer, it's perfectly acceptable to take an extra liberty or two. Lucky Larry interrupts Jack and Shirl's dinner and falls dead in their doorway, a knife embedded in his back. Even here it's difficult to hold back a smile, and when they go to question Dan's counterpart, Willy the Sausage King (Kevin Alejandro/Dan), the egocentric portrait painting session stands in stark contrast to Chloe's ex's attempts at true self improvement. Later, when Jack and Lucifer recreate Lucky Larry's murder, it's impossible to miss the parallel between Larry and Chloe's feeling that Lucifer stabbed her in the back.
Cigar smoking club owner Tony Stampanato gives Aimee Garcia (Ella Lopez) an opportunity to try out her masculine wings, but it's her deathbed scene that plays well within the overly stylized story. Bringing Egyptian mystery always adds interest no matter the crime scenario, and the Eye of Horus drawn on the dead man's eye is no exception as it leads Jack and Lucifer to a dealer in black market occult items. Melvin the Magnificent (DB Woodside/Amenadiel) offers a more comic presentation with his multifaceted con-man routine, but when Doctor Linda's bartender turns out to be the brains behind the operation, any thoughts that these two are underused melt away.
To refer to "It Never Ends Well for the Chicken" as a novelty episode just feels wrong, and even though that designation might technically be accurate, it fails to acknowledge the deep complexity of this narrative experiment. Lucifer will return to normal next episode, but the foray into 1946 leaves an indelible mark that only enhances the anticipation for the aforementioned musical outing. The wait is killing me.