Reviews
Lucifer Season 5 Episode 9 Review: Family Dinner
Lucifer and Chloe hit a snag in their relationship, but it's God's family dinner that promises to alter the celestial landscape on the return of Lucifer season 5.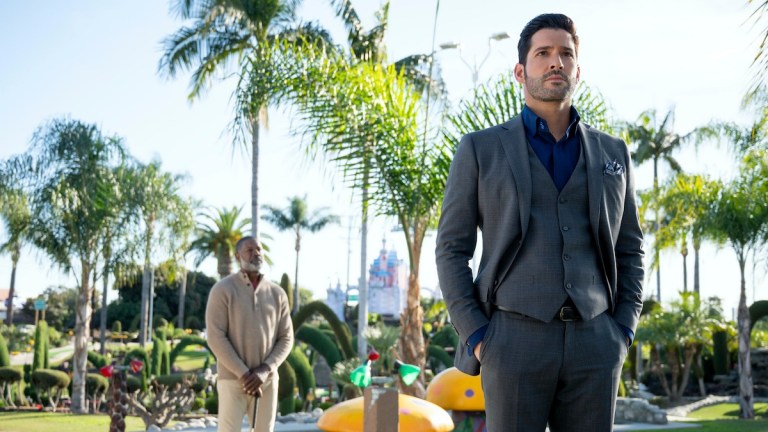 This Lucifer review contains spoilers.
Lucifer Season 5 Episode 9
"All I wanted was a nice family dinner."
After a nine month Covid-19 related hiatus, Lucifer returns to Netflix for the second half of its fifth season, and the family dynamic changes dramatically with the introduction of Dear Old Dad to the mix. Throughout the course of its run, the series' writers have masterfully woven a crime-of-the-week drama into the fabric of the emotional turmoil the core characters, both celestial and mortal, experience in their everyday lives. "Family Dinner," takes this narrative technique and sets into motion a series of events that promises to examine these intimate relationships that ultimately speak to the higher themes of love, devotion, and sacrifice.
With any other show, God's corporeal appearance on Earth would be the central focus of the episode, and while His role certainly allows His sons to air their individual paternal grievances, it's difficult to ignore the eventual impact this family gathering has on Lucifer's relationship with Chloe. Needless to say, theirs has been a romantic rollercoaster ride, and despite his difficulty telling her that he loves her, their connection, at first, appears to be moving in the right direction. She tells Dan that she and Lucifer have "hit a snag," but Lucifer's brutally honest admission at the episode's end can't help but alter their ability to work together as partners moving forward and potentially end any hope they have of finding happiness as a couple.
However, it's Lucifer's capacity for self-destruction that dominates this poignant scene because it's clear he completely misreads his Father's signals during the extended dinner scene that occupies a good chunk of the story and applies it to his relationship with Chloe. Lucifer confronts his Father about the emotional tortures each of His children has weathered, but it's obvious he feels he's been dealt the worst hand. Nevertheless, the flash point occurs when Lucifer forces God to acknowledge the fundamental question with which all children wrestle at one time or another. "Dad, did you love us?" Of course, we can debate the wisdom of God's answer to his son, but it's Lucifer's clumsy deduction that ultimately sets the stage for yet another misguided attempt to spare Chloe from what he perceives to be a situation rife with pain.
Though Lucifer consistently forces us to question aspects of our own lives and relationships, "Family Dinner" goes down that often dark path so many families choose to avoid at all costs. Despite Lucifer's condescending remarks about his Father's seeming lack of omniscience, God's refusal to succumb to these taunts opens the scene for each to lay bare his greatest concern. While it's Lucifer that openly challenges his Father about His decision to withhold a confirmation of their father's love, Amenadiel and Michael grapple with their own inner demons. Understandably, Amenadiel fears the pain his mortal son will face as he grows up, and the beautifully executed exchange he has with his Father forces him to accept Charlie's fate notwithstanding his touching offer to surrender his own immortality.
All of which leads to Lucifer's announcement to Chloe that he'll never be able to tell her he loves her. As it typically does, the murder investigation brilliantly parallels the personal narrative taking place within Lucifer's sphere, and despite his recognition that Chris Peterson died protecting his father's mini-golf kingdom, our bedeviled protagonist can't see the forest for the trees. It's true, God declines to explicitly tell his children he loves them, but the subtext should be obvious to anyone who's able to truly listen above the self-loathing din. But even if Lucifer believes his Father incapable of love, it's difficult to accept that he can't see the personal growth he's exhibited since he's been in the company of Chloe and the others. Everyone within Team Lucifer understands that he clearly loves the detective; whether he'll ever accept that fact remains to be seen.
While the episodic components don't all scream doom and gloom, Ella struggles in the aftermath of her relationship with a serial killer, and Dan begins to accept that he's the latest mortal to be read into the reality of the Devil on Earth. We know Miss Lopez will move on from her horrific experience, but things may not go as smoothly once she realizes she's the last remaining member of the team to learn of the existence of celestials on Earth.
It's true the family dinner casts a bit of a pall over the proceedings, but we shouldn't overlook the beautiful moments that appear throughout the episode. How about we begin with God's choice of a beige cardigan and the fact that Dennis Haysbert is about as perfect a choice as there is to play the Supreme Being. His touching exchanges with Linda and His propensity for cradling baby Charlie leave no doubt that God's children are wrong about His feelings for them. Even though Linda's been read into the celestial throng's existence longer than anyone else, God's appearance in her home throws her for a delightfully executed loop nonetheless. Still, He makes a point of praising her whenever the situation arises. His insistence that she's part of the family leads into her uncomfortable attempt at saying grace, and it's His acknowledgement that her thankfulness for the mundane that reinforces the fact that Lucifer simply doesn't get it. It really is a wonderful moment.
Still, the use of the celestial family as a metaphor for the struggles all families eventually encounter drives home one of the central themes explored in Lucifer. Love comes through actions, not words, yet for some reason, Lucifer can't seem to accept that about himself. Needless to say, he's quick to accuse God of being a poor father even though his own inability to tell Chloe how he truly feels about her essentially functions in the same manner. Of course, God loves his children, but with great power comes great responsibility. And while Amenadiel generally lives up to his Father's standards, the same can't always be said of the others. Perhaps it's time for the celestials to bear in mind an axiom mere mortals have acknowledged for millenia – God works in mysterious ways.
It's difficult to explain the elegance with which Lucifer continues to explore not only the duality of human existence but the crises of faith both mortals and celestials continually face. With Haysbert's introduction as the family Patriarch, "Family Dinner" takes the series to new heights, not an easy feat for a show that already enjoys a significant amount of critical acclaim. But do we really believe God plans to sleep on a futon in his son's home?
Lucifer season 5 is available to stream on Netflix now.