Features
Lost Big Bad Beetleborgs Pilot Would Have Ditched The Horrifying Flabber
The famous Power Rangers-esque series nearly featured a different cast, with no Jay Leno ghost!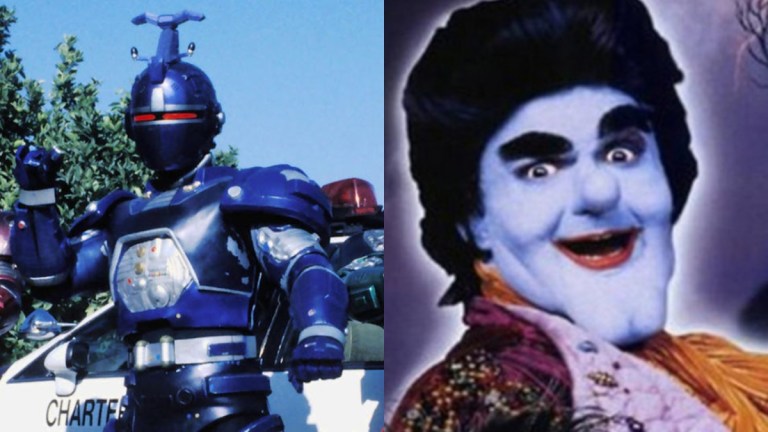 If there's any show that took a heavy dose of inspiration from Power Rangers back in the '90s and still brings back fond(ish) memories, it's without question Big Bad Beetleborgs. Premiering in 1996 on Fox Kids and running two seasons, the show was another hybrid of stock Japanese action footage and original American shot scenes. The series memorably featured not only a cast of kid heroes who'd transform into the titular Beetleborgs but also a gang of horror movie monsters that provided comic relief. This included the character of Flabber, who can only be described as the ghost of Jay Leno if he was turned into a Blue Meanie from Yellow Submarine. Even if people don't remember the Beetleborgs themselves, they always remember that strange character … perhaps have nightmares of him.

But there was very nearly a different version of Beetleborgs, one that featured some stark differences from the version you remember (and may still be haunted by) today. In December of 2022, actor Michael R. Gotto, who had played the kid version of White Ranger Tommy in Power Rangers, posted that he had starred in the "pilot" for Big Bad Beetleborgs and shared several photos from the production. He played Drew, the leader of the kid heroes, in this "pilot" but was dropped from the series and another actor, Wesley Barker, was hired to play the role. The reason for this was, according to Gotto, "the producers decided it wouldn't be best since kids who watched Power Rangers at the time would recognize me as Young Tommy."
The rest of the shots show a completely different cast of hero kids, with proto versions of bully characters Trip and Van notably played by teenage actors instead of kids that were of similar age to the heroes. There was also a completely different take on the character of Flabber. Looking more like the dad from Ponyo (over ten years before!), the pilot Flabber features a starkly different color scheme, outfit, no blue makeup, and no Jay Leno style chin. Whether he's more or less unsettling than the Flabber from the final series is up to you. Maybe it's just a different flavor of terrifying.

News of this pilot excited fans, now clamoring for a full copy of it. However, a traditional half hour pilot for Big Bad Beetleborgs does not exist. Beetleborgs producer Robert Hughes, speaking to this author in 2013 for an interview covering his time working on the series, stated that the "pilot" for Beetleborgs was actually a "presentation." None of the Saban shows that cashed in on Power Rangers' success, like Masked Rider or VR Troopers, shot traditional pilots. 
After the immense success Saban Entertainment had with Power Rangers and other series for network Fox Kids, Big Bad Beetleborgs was already pre sold to Fox Kids before the presentation was even shot. Hughes explained that the short presentations that were made for shows like Beetlerborgs, were, "for marketing purposes to get more licenses." Companies that wanted to make pajamas, lunchboxes, or other tie-in products for the series could get a look at what the series would be like. Thus, the presentations would be very short and only run around six to eight minutes. 
For Beetleborgs, the presentation was shot concurrently with the final season of VR Troopers and Masked Rider. Hughes remembered that, "it's shot at a different house. The whole pipe organ thing is there, (with) Flabber coming out of the pipe organ. [Referencing a scene later reshot for the first episode.]"
Hughes also pointed out that, "if the pilot presentation was seven minutes, about four of those minutes were footage." This means the newly shot footage for the Beetleborgs presentation, glimpsed in Gotto's photos, is extremely minimal. A good point of comparison is the VR Troopers presentation that has leaked online. A few minutes of American footage that is more of an extended preview of what a potential series could be like than a full-on episode with a plot. And of course, a good chunk of footage from Japan.
While getting a copy of the Beetleborgs presentation would still be a fascinating find, it wouldn't be quite as big as unearthing a full length pilot episode. Still, Gotto's look into the early version of Big Bad Beetleborgs provides a great insight into what could have been. Would Beetleborgs have been more successful with Young Tommy's actor as Drew? What would the dynamics of having actual teenagers bullying young kids brought to the series? Could we have been spared our nightmares of Flabber or would they have just been filled with less chins?