Features
How To Watch The Gundam Anime Franchise In Order
Looking to get into Gundam? Here's the best way to get into the long running franchise and where to stream it!
Mobile Suit Gundam is an anime legend. Running since 1979 in Japan, the original series quickly took on a life of its own, spawning spinoffs, films, manga, and much more. Fans in America mostly got their first look at the franchise with Gundam Wing when it aired on Cartoon Network's Toonami in 2000. Since then the franchise has only grown bigger and bigger, to the point it's difficult for newcomers to even figure out where to begin with Gundam.
With a live-action Netflix movie on the way, incoming fans are wondering… Do you start from the very beginning? Or wait, maybe start with the prequel show? Hold on, what about a more recent series?
Even when you decide where you want to start watching Gundam, figuring out how you're going to watch it is a little trickier. The Gundam franchise isn't consolidated in one or even two streaming platforms for easy access, which makes all this harder. With that in mind, we've put together a list that serves multiple purposes. It's a list of what series to watch in the order that makes for the best viewing experience and we also let you know where these are available.
Most of the shows we'll be focusing on fall into the "Universal Century" timeline of Gundam. Without making things too complicated, a good chunk of the Gundam series take place in the Universal Century and are all more or less in continuity with each other. There's also been several shows that take place in their own universes, a few which we'll touch on later. The Universal Century is a perfect place to start with Gundam as it holds the most history and lore, providing anyone who wants to become a fan of the franchise with more than enough to sink your teeth into.
To keep things simple we'll only be recommending shows that are available on streaming services, though we should say that most Gundam series are available on DVD and Blu-ray as well. With that in mind, let's fly into Gundam!
(Note: While we'll try our best to remain spoiler free, some of these shows and films are sequels and thus a few spoilery details will make it through.)
Mobile Suit Gundam (1979-1980)
Also known as Gundam 0079 in some circles, just to distinguish it from later series, the original Gundam series rarely shows its age. In fact, we argue it's one of the strongest classic anime offerings you'll find. The story is centered on the young Amuro being swept up in the war between Earth and the seemingly evil Zeon. The mecha action doesn't disappoint but it's Amuro's journey as character that will draw anyone in. From working on robots as an escape from his absent father, to that coping mechanism being warped into a tool for killing, Amuro rarely has an easy time. Even with all the darkness however, the relationships that form between Amuro and his fellow crew mates keep the proceedings from being too bleak. Add in the mysterious yet intriguing Char Aznable and this is a classic that won't fail to disappoint.
Note: This series was also compiled into three films that condensed the series while adding some new elements. We wrote about that more in-depth here but in brief, it's recommended you watch the TV show over the films if you can. If you only have Netflix, then you'll start with those compilation movies!
Watch the series on: Crunchyroll – Funimation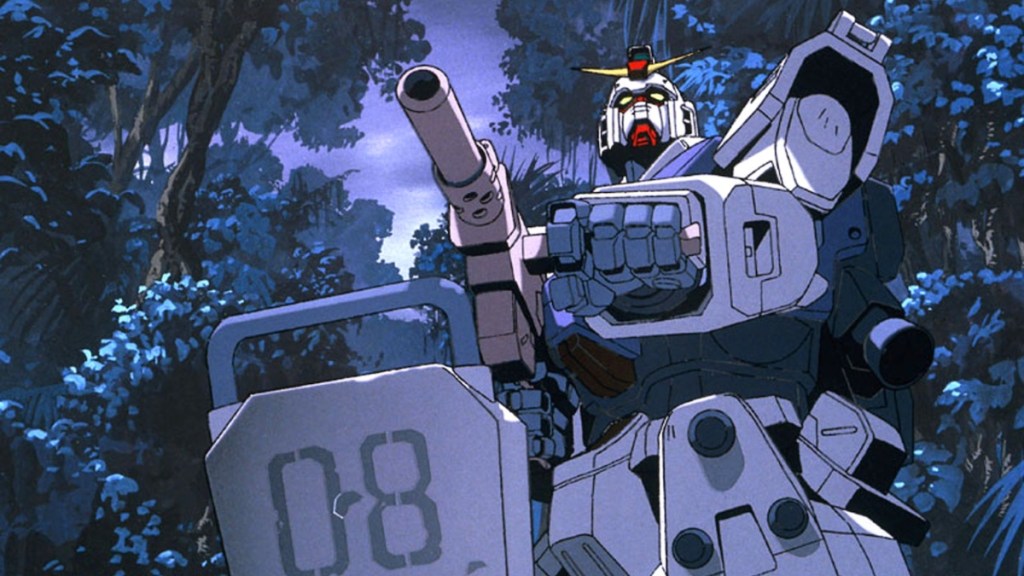 Mobile Suit Gundam: The 08th MS Team (1996-1999)
Taking place during the war in the original Gundam series, The 08th MS Team focuses less on the spectacular space battles and super powered troops and more on the ground forces of Earth. With a rough and dirty look, the series is reminiscent of a '80s war film and the action is truly something to behold featuring some stunning animation.
The band of soldiers that make up the titular team are instantly likable from the start and if military action is your thing? You'll love The 08th MS Team.
Watch on: hulu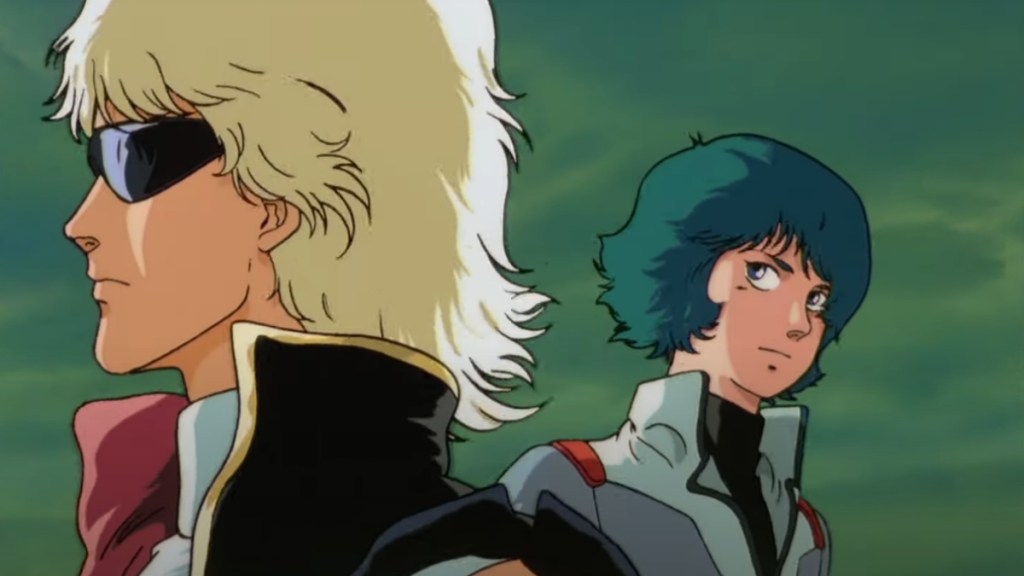 Mobile Suit Zeta Gundam (1985-1986)
A direct sequel to the original series, Zeta Gundam wisely keeps a few of the classic characters around while building up its own cast. Still, as the show goes on you learn the fates of nearly all the original cast and that's where the primary draw of the show comes from. Set nearly 10 years after, the way the universe has changed thanks to Amuro's actions sets the stage for the Gundam story to become something even bigger.
Watch on: Funimation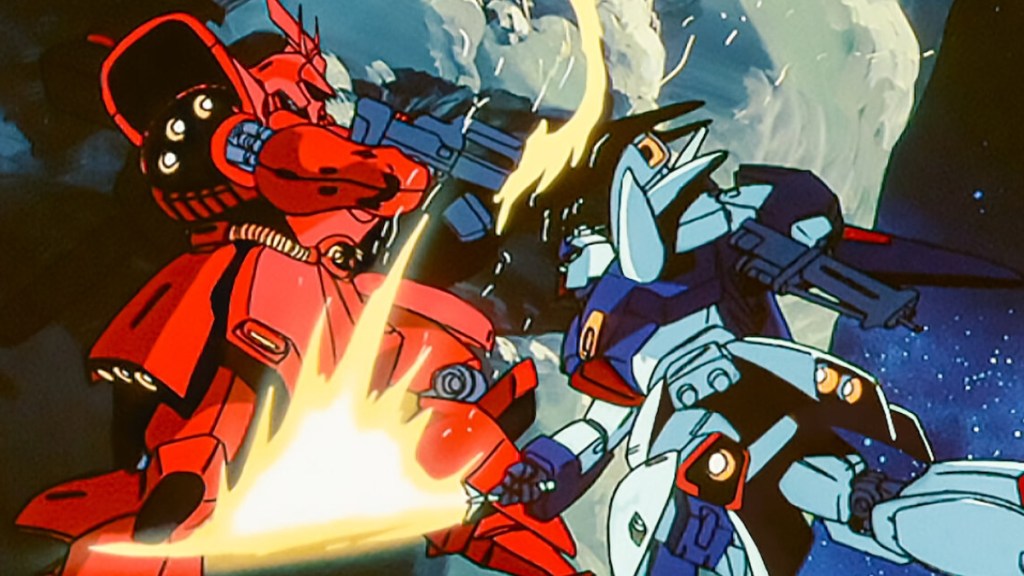 Mobile Suit Gundam: Char's Counter Attack (1988)
An explosive film that, while making some leaps in logic when it comes to Char's motivation, still holds together as a triumphant culmination of this era of the Universal Century. The long brewing tension between Amuro and Char comes to a boiling point and the two square off in a battle unlike any other.
Note: Between Zeta and this film there was another series, Gundam ZZ, that followed directly up on Zeta's story. While not critical to enjoying this film it is well worth a watch if you want to track it down on Blu-ray or DVD.
Watch on: Netflix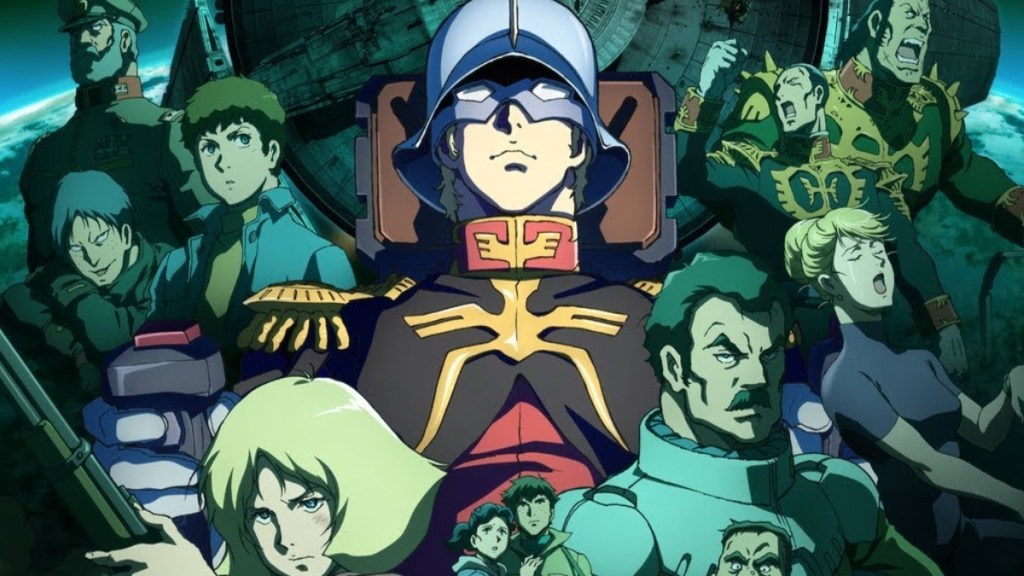 Mobile Suit Gundam: The Origin (2015-2018)
While taking place before the original series, The Origin assumes your familiarity with many of its characters and thus works best at this point in your watch. The origin of Char and several others were hinted at in previous shows but this one finally takes all those clues and tells a compelling story that neatly flows into where 0079 began. Of particular enjoyment is the story between Zeon officers Ramba Ral and Hamon. The two's chemistry was off the charts in the original series and The Origin deepens it significantly.
Note: This series is available in six extended length OVA specials or in 13 half-hour segments. While both work fairly well, it's recommended to watch the OVA's since that's how they were originally released.
Watch the OVA on: hulu – Funimation
Watch half-hour version on: Crunchyroll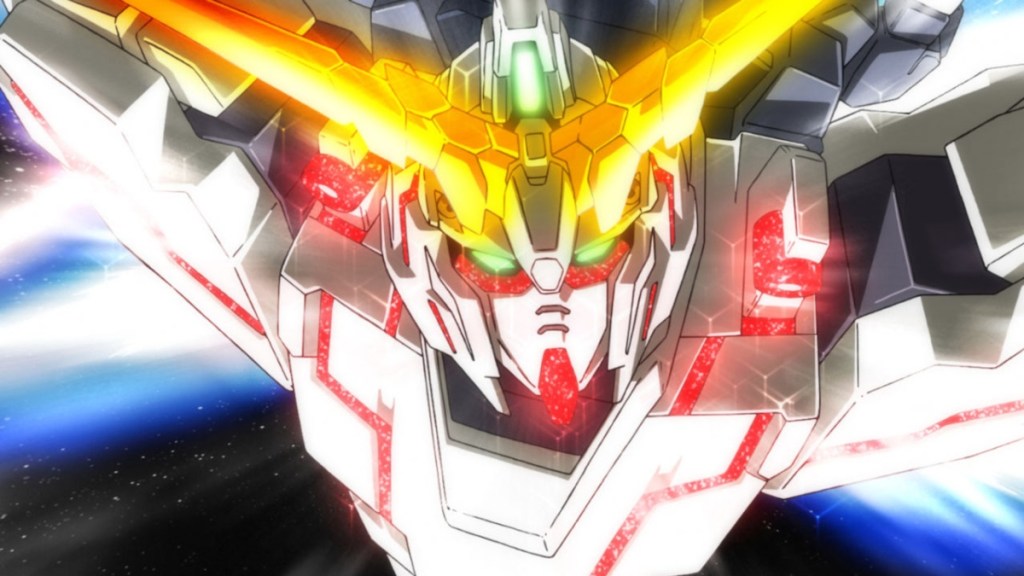 Mobile Suit Gundam Unicorn (2010-2014)
Taking place after the events of Char's Counter Attack, the series of OVA's pushes the Gundam universe forward while still including many nods to the past. No matter what anyone tries, the dying embers of Zeon refuse to be quelled and new lead character Banagher Links pilots the powerful Unicorn Gundam, one of the most striking designs in the whole franchise, and is faced with classic Gundam conflicts. Even though it was made long after other UC set series, Unicorn functions extraordinarily well as both a love letter and a fresh start.
Note: Like The Origin, this is also available in seven extended length OVA specials and 22 half-hour segments. Again, we recommend the original OVA's.
Watch the OVA version on: Netflix – hulu – Funimation
Watch the half-hour version on: Crunchyroll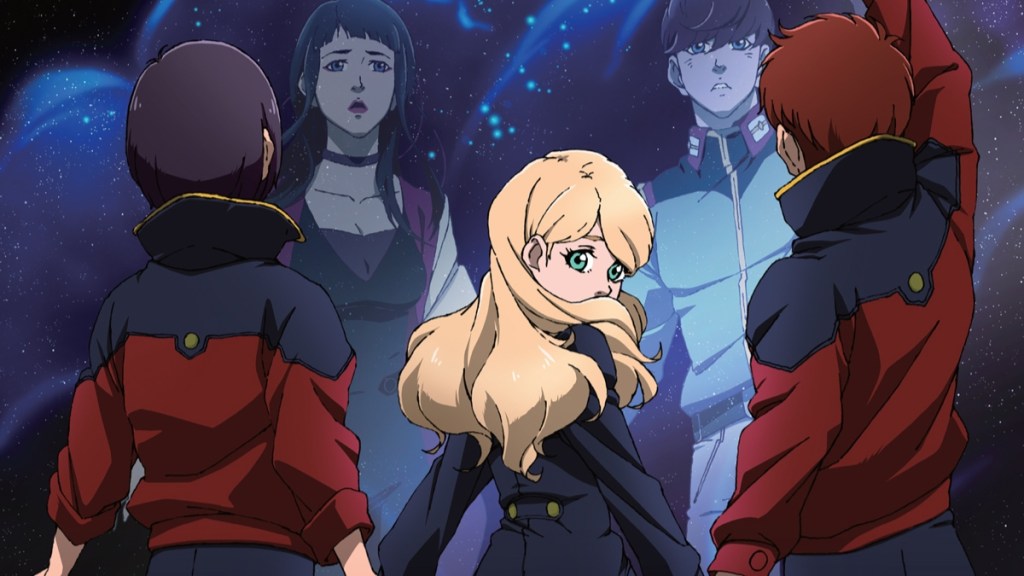 Mobile Suit Gundam Narrative (2018)
A film that never slows down, this sequel to Unicorn sets up another cast of characters all racing to get control of a powerful mobile suit. Anchoring this story is the tale of several friends and we get insights into how their lives were tied into the previous conflicts in the Gundam universe.
Watch on: Funimation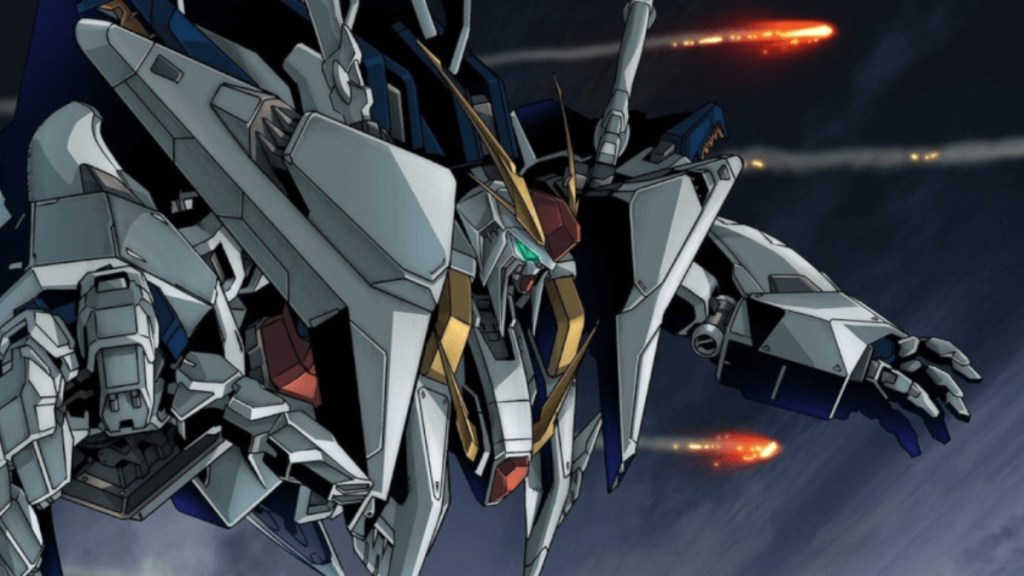 Mobile Suit Gundam Hathaway (2021)
A good chunk of Char's Counter Attack was devoted to Hathaway, son of one of the main characters from the original series. This film picks up Hathaway's story and starts off with a powerful sequence that feels right of out an action thriller. Hathaway battles against the corrupt Earth Federation, demonstrating Gundam's tendency to never make one side of a war all good or all bad.
Watch on: Netflix
Non-Universe Century Recommendations
While many shows that aren't part of this main Gundam universe are available on streaming, we've selected a few choice ones that work as either enjoyable watches for first time Gundam viewers or a nice break between the long list of UC shows. These shows all stand alone and don't require watching any others to enjoy them.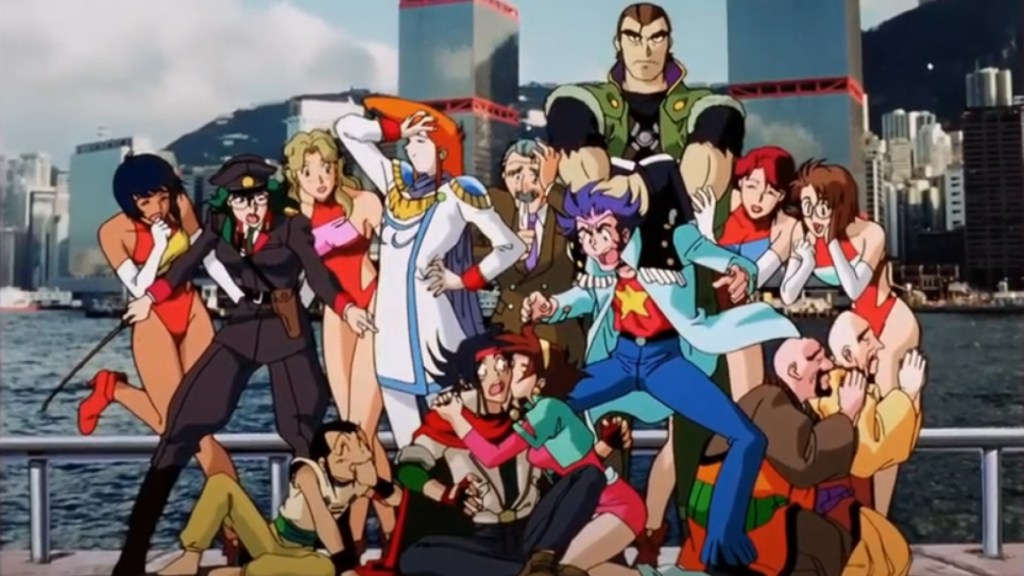 Mobile Fighter G Gundam (1994-1995)
What if Gundam got rid of all its attempts to be a realistic war drama and instead just went full Saturday morning cartoon? G Gundam is a colorful injection of fun into the Gundam franchise that feels more at home next to Dragon Ball Z. That doesn't distract from its fun, which centers on a tournament amongst all countries of the world where "the Earth is the ring!"
Watch on: Crunchyroll
Mobile Suit Gundam Wing (1995-1996)
On this list for the heavy nostalgia factor alone, as mentioned above this series was a gateway into the franchise for many viewers. While its political story can be sluggish at times, the boy band-esque group of lead characters never fail to entertain and there's more than enough melodrama to keep you watching. That and all that beautiful gay subtext.
Watch on: hulu – Crunchyroll – Funimation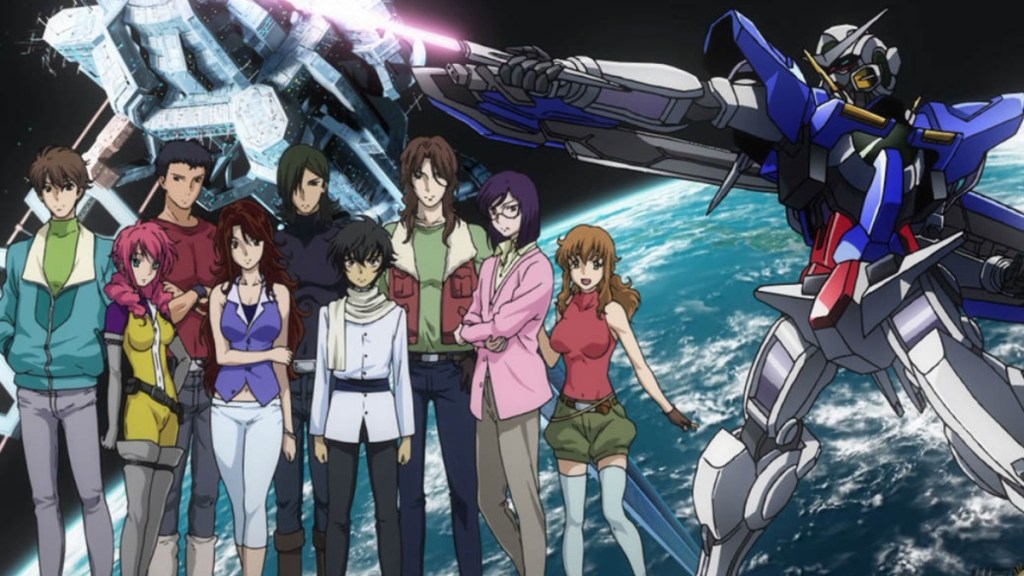 Mobile Suit Gundam 00 (2007-2009)
Think of it was Gundam Wing for a new generation. A boy band-esque cast of characters but with a richer story, deeper motivations, and more than its share of political intrigue. If you're looking for a more recent series to get into you can't go wrong with Gundam 00.
Watch on: hulu – Crunchyroll
Comprehensive Mobile Suit Gundam Streaming List
If you want a quick and easy way to figure out how to watch all the Gundam series currently available on streaming, we've got you covered along with a watch order of when they were released.
Mobile Suit Gundam: Crunchyroll – Funimation Compilation Films: Netflix I, II, III.
Mobile Suit Zeta Gundam: Funimation
Gundam Build Divers: Crunchyroll – Funimation
Mobile Suit Gundam Narrative: Funimation
Mobile Suit Gundam: Hathaway: Netflix
Note: The official GundamInfo channel on YouTube regularly rotates through various Gundam series, OVA's, and films to watch. We heartily recommend the series Mobile Suit Gundam ZZ and the OVA Mobile Suit Gundam 0080: War in the Pocket if you find them on there or just to pick up on DVD or Blu-ray!