Reviews
Loki Season 2 Episode 2 Review: Wolfe Among Us
In the second episode of Loki season two, Loki and Mobius try to track down Sylvie.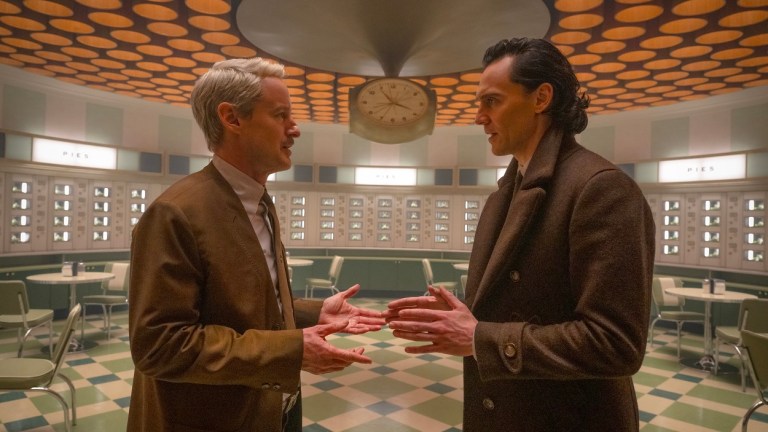 This review contains spoilers
Loki and Mobius hit the darkened streets of the Sacred Timeline in episode two of Marvel's Loki, as they attempt to track down Sylvie by tracing the movements of a TVA deserter.
X-5 (rapper and Blindspotting star Rafael Casal) has made quite the life for himself on Earth in the 1970s as Hollywood A-lister Brad Wolfe, and it's one that he really doesn't want to give up, so Mobius and Loki have to give chase like proper magic time cops at the premiere of his new movie, Zaniac. (If you look closely during this opening scene, you'll also see a poster in the background for Kingo's latest movie! Always refreshing to have an Eternals reference in one of these shows.)
Also refreshing is Casal as the arrogant X-5 aka Brad, and his "mummy's boy" attitude makes him supremely punchable. When Loki and Mobius finally haul his ass back to the TVA, it creates an interesting dynamic in the interrogation room. Mobius assumes that the sneering, entitled X-5 will easily be able to push Loki's buttons, but it's the eternally-chill Mobius who loses his temper when Brad questions his reticence to find out what kind of life has been stolen from him by He Who Remains and the TVA. Looks like Loki is setting up a curious arc for Mobius in season two – he was really sensitive about that whole deal. Nice to see Loki take time out to chat with Mobius after his meltdown, but that key lime pie looked really gross honestly.
Regardless, I would absolutely watch these two sit talk about literally anything every week. I love their friendship. There have been some comments about Hiddleston's performance in season two so far, noting that he's completely stopped being the Loki we've grown to know and love, and that Loki could now be any other "normal" character as played by Tom Hiddleston. I get where they're coming from. The show has gone to great lengths to re-shape this variant of Loki for his hero's journey, but I do sometimes miss the edge Tom used to give the character. When we see Loki "perform" as his old self in this episode, the glimmer in Tom's eye just serves to remind us how much fun he used to be. (I rambled on a bit more about this here.)
Loki gets that groove back (briefly) when he and Mobius are forced to figure out the mods on Brad's TemPad without OB's help. Luckily, Casey is a TVA guidebook superfan and he helps them figure out that the TemPad isn't blocking the TVA's tracking system, but since they're no closer to breaking X-5 or finding Sylvie, they decide to try torture and ….yeah, I don't know. I don't like Brad, but the "box crushing" torture was kinda rough and I didn't really love seeing it play out well for our "good guys". You mileage may vary!
The "temporal aura" exposition between B-15, OB, and Casey is also kinda rough. Seeing Casey fan out over OB's guidebook makes it easier to swallow, but the mechanics of the Loki plot were definitely easier to follow when they were coming from a cartoon clock. Unfortunately, Miss Minutes has absconded with Ravonna Renslayer to lord knows where. There's certainly no sign of the pair this week, but Loki, Mobius, and their Brad-shaped prisoner do finally find Sylvie. She's working at McDonald's in her branched Broxton timeline and seems pretty content, if a little lonely.
Things are awkward between Loki and Sylvie, but I really don't miss the romance plot between them. If that's still cooking in season two, it's at such a low level that I don't have to acknowledge it at least. The sexual chemistry between Hiddleston and Di Martino is still missing and presumed dead, unlike General Dox, the loyalist who gets taken back to the TVA alive after committing countless genocides. Sylvie, however, chooses to stay in Broxton and sling burgers, but in the closing moments of the episode we see she still has He Who Remains' TemPad, which is really advanced TVA technology that can twist time in a different way. I wonder what she's planning to do with it?
Overall, this was a solid second episode of Loki, with only a few wobbles. It wasn't as compelling as the premiere, and lacked its kinetic pace, but I found the ongoing story so entertaining that it didn't bother me too much, and I'm looking forward to episode three next week. Fingers crossed, Miss Minutes is back and just as terrifying as when we last saw her!